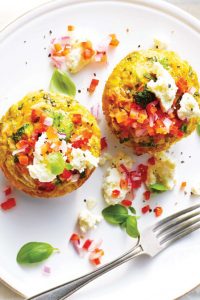 Ingredients:
1 small brown onion, finely chopped
200g sweet potato, peeled, grated
1 garlic clove, crushed
200g broccoli, trimmed, cut into florets
75g (1/2 cup) cooked basmati rice
75g peeled roasted red capsicum, finely chopped
5 eggs
2 tbs chopped fresh basil
1/2 red onion, finely chopped
1/2 red capsicum, seeded, finely chopped
80g fresh low-fat ricotta, crumbled
Small fresh basil leaves, to serve
50g mixed salad leaves, to serve
Method:
1. Step 1
Preheat oven to 180C/160C fan forced. Grease eight 80ml (1⁄3-cup) non-stick muffin pans with oil spray.
2. Step 2
Heat a large non-stick frying pan over medium heat. Spray with olive oil. Cook the brown onion, stirring, for 4 minutes or until soft. Add the sweet potato. Cook, stirring, for 3-4 minutes or until tender. Add the garlic and cook for 30 seconds or until aromatic. Transfer the mixture to a large bowl. Set aside to cool.
3. Step 3
Meanwhile, cook the broccoli in a saucepan of boiling water for 2-3 minutes or until just tender. Refresh under cold running water. Drain well. Coarsely chop.
4. Step 4
Add the broccoli, rice, roasted capsicum, eggs and basil to the sweet potato and stir to combine. Divide among the pans. Bake for 20 minutes or until golden and puffed.
5. Step 5
Combine the red onion and capsicum in a bowl. Serve cakes warm or cold with capsicum mixture, ricotta, basil leaves and salad leaves.