Drishti Media Group celebrated its 12th year, publishing the power of innovation and excellence. It hosted its eighth annual Drishti awards gala on Friday, November 18, 2022, at the stunning and exquisitely decorated Aria Convention Centre, Surrey, attended by more than 900 guests. Drishti Awards Gala Night was an inclusive and remarkable moment filled with inspiration, empowerment, appreciation, and celebration. Every component of the gala night, starting from the 'We are the World' themed red-carpet entrance to the ballroom, captivated the guests and made it one of Canada's most luxurious and impressive events. The grand entrance, enfolded by Brian Jessel BMW, gave the gala an excellent and artistic endeavor. Guests were also greeted by Champagne at the entrance.

Drishti Media Group was thrilled to acknowledge and celebrate the innovative and excellent work of individuals and organizations that have brought extensive expertise and devoted time and energy to make their community more caring, dynamic, inspiring, healthy, and outstanding. Diversity, Inclusion, and Equity are fundamental to the success of the Drishti Awards.
We are designing a multidimensional approach to ensure that the Drishti Awards gala is where people from every background feel like they belong and contribute. We thank the members of the selection committee, Nemy Banthia, Puneet Sandhar, Bobby Pawar, and Perminder Tung, for devoting their time and effort to finalize the winners. "All the winners elucidate power not through their knowledge or competence, but rather through how they inspire, encourage, and empower others—which is why it's significant to recognize and celebrate their remarkable achievements," said Nawal Tandon, President, and Founder of Drishti Media Group.

The stunning cocktail reception sponsored by An Elegant Touch Home Staging and Design was great. It gave the participants an enormous opportunity to network and consolidate their relationships. The exclusive Ice Sculpture, red carpet decorated with a royal look, photo booth sponsored by Shubha Chaudhury from Keyways Mortgage, and 360 video booth in the cocktail lounge was an incredible attraction. The Drishti Awards acknowledged the most successful community members: business leaders, philanthropists, community activists, artists, healthcare innovators, young professionals, athletes, and organizations for bringing their extensive expertise in building a diverse and healthy civil society.

The evening began with the dazzling and fusion performance by Bollywood dancers, who captivated the audiences' visual and auditory senses with their collaborated performances with a violinist, dhol, and belly dancer. We sincerely thank the entertainment sponsor, WBI Home Warranty, for their support.

Our Emcees, Simone Grewal and Dean Atwal, kept the proceedings moving with their witty banter and interactions with guests and honorees.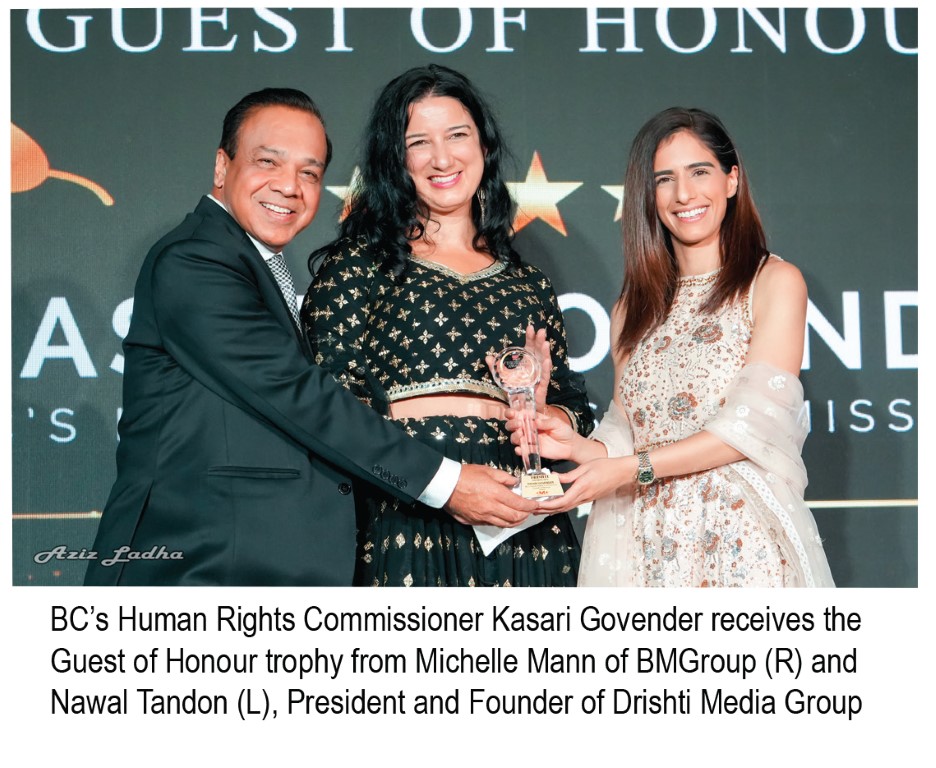 Kasari Govender, BC's Human Rights Commissioner, was the Guest of the Honour of the evening and was presented with a trophy by Michelle Mann of BM Group and Nawal Tandon, President and Founder of Drishti Media Group.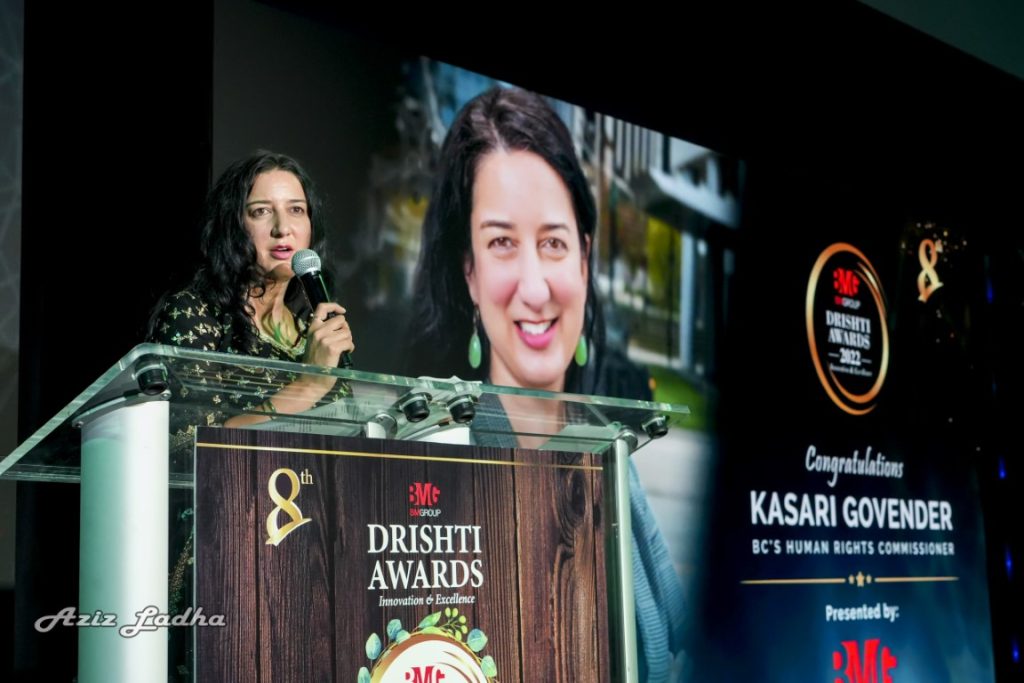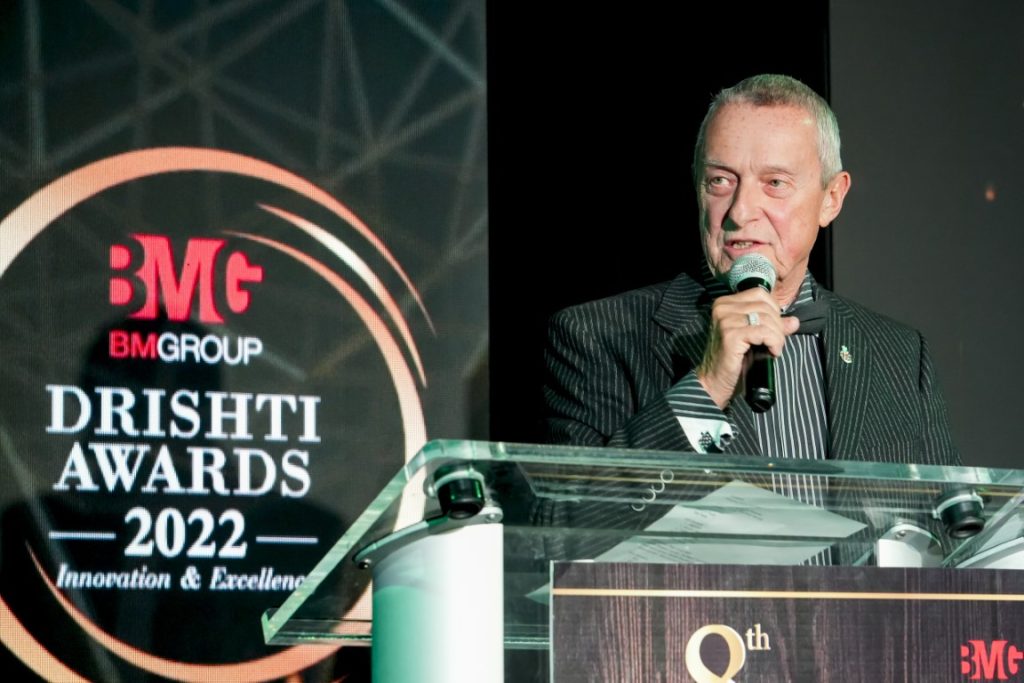 The award for strengthening the Canada-India bond was presented to Victor T. Thomas, President and CEO Canada-India Business Council, by Jas Athwal. Jas Randhawa of Save on Foods and the award for strengthening the Canada-India bond through co-innovation was presented to Baltej Dhillon, President, and Sarup Mann, Vice–President, Canada-India Education Society by Manish, Consul General of India in Vancouver, and Nemy Banthia, CEO, IC-IMPACTS.

Our Emcees for the evening, Simone and Dean, handled the show with finesse and competence. The packed audience featured such dignitaries as Manish, Consul General of India in Vancouver; John Aldag, Members of Parliament: Hon. Raj Chouhan, Speaker of the Legislative Assembly; Hon. Harry Bains, Minister of Labour; Hon. Bruce Ralston, Minister of Energy, Mines and Low Carbon Innovation; MLAs Jagrup Brar; Garry Begg; Meghan Dykeman; and Rachna Singh of BC NDP; MLA Elenore Sturko of BC Liberal Party; Assistant Commissioner Brian Edward, Surrey RCMP; Shawn Gill, Chief Superintendent, Surrey RCMP; Chief Constable Neil Dubord, Delta Police; and Chief Constable Norm Lipinski, Surrey Police Service.
The audience also had the opportunity to witness a stunning fashion show by one of India's most talented fashion designers—Charu Parashar, and by a local designer Armaan DBG by Davi Bains Gill, showcasing many elegant designs for men and women. Vancouver's award-winning Hair and Make-up artist, Pink Orchid Studio, did the models' hair and make-up. The dinner sponsor of the evening was ML Emporio Properties. Dessert sponsor SIRKA Gourmet Take Out provided different styles, flavors, and dessert concoctions with their well-designed and unique cake that tasted incredibly delicious.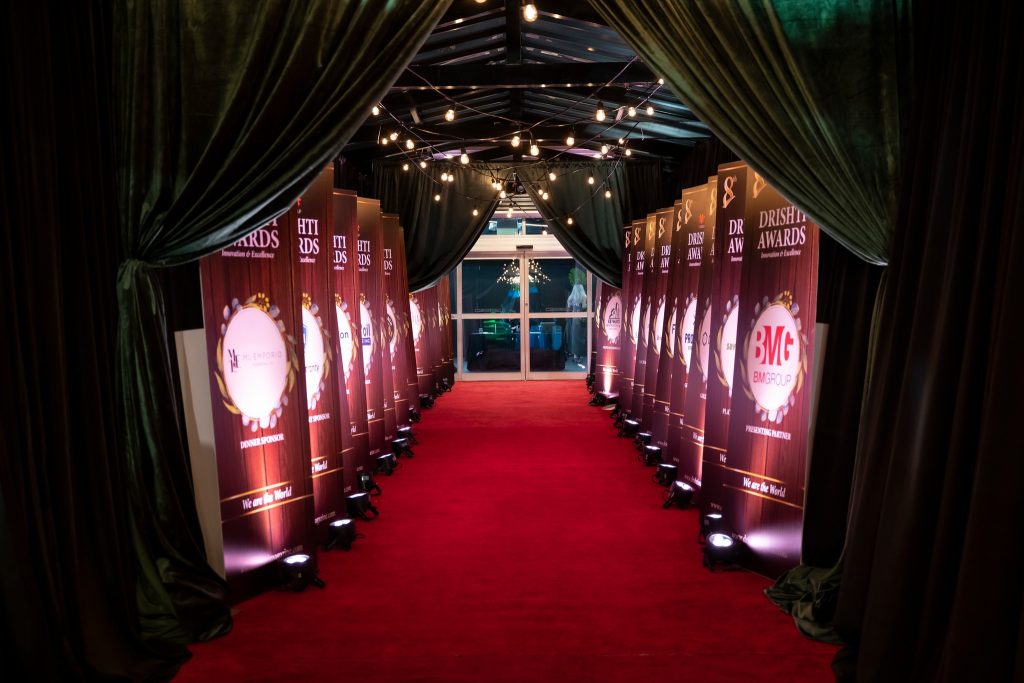 A massive shout out to our Gala sponsors, whose generosity made it again possible for Drishti Magazine of its Annual Awards Gala for the eighth year! BM Group of Companies was the presenting sponsor for the eighth annual DRISHTI Awards. Sponsors for this year's gala included Teja Foods, ML Emporio Properties, WBI Home Warranty, Save on Foods, Envision Financial, Desjardins, Brian Jessel BMW, An Elegant Touch Home Staging and Design, Prospera Credit Union, Natu'oil Services, Spring Travels, SFU, KPU, Nature's Path, Goyal Group, Olive Fertility, FASKEN Law Firm, Bharat Jewellers, Excel Career College, Gratitude Immigration, Keyways Mortgage Inc, Pawar Consulting, Kalala Organic Estate Winery, Safe Watch, Lavish Custom Homes, Charu Parashar, Armaan DBG, Pink Orchid Studio, IC-IMPACTS, CINS, United Way of BC, Global BC, Jassal Signs, A-1 Sports, Raycom, and Aria Convention Centre.