2019 DRISHTI AWARDS- A Spectacular and Splendid Night of Recognition and building an inclusive, strong, healthy civil society
DRISHTI Magazine celebrated nine years in publishing the power of Innovation and Excellence and hosted its fifth annual DRISHTI awards gala on Friday, November 15, 2019, at the stunning and tastefully decorated Aria Convention Centre, Surrey, attended by more than 750 guests. DRISHTI Awards Gala Night was a sensational and enduring moment filled with motivation, appreciation, celebration, and entertainment. Every component of the gala night, starting from the Under the Ocean Themed red-carpet entrance to the ballroom, captivated the guests and made it one of the swanky and remarkable events in Canada. The accessible entrance embraced by Rolls-Royce, gave a luxurious and outstanding feeling to the gala. Champagne also greeted guests at the entrance.
Drishti Media Group is thrilled to acknowledge and celebrate the innovative and excellent work of individuals and organizations that bring extensive expertise and have devoted time and energy in making their community more caring, dynamic, inspiring, healthy, and outstanding."
"All the winners elucidate power not through their knowledge or competence, but rather through how they inspire, encourage, and empower others – which is why it's significant to recognize and celebrate their tremendous achievements," said Nawal Tandon, Publisher of Drishti Media Group.
The stunning cocktail reception sponsored by An Elegant Touch Home Staging and Design prior to a sumptuous dinner was great and gave the participants an enormous opportunity to network and consolidate their relationships. The exclusive Ice Sculpture, red-carpet, photo booth, the golden staircase having under the ocean theme in the cocktail lounge, was an incredible attraction. Water fairy and Crystal ball juggling acts entertained the guests throughout the cocktail hour. The Drishti Awards acknowledged the most successful community members: business leaders, philanthropists, community activists, artists, health care innovators, young professionals, athletes, Woman Entrepreneur and organizations for bringing their extensive expertise in building an inclusive, strong, and healthy civil society.
The evening began with the dazzling and fusion performance by world-renowned Shiamak dancers, who captivated the audiences' visual and auditory senses with their collaborated performances with Acrofire LED dancers and contortionists.
Our Emcees, Simone Grewal, Middays and Assistant Music Director Z95.3 and Dean Atwal from Joy TV, kept the proceedings moving with their witty banter and interactions with guests and honorees.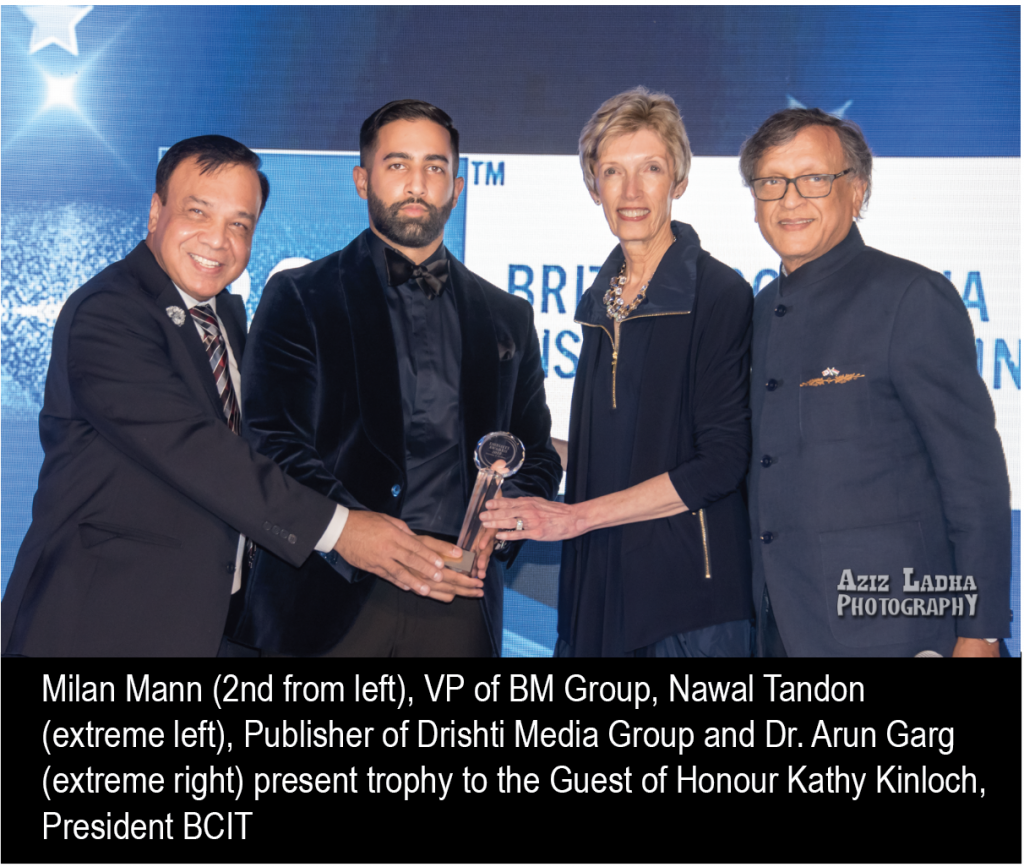 The Guest of Honor for the evening was Kathy Kinloch, President of the British Columbia Institute of Technology(BCIT)and has received awards for being one of the most influential women in the province's business sector, and was introduced by Dr. Arun Garg, founding chair of our India Advisory Council and President of Canada India Network Society and Program Medical Director, South Asian Health Institute, Fraser Health.
There was a special recognition of British Columbia Institute of British Columbia for empowering people, shaping BC, and inspiring Global Progress. For over fifty years, BCIT has been educating career-ready graduates. Today, they're one of British Columbia's largest post-secondary institutes. BCIT President Kathy Kinloch received the well-deserved award from Milan Mann, Vice President of Development and Construction of BM Group, Nawal Tandon, Publisher of Drishti Media Group and the accomplished Dr. Arun Garg, Program Medical Director, South Asian Health Institute, Fraser Health.
The packed audience featured such dignitaries as Members of Parliament Randeep Sarai, Sukh Dhaliwal, Minister Harry Bains, NDP Members of the Legislative Assembly Jinny Sims, Raj Chohan and Rachna Singh, Leader of BC Liberal Party, Andrew Wilkinson, Councillors of City of Surrey, Linda Annis, Brenda Locke, Jack Hundial, Mandeep Nagra, Delta Police Chief Neil Dubord, Wally Oppal, a Canadian lawyer, former judge and provincial politician and currently serving as Chancellor of Thompson Rivers University, Consul Manjish Grover from Consulate General of India Vancouver and former Member of Parliament John Aldag.
The audience also had the opportunity to witness a stunning fashion show by one of the most talented fashion designers from India—Charu Parashar in collaboration with House of Raina from Surrey, showcasing many elegant designs for men and women. The Hair and make-up were done by Vancouver's most elite Hair and make-up artists, House of Artistes. Dessert Sponsor of the evening was Terra West Group, and they provide different styles, flavors and designs of cakes from Just Cakes Bakeshop with their well-designed and unique cake that tasted incredibly delicious.
A massive shout out to our Gala sponsors, whose generosity made it once again possible for Drishti magazine of its annual awards Gala for the fifth year! The Title sponsor for the fifth annual DRISHTI Awards was BM Group of Companies. Sponsors for this year's gala included Empire Building Supplies  Envision Financial, Desjardins, Rolls-Royce Vancouver, An Elegant Touch Home Staging and Design, Terra West Group, Teja Foods, Prospera Credit Union, Spring Travels, BCIT, HSBC Bank, Simon Fraser University, Langara College, Thind Properties, Golden Tree Jewellers, Wireless World Solutions, Goyal Group, Odyssey international, Olive Fertility, FASKEN Law Firm, Bharat Jewellers, Essex Collision Services, Ron Basra Personal Real Estate Corporation, Metro1 Catering, Arora Immigration, Amandeep Duggal Mortgage Broker, Acme Visa Solutions, Zevar Jewllers, Charu Parashar, House of Raina, IC- IMPACTS, CINS, Purdys' Chocolatier, Jassal Signs, A-1 Sports, Civic Hotel, Air Canada, Cropped Studios, House of Artistes, Rayacom, Benson Awards, and Aria Convention Centre.
Thank you to our table sponsors, those individuals and businesses who donated to the Live Auction and raffle draw organized by BC Children's Hospital Foundation and Langley Memorial Hospital Foundation.  Our sincere thanks to those who attended of this year's another spectacular event!