BY GARY THANDI
Jasmine Mander recently won an award from the Women's Executive Network (WXN): Canada's Most Powerful Women Top 100 Awards in Arts, Sports & Entertainment. The award recognizes women who have shaped Canadian thinking, communications, and culture. Jasmine is a former elite-level soccer player and has coached in the Whitecaps FC BMO Academy System , and is currently a  coach educator for BC Soccer, and a BC Soccer Diversity and Inclusion committee member.
As a player, Jasmine captained a team that won two CanWest Conference Championships and one National Championship. She was also a former Canadian Youth National Team Member and was on the Vancouver Whitecaps FC roster. "My dad played university soccer in India, and I naturally gravitated towards soccer," Jasmine declares. "When I was little, I used to play in the front yard with my older brother. It was just unstructured play, which I have since learned is important for the development of the athlete long term."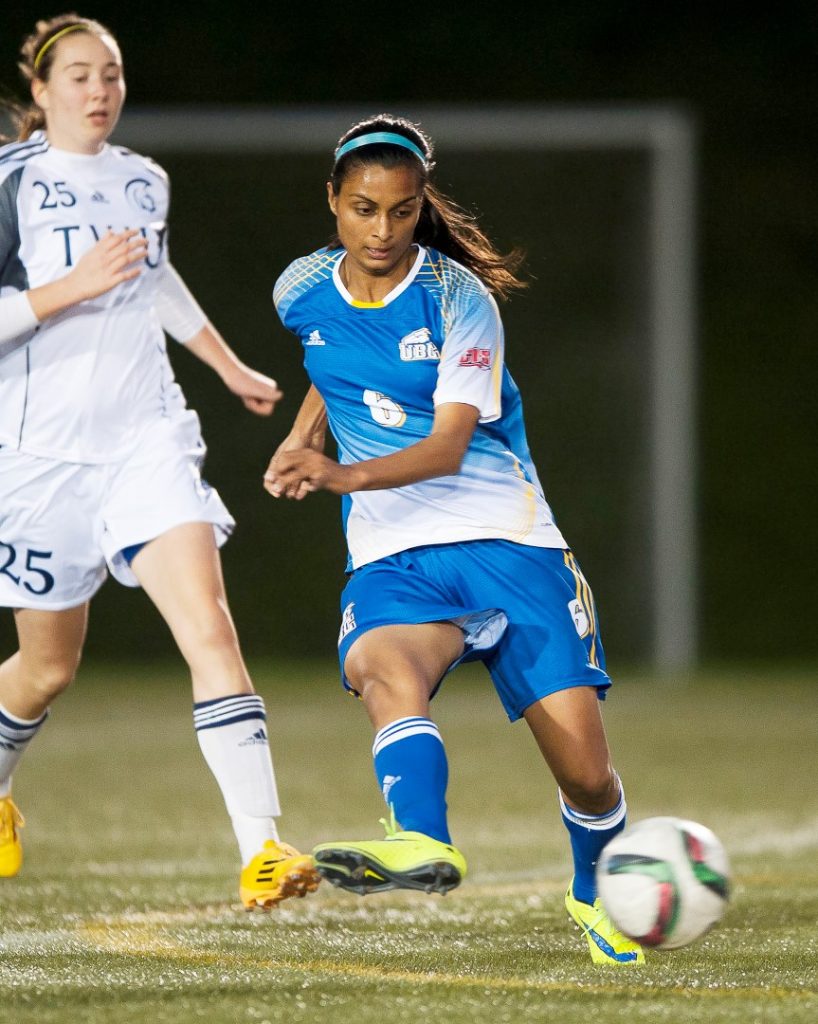 While a university student, Jasmine was a three-time Academic All-Canadian. Jasmine has completed her Bachelor's Degree in Kinesiology and her Master's Degree in Physical Therapy. "Being an athlete myself," she explains, "I knew how injuries affect people, whether you're playing sports or not. I just knew it was the direction I wanted to go to post-soccer."
"I tore my ACL knee, and it's a year-long injury, so I knew I had time on my hands when I wasn't going to be playing. I thought it was a good time to start my coaching licenses. I got my first one done, and they always take two or three days—as a player, you never have two or three days to completely give towards a course like that—but while healing from my injury, I had plenty of time. I really enjoyed that first course, and I started to coach and became more interested over time in teaching and coaching, and learning more about the intricacies of coaching, of seeing the game through a different lens."
She has been coaching in the Whitecaps FC BMO Academy System since 2014 and was the first student-athlete and youngest person to be named a Head Coach in the BC Soccer Premier League and the youngest Canadian to obtain her CSA/US Soccer B License.
Her leadership is not just limited to her efforts as a student in the classroom or player and coach on the pitch – she has also volunteered her time to support others who may not have had the same kinds of opportunities. As captain of the UBC Women's Soccer Team, she coordinated partnerships with Hope and Health and the Vancouver Street Soccer League and helped develop and grow a mentorship program with Vancouver United FC aimed at supporting girls who were deemed at risk of dropping out of the sport. She has also volunteered on the BC Women in Soccer Committee, which develops strategies and programs focused on ensuring an accessible and inclusive soccer environment within the province.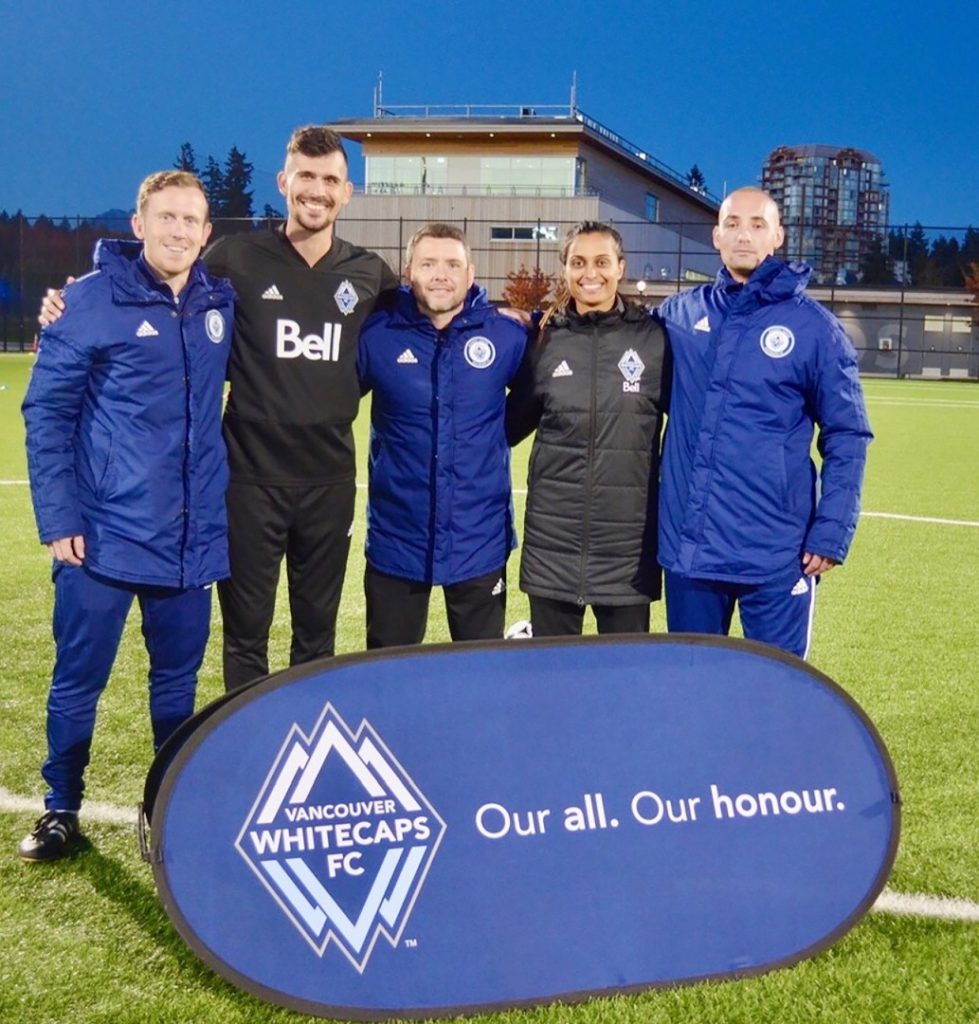 Covid-19 has not dampened Jasmine's enthusiasm for coaching—in fact, it has forced her and her peers to be creative during difficult circumstances.
"People never considered social distance or physical distance soccer. How can you still work on skills while keeping a distance? That has been a challenge, but the Whitecaps have been hosting virtual training. They are attracting players from all over North America, Europe, Asia, thousands of kids on these Zoom meetings, and we'll have a coach lead the practice, and that's something we never thought would ever be a concept – but it's really taken off."
"I think the best advice I ever had was to be really curious, ask a lot of questions. Don't be afraid to be the least knowledgeable person in the room. That's where learning happens. And I never forget the people that have offered to help me with a session or let me walk along with them even when they are levels above me. So if in a position where you're trying to learn, be curious—if you're in a spot where you have done a lot of learning, then at that point, you can send the elevator back down."
According to the Women's Executive Network website, "Every year, we have a challenge: to select just 100 women to receive our Canada's Most Powerful Women: Top 100 Awards. These are women who personify what it means to be powerful through the way they empower and champion others, influence change, and stand up for all of us. And as Top 100 winners, they stand among more than 1,000 powerful leaders across Canada who share that honor and our thanks."