SFU's Surrey campus celebrates 20 years in September, marking its growth from a betaspace in Surrey Place Mall (now Central City Mall) to an expanded campus embedded in a revitalized downtown Surrey. Two decades later the university's economic and social impact is substantive—filling the region's continuing need for post-secondary education, advancing cutting-edge research and furthering community partnerships and collaborations.
SFU's Surrey Campus opened its doors in 2002 in a space formerly occupied by the Technical University of British Columbia (TechBC), with more than 500 students studying for degrees in unique, tech-focused programs.
In 2006, a new campus facility designed by the late Bing Thom opened on top of the mall which helped to revitalize Surrey's downtown and catalyze its growth and development. A second campus building—also designed by Thom—opened in 2019.
Over the past two decades, the need for post-secondary education south of the Fraser has led to a steady enrolment growth at SFU's Surrey campus, resulting in new programs, and schools in Mechatronic Systems Engineering and Sustainable Energy Engineering. Together with the School of Interactive Arts and Technology and programs from business to education, and science to the humanities, SFU Surrey has become a higher education destination of choice for students from all over the world.
New pathways will further lead to future skills development and career opportunities, including the recent announcements of a Centre for Agri-tech Innovation and Quantum Algorithm institute, and planning for a medical school in partnership with Fraser Health and the First Nations Health Authority.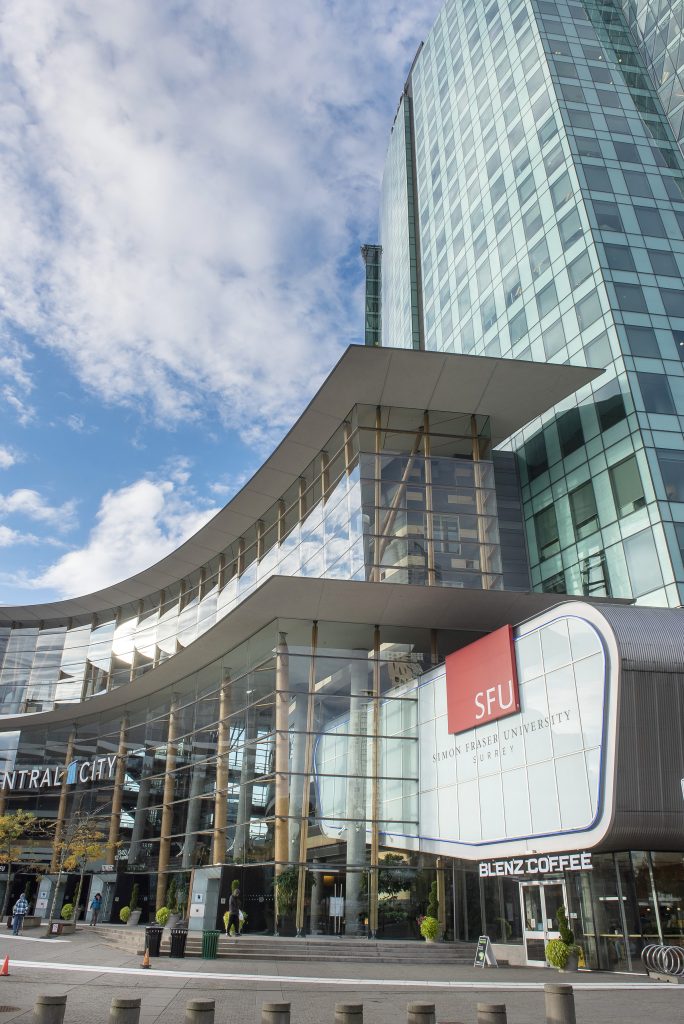 "Twenty years after our founding, SFU Surrey is woven deeply into the fabric of this community," says SFU Surrey Campus Executive Director Stephen Dooley. "This extraordinary story began with a vision to redevelop the Central City Mall and has resulted in a vibrant and growing urban campus that is transforming the educational, social and economic landscape."
With deep connections to the South Asian community, SFU Surrey established the SFU India Advisory Council more than 15 years ago. Community collaborations have led to such initiatives as an international health conference held every four years in Surrey—the Canada India Network Society's CINI conferences, which, in 2022 included a global focus on women's health— and numerous cultural events to support student initiatives, including an annual Diwali Gala.
Dr. Arun Garg, president of the Canada India Network Society and the inaugural chair of the SFU India Advisory Council, says SFU has been an integral part of the community since its inception and an important partner of the society for more than a decade. "We continue to build a foundation of engagement, empowerment and education in the community. Our collaboration has not only had a direct impact on the local community but a global one as well."
Also integral to SFU Surrey's success is the support and guidance of the Surrey Advisory Committee, represented by a slate of community and business leaders. SFU's ongoing partnerships with the City of Surrey, Fraser Health and business and community sectors have helped seed a vibrant, dynamic and growing health technology district in Surrey's downtown core and beyond. These partnerships have led to targeted solutions to health care such as the ImageTech, eBrain and WearTech Labs.
Longstanding collaborations with the City of Surrey, Surrey Board of Trade and Downtown Surrey Business Improvement Association continue to advance social and economic development. The SFU Surrey – TD Community Engagement Centre, for example, works with more than 100 community partners and has delivered programs and services to more than 17,000 children, youth and newcomers to Canada. Since its inception nearly 15 years ago, SFU's Coast Capital Venture Connection, an entrepreneurship incubator, has served more than 13,500 students across SFU.
SFU Surrey, which resides on the unceded traditional territories of the Kwantlen, Katzie, Semiahmoo, Kwikwetlem, Qayqayt and Tsawwassen First Nations, has made it a priority to develop its relationship with the host nations.
In 2019, SFU signed a partnership agreement with the Surrey Urban Indigenous Leadership Committee to support the region's Indigenous students and community. The Surrey campus is also indigenizing its space, with plans to install Indigenous welcome figures at the Surrey campus.
The campus will celebrate 20 years of teaching, research and community engagement in Surrey with several events this fall, including a campus open house on October 27. Visit the SFU Surrey campus website (http://www.sfu.ca/surrey.html) for a full calendar of events.