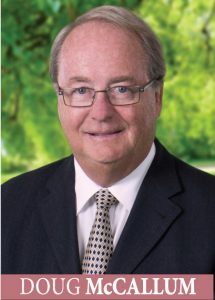 After a distinguished career that includes numerous stints on the Boards of various organizations, 12 years as a City Councillor and 9 years as Mayor, what would compel Doug McCallum to run once again for Mayor of Surrey? After all, it's been 9 years since he was Mayor, and he has certainly enjoyed that time away from politics, especially in his being able to visit friends and family (including grandchildren) who live in countries all across the world.
"I love Surrey," he states, matter-of-factly. "I love living here, I love the people, and I love the different cultures that live here. I have travelled all around but this is home and no place is better." Yet Doug feels the city has been poorly served in the past few years. He ultimately decided to run as he "felt council in the past couple of years has fallen asleep at the wheel."
Prior to making the decision to run again, Doug advises he was often invited as a guest speaker for various community events, and time and time again people told him of their concerns about living in Surrey. The common theme? Crime.
"People feel unsafe in the community," he states. "They are frustrated." Doug decided to run in order to not just identify the problems that residents were telling him about – but to do something about them. "I am presenting solutions to the public, and ultimately will let the people decide if I'm the right person for the job," he explains. Some of the solutions he outlined include: doubling the number of city by-law officers who can enforce concerns over the number of unregulated recovery homes in Surrey – given many are exploiting residents rather than providing them with genuine treatment, investing money towards services that can help addicts who genuinely want help, having city staff work with the RCMP around administrative supports, thus freeing up more officers to patrol the streets, and bringing in more trained police officers to Surrey. In the case of the latter, the mayoral candidate suggests the 95 new police officers planned over five years for Surrey by current council need to arrive much sooner. He would have "them here much quicker, as fast as possible. At any given time there are 36 officers on duty. We need to double that."
Part of Doug's solution also includes a coalition of others concerned about crime. Members of the Safe Surrey Coalition "are not a slate," Doug explains. "The public doesn't want slates anymore." He states members of the Safe Surrey Coalition running for council are independents, who are free to disagree and speak their minds about various issues affecting that city, yet they are all united by their vision of a safer Surrey.
While providing solutions to crime in Surrey is a major focus, Doug also has identified other major areas of concern. One such concern is transportation. During his previous stint in office, during which he was at one point the Translink Chair, he had a hand in the development of the Canada Line, the Golden Ears Bridge, trolley buses and highway buses that helped moved people from parts of Surrey to downtown Vancouver. He notes since his leaving office, "nothing major has happened" in regards to transportation initiatives that benefit Surrey. Another of Doug's concerns is city finances. "When I left in 2004, we had 540 million in cash reserves. Currently the city is 245 million in debt. We used to get 32 million dollars in interest, now the city is paying out 8 million. In nine years, that is nearly an 800 million dollar turnaround." He blames poor decision-making by current council, such as their decision to build a new city hall.  Doug would also like to see Surrey adopt a ward system. He believes residents are overwhelmingly in favour of wards, and that the city is geographical well-suited for such a system. He feels residents often do not feel represented by city councillors, and that wards would give them one or two councillors they could turn to in order to address concerns they may have. "I would work with the province, as they have final say, in creating a ward system that could then be up and ready for the following election."
Doug McCallum is confident his vision for Surrey will resonate with voters. "I've listened to the community. I'm a good listener, but I'm also an action person – a doer. I will act on every promise I make. I did it for 9 years when I was Mayor, and I'll do it again."