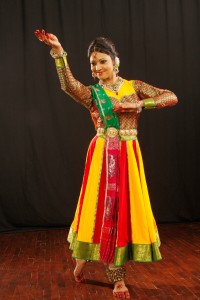 In 2013, a girl from the cultural capital Kolkata was invited to be interviewed on a TV show on National Channel of India, Doordarshan. He name: Sangeeta, one of the most promising Kathak Dancers in the country. She looked very confident, albeit nervous. After all, the whole nation was watching her. Mustering enough courage, she spoke with confidence and with such authority, fascinating the whole nation.
The very next day, she performed in New Delhi. She shared the stage with the multi-awardee (also a Padma Bhushan Awardee) and legend Sitar Maestro Pandit Debu Chaudhuri. It was also the debut performance of the Indian Classical Group of Music and Dance Strings N Steps led by our young very talented Kathak dancer. Performing with them was Neel Ranjan Mukherjee, India's one and only Classical Hawaiian Guitar player. Together, they stole the audience's heart.
Sangeeta, the adorable kathak dancer, charmed the audience by portraying the indulgent language of dance with her vibrant style of dancing. Myrta Barvie, the legendary Indian Classical dancer from Argentina, calls her as Meera Bai for grace and her flowing moves.
Within such a short period, Sangeeta has established herself as a soloist. With Strings N Steps, she performed in the different cities of India.  They performed for different prestigious organizations including the Indian Council for Cultural Relations (ICCR), different Universities, Ministry of Culture and Sangeet Natak Academy and many more. She also performed in Dubai, Sharjah (United Arab Emirates), Kathmandu (Nepal), Dhaka (Bangladesh). Future concerts in  Canada and Maldives are also in the offing.
Last month, she was invited to Buenos Aires, Argentina by the Embassy of India to conduct workshops and deliver performances as a Cultural Diplomat. She performed in the very prestigious Manuel Belgrano Auditorium of The Ministry of Foreign Affairs (Cancilleria). She wowed many distinguished guests, mostly ambassadors of different countries: The Ambassador of France; in Resistencia for 'Council of International Dance – UNESCO' in association with Indian Embassy; in Mendoza at 'Club Serio' and at Tres de Febrero for the Ministry of Culture, Sport and Education, Argentina. She was interviewed by Revista de Arte, CARI, Uruguay, Tiempo Argentino (an important newspaper in Argentina), and Radio Niketan.  She also conducted four workshops.
"It was an amazing experience," Sangeeta quipped. "I thought it will be challenging to communicate to the foreign culture, but since music and dance have a universal language, communication didn't turn out to be a problem at all. Ultimately, my Kathak choreographies won their hearts. It was revealed through their reactions."
Sangeeta's amiable personality reflects in her dance. Her brilliance as Kathak dancer remains scintillating even in her solo performances. Her style and technique made her a role model for the younger students of Kathak. She is, no doubt, a world class performer who takes the world by storm.
However, this fine, intelligent soul has never rushed to gain fame. "The biggest challenge was getting the professional stage. Even with all these, I've never compromised my dance form, and I have always maintained its purity. I honestly feel nervous before every concert. It is something akin to a board exam to me.  I find it challenging whenever I'm on stage."
Recently, Sangeeta has been awarded Roll of Honour from Government College for Girls. She was also awarded by Punjabi University, Patiala, Punjab, and very prestigious Award of U.P. Sangeet Natak Academy Yuva Puraskar in Kathak Competition for securing the first position, and many more.
Moreover, she has fast-tracked an endeavour STRINGS N STEPS NGO, which promotes and teaches the children (especially at the grassroots level), giving a platform to the budding artists to perform with the established stars from Indian Classical field—a huge inspirational effort as a responsible artist in our society.
Besides being a classical dancer and social activist, she has been chosen as a model by many eminent magazines.
"I love the poetry of dance. It gives me complete happiness. Now, I am waiting for my next venture Echoing Shadows to set on the stage later this year with the famous Indian English poet Sonnet Mondal, Chief Editor of The Enchanting Verses of Literary Review."
Martha Graham, named the mother of modern dance, once said: "Great dancers are not great because of their technique. They are great because of their passion."
But, with Sangeeta's masterful technique and fervent passion—what we see and what we get—is the whole package of a true, great artist.