Burnaby, BC (August 30, 2023): Metropolis at Metrotown is thrilled to announce that Decathlon, the world's largest sporting goods retailer, will open in the spring of 2024. The launch will further expand and diversify the retail offering at BC's largest shopping centre, which currently boasts more than 330 stores. In advance of its grand opening, Decathlon will host a pop-up shop at Metropolis at Metrotown in late October 2023.
Founded in 1976 in France, Decathlon has more than 1,700 stores in over 60 countries. The world-renowned brand designs, manufactures, tests and sells apparel and equipment for a variety of sports and outdoor activities. Along with its sought-after products, it's attracted a following for delivering a well-rounded shopping experience that includes in-store gyms, product test areas, and in-person and online technical services.
Decathlon isn't new to Canada. The retailer first arrived in 2018 and now has a fleet of stores across Ontario, Quebec, Alberta and Nova Scotia. The Metropolis at Metrotown location, which is the nineteenth in the country, will expand the brand's footprint from coast-to-coast. This means customers will soon enjoy in-store shopping at flagship locations across Canada, propelling Decathlon's mission of making sports accessible to more people.
"Metropolis at Metrotown is a place for everyone, across all walks of life," said Amanda Chung, Marketing Manager of Metropolis at Metrotown. "We are so excited to welcome Decathlon, a brand that has built an incredible reputation for providing high-quality sports products at affordable prices. This marks another step forward in our quest to deliver an elevated shopping experience and diverse retail offering to our guests."

"It has been a long journey, but it's now official: Decathlon will serve Canada from coast to coast!" said Guillaume Hautson, Regional Manager of British Columbia, Decathlon. "Metro Vancouver is an inspiring place to be. Along with other players, Decathlon will contribute to this landscape by making sports more accessible for Vancouverites. In our stores, across other provinces and even around the globe, we have strived to empower people from all walks of life to make sports their own. We are even more excited that this adventure begins with Metropolis at Metrotown, a legendary mall in Canada. It is not only at the epicentre of the Greater Vancouver area, but also allows us to meet and learn from the incredibly diverse communities of Burnaby."
Decathlon's newest flagship store will offer a wide selection of products and sporting goods, along with knowledgeable in-store experts. Guests will enjoy a dedicated space to touch, feel and experience the products, test bikes, demos of camping tents, ping pong, and more. There will also be workshops for tune-ups, repairs and maintenance of bikes, kayaks and other high-value products. Any items purchased online can be delivered to the store and picked up at no shipping cost.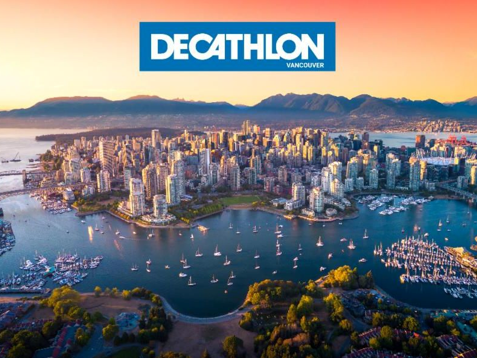 Those eager to visit the retailer will be thrilled to learn that Decathlon will host a pop-up shop in late October 2023, set to be located across from the Muji store at Metropolis at Metrotown. Guests will be able to browse a selection of affordable rain jackets, waterproof hiking shoes and other waterproof accessories in time for the Fall season. Other products that will be featured at the pop-up store include trekking and multi-purpose backpacks, road running and trail running shoes, swimwear and other water sport accessories. The store will also have a dedicated space for affordable skiing and snowboarding gear, as well as road, mountain and hybrid bikes.
The Decathlon pop-up launches in late October 2023 and will run until the store opens in the spring of 2024. The shopping centre is open on Monday to Saturday from 10 a.m. – 9 p.m. and on Sunday from 11 a.m. – 7 p.m. For more information on the Decathlon pop-up and the store opening, visit www.metropolisatmetrotown.com.