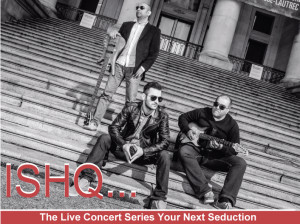 A­Town Presents has been creating memorable experiences for the South Asian community since 2003. At a time when the entertainment scene in Vancouver was missing well produced events in the heart of Vancouver, A­Town stepped up as a pioneer and faced many challenges and obstacles. The success of the organization is easily seen, as you look at the fact they have produced some of the largest Bhangra events for VIBC's Official Afterparty with headliners such as Sukhshinder Shinda, Lembher Husseinpuri, Malkit Singh, and Apna Sangeet, along with memorable concerts for Rishi Rich and the 2.9 Project. They also had the longest running bhangra and bollywood night on Granville Street called High Society, with over 8 years of amazing monthly gigs. This year they have moved down the street and created a whole new monthly bhangra night called Taza Beats at LED Bar, which promises fresh punjabi bhangra beats every last Thursday of the month.
This June, A­Town is launching what they promise to be your next seduction: I​SHQ..​.The Live Concert Series.​
This series, launching on June 11th at the Fox Cabaret on Main St, will feature live bands in intimate settings, giving soul stirring performances for music lovers. A­Town is dedicated to pushing the boundaries and creating not only a memorable experience for the audience, but also the artist.
Director Manpal Rana credits their success to keeping the focus on fresh programming and exploring beyond the norm, by experimenting with artists and presenting something that stretches the imagination and takes the audience into a journey of the unknown. 'A­Town is about the experience. It's about taking what you love and kicking it up a few notches. A­Town has always been unique and that's what we promise with ​I​SHQ.​..The Live Concert Series.​'
This inaugural event is also the album launch party for Vancouver's very own n​aQsh.​Formed in 2007, the band consisting of Daksh Kubba, Irfan Lawrence and Imran Habib has been mesmerizing local audiences with their music and style. Finally, their long awaited album Saptak,​featuring singles such as A​rmaan, Pagli​and S​aajna,​will be released.
Lead singer and composer, Daksh Kubba is very excited about the event. "It's a performance like never before for n​aQsh​at I​SHQ.​In partnership with A­Town, this is our debut album launch party! Along with a few tracks from Saptak, our first album, we are bringing the classic Bollywood songs from the 90's with our own unique modern rock sound. Nothing like this collaboration of sound and style has happened in Vancouver and we are so thrilled that A­Town is launching their new venture with us."
Always working at elevating the artist, along with the audience, Director Anita Lal doesn't think there would have been a better fit for the first I​SHQ.​..The Live Concert Series​than n​aQsh.​
"n​aQsh h​as that sound that takes you to another level, and when Daksh takes the mic, he touches your soul with his voice. The magic is there, through their fused sound ­ which will give you everything from Bollywood, to Jazz, to Rock, and their lyrics ­ which tell a story of love, life and sometimes just fun masti, you are swept away. That's why we knew they would be the perfect band for launching our new project."
The night will open with another local sweetheart Dave Bawa, who's recent single S​amjhawan has been getting great response, not just locally but internationally as well. "I am excited to perform my new single and unveil some other new pieces that I have been working on. I am stoked to be opening for naQsh, who I have followed for years and respect as artists. A­Town is giving newcomers a stage to showcase our talent and our passion, and for that I am very thankful. This is going to be a great night, and a great series."
The concert will be held at the Fox Cabaret on Main Street. A venue that is known for it's retro sleek style, and intimate ambiance. Taking this intimate venue and filling it with naQsh's West Coast South Asian Rock meets Bollywood sound, is a definite recipe for success. A­Town promises a night to remember with many more to come.
For more information on ISHQ…The Live Concert Series, naQsh or A­Town, please contact Anita Lal: a​nita@atownpresents.com​or visit us on FaceBook.