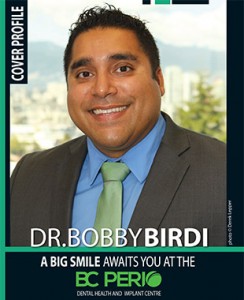 One of the first things you'll likely notice if you were to meet Dr. Bobby Birdi is his big smile – it's the kind of warm and inviting smile you'd want to be greeted with if you were needing specialized dental services. Dr. Birdi is one of a few certified dual Specialists in Periodontics and Prosthodontics in the world, and the first and only specialist in the world to attain Canadian and American board certifications in both Periodontics and Prosthodontics (Periodontists specialize in the structures that support our teeth – such as our gums – and the diseases that affect such structures and Prosthodontists specialize in the restoration and replacement of teeth). In addition to his thriving practice in Vancouver and a satellite office in Coquitlam, Dr. Birdi manages to find time to serve as an adjunct Assistant Professor at the University of British Columbia and the University of Minnesota, co-host radio programs with his colleague Dr. Ron Zokol on CKNW 980 and CL 650 entitled Your Dental Health Solutions  and Talk to the Experts, lecture all around the world, volunteer his services at a community clinic act in the Downtown Eastside once per month, act as reviewer or sit on an Editorial Review Board of several prestigious academic journals, act as Fellow and Examiner for the Royal College of Dentists of Canada, and serve as an active member of several Associations representing Periodontists and Prosthodontists. All that and he still manages to find time for family – Dr. Birdi is a married father of two boys, one a toddler and one a newborn.
So where does Dr. Birdi get such drive to excel in so many areas? It may come from his parents, who immigrated to Canada in 1973, and taught him and his siblings the importance both of hard work and the value of education (one of Dr. Birdi's brothers is an Emergency Room Doctor at Surrey Memorial Hospital, and another is a university student in Alberta). It may come from the strength that develops from being an ethnic minority who for many of his formative years was one of the few people of colour at his school. He was born and raised in Edmonton, Alberta, during a time when there were few other South Asians that lived there. "People would point," he notes, "but I was a big kid, and very athletic (he was nominated for athlete of the year in his high school), so kids were too scared to pick on me." Or it may come from his own inner drive, which always compelled him to strive to be the best at whatever he attempted – whether in academics or sports (Dr. Birdi grew up playing soccer, basketball, and volleyball – and for many years was a competitive bodybuilder). It's likely a combination of all of those factors.
Dr. Birdi didn't set out to be an accomplished Periodontist and Prosthodontist – in fact, his original plan was to become a medical doctor. "I even wrote the medical exams," he recalls, "but I soon realized I didn't want to work in a hospital setting." He ultimately decided to apply to the dentistry field, and soon thereafter discovered he had a great aptitude in this field. "Originally I entered the field because I figured dentists could prescribe medications just like doctors, but didn't have to work in that hospital setting," he notes. Whatever the reasons, he soon found out he excelled in the field, and shortly thereafter developed a passion for it. He received his Bachelor's degree from the University of Alberta and his dental degree from the University of Saskatchewan. His residencies, first in Prosthodontics for three years and later in Periodontics for three years, took place in the United States – at the University of Minnesota."I enjoy helping people who need it," he states, "and providing them with the very best, cutting edge services."
After the residencies, Dr. Birdi moved to the Lower Mainland, as this is where his spouse had family and wanted to ultimately settle. He is thankful for that decision. While he has enjoyed every city he has ever resided in – such as Edmonton, Saskatoon and Minneapolis – the Lower Mainland has fast become a favourite. "Vancouver is such a beautiful city," he remarks, "and we have such great diversity." Shortly upon resettling, he set out to build up his own practice. The BC Perio Dental Health and Implant Centre was developed with a very specific goal in mind: to help patients regain the ability to smile, chew and speak comfortably, either through providing the highest quality of dental implant, periodontal, or prosthetic treatment possible, or through enabling fellow dentists through focused, practical education to perform a variety of dental procedures. The office is a state-of-the-art facility that consists of multiple specialties. Together, the clinic's doctors have a tremendous amount of experience in the fields of dental implants, periodontics, and prosthodontics. Dr. Birdi proudly notes the facility is a teaching centre that sees up to 25 dentists come through per month to learn about new innovations and practices. "I look forward to continuing to grow this practice," he advises, "and to continue to be a teaching centre where dentists from Canada, the United States and from all over the world can come to learn." Dr. Birdi's office is located at #501-777 West Broadway and a satellite office is located at #250 – 1175 Johnson Street in Coquitlam.
Regarding South Asian communities, Dr. Birdi respects how many of us will spend money for others but often do not spend money on our own comfort and health, and he considers this a community strength, but also notes that many people are suffering as a result. While he understands the rationale for people to go overseas for dental work, such as the belief that it is less expensive to do so, he has seen how such work is often done poorly and that in the long run it ends up costing people more – both financially and in terms of the physical and emotional pain that can result from poorly done work. "There is so much of that work I end up having to redo," he notes, "and often these problems don't come up until the patient is already back home."
The BC Perio Dental Health and Implant Centre welcomes new patients – patients can be referred by a dentist or other medical professional or they can come on their own. An initial visit will typically consist of an evaluation of your dental health, medical health, bone density, bite issues, reviewing any jaw issues and any other health concerns. BC Perio Dental Health and Implant Centre was founded on the Patient First principle. The clinic's technology has been especially selected to provide our patients with the most efficient, most eco-friendly and most modern treatment results possible. Hours of operation are Monday to Friday, 8 am to 4 pm, and a complimentary consultation lasts approximately 45 minutes.
Dr. Birdi believes oral health care should be accessible to everyone, which is why BC Perio Dental Health and Implant Centre offers complimentary implant consultations for all patients. BC Perio Dental Health and Implant Centre is one of the very few clinics in the Lower Mainland that delivers the time-sensitive solution of "TEETH IN ONE DAY" where eligible patients can receive a dental implant or a complete set of teeth supported by implants in a single, one-day appointment. This treatment can also be called "All-on-4 and TEETH IN ONE DAY".
BC Perio also offers a free "Patient Information Night," (PIN) an in-depth presentation on the benefits of dental implants and the "TEETH IN ONE DAY," service. Space is limited, so you need to reserve your spot by e-mailing the office at info@bcperio.ca with the subject line: PIN RSVP or you can contact the office by phone.  This FREE Information Evening runs on average for 75 minutes and is aimed at helping you make an informed decision regarding any future dental treatment, whether at the BC Perio clinic or elsewhere.
The Vancouver office phone number is 604-259-1108 and the Coquitlam office phone number is 778-653-9157. For more information visit the website at bcperio.ca.