By Vineel Dean
Why not make 2017 a year to get off the beaten track when it comes to holiday destinations and tourism adventures. It can often feel like there aren't enough days in the year, and not enough years in a lifetime to see the world. And when one does, it seems to be to all the familiar places packed with tourist and commercialized attractions. However there are still places and countries to visit that may be on your bucket list, or even not close to it that you should also consider.   Here are our travel predictions for the coming year:
1) Angor Wat (Cambodia) : Tourists have long been flocking to Angkor Wat, Cambodia's grand temple and one of the wonders of the world. And its magnificent, unspoiled coastline has remained relatively untrodden compared to neighbors Thailand and Vietnam. Accommodation and tourist facilities have not been up to the standard of more commercialized tourist hot spots, but with some various star hotels set to open on the 'Cambodia Riviera' of Krabi Island and Koh Russey (aka Bamboo Island). Best to get there early now!
2) Seoul (South Korea): Anyone looking for a culture shock of the greatest kind should book a ticket to Seoul, South Korea's capital with a 25 million population that's making waves across food, fashion, and architecture. It's a city of two halves with the old side's palaces, markets and government buildings perfectly juxtaposing the improbably high skyscrapers, zeitgeist-nailing restaurants, and streets filled with fashion bloggers on the new side. 'The street food scene is a gastronomic delight. Energy, passion, excitement, and technology are all on show in Seoul.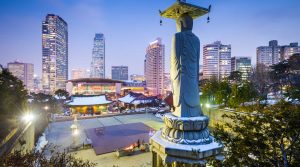 3) Madagascar: Madagascar is a massive island off the East Coast of Africa. It is home to thousands of species that are found nowhere else on earth—more than 90 percent of Madagascar's flora and fauna are endemic—and with the threat of climate change and deforestation looming ever larger, this is one trip that shouldn't be delayed. There are ample opportunities to see the magnificent wildlife enjoy pristine beaches, luxury hotels, and tropical mountain views. The highlight of any visit is a famous helicopter ride to spot the Lemurs at Ankarana National Park or to see the spectacular crater and waterfalls of Amber Mountain National Park.
4) Suzhou (China): A half-hour from Shanghai by bullet train, 2,500-year-old Suzhou has two faces. Most know of its classical gardens (nine UNESCO-designated), celebrated in Chinese art and poetry for centuries, and its canal-filled Old Town with traditional white-washed buildings.   It has shopping and entertainment district named Times Square, a London Eye–like Ferris wheel, multiple Western and Asian restaurants, bars, theaters, and a concert hall, plus colorful musical fountains on Jinji Lake at night—and it's all just a 20-minute subway ride from the heart of Old Town. A great excursion city or as part of an all-China itinerary, Suzhou has something for everyone.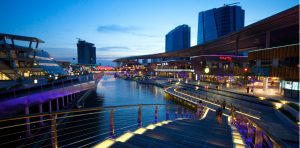 5) The Arctic (Iceland, Greenland, and Norway): The Arctic's extreme and isolated lands are intriguing more visitors than ever. Iceland, Greenland, and Norwegian Svalbard offer plenty sensory stimulants, starting with the aurora borealis. The celestial spectacular northern lights fill the polar nights with intense dancing green lights. It is possible to see Polar bears, seals, blue, bowhead and beluga whales as part of the Arctic wildlife while dogsledding, snowmobiling and skiing are both sports and normal modes of transport.
March 2016 will welcome the international Arctic Winter Games to capital Nuuk, along with a song, food and dance festival. Land visitors to Iceland seeking seclusion should head west, where adventure ice cave "Into the Glacier" is open to the public. Best time to go is May to September.
6) Taiwan: Originally named "Ilha Formosa," this beautiful island birthed the global Chinese Buddhism movement, which is headquartered at the high-tech, 100-acre Fo Guang Shan monastery. Sun Moon Lake is the energy center of the island and showcases the island's indigenous culture. Tea and Taiwanese foods are major draws in the trendy capital Taipei, a confluence of night markets, designer shops and minuscule alleys studded with lanterns and neon signs. Good times to go are in Taiwan's cherry blossom festivals, Lantern Festival and Peace Day that takes place February to April. September to November is also an ideal time to visit.
7) India's national parks: India may not instantly spring to mind when you think of wildlife. But in 2016, it will, as India's new e-visa scheme is making travel easier and cheaper. The country's fabled tiger parks offer some of the world's best opportunities to see the big cats up close. Rajasthan's Ranthambore National Park and Karnataka's Nagarhole National Park, part of the Nilgiri Biosphere Reserve, are famous tiger spotting destinations. Good times to visit are between Octobers to June.