The dealership will undergo a comprehensive revitalization of the facility, its amenities, and the customer services area
Surrey, BC, November 3, 2023 – For more than half a century,OpenRoad Toyota Peace Archhas served the communities of White Rock and South Surrey as their enduring Toyota dealership. In its commitment to delivering exceptional service, OpenRoad Group is investing in a significant renovation project for the location, including a complete exterior makeover. The dealership will remain open for vehicle sales and service throughout the renovation.
The team gathered to mark the occasion and kick off the renovation. Notable people on hand for the ceremonial groundbreaking event includes: OpenRoad Group CEO Christian Chia, OpenRoad Vice President of Regional Operations and Business Development, Dimitri Kotsalis, OpenRoad Toyota Peace Arch General Manager Andy Tan, Toyota Canada Pacific Zone Dealer Standard Manager, Mike Taylor, Toyota Canada Pacific Zone Zone Sales Manager, Julie Wingender, Toyota Canada Pacific Zone Area Sales Manager, Kenneth Tang, and key representatives from project partners Wales McLelland Construction and Christopher Bozyk Architects.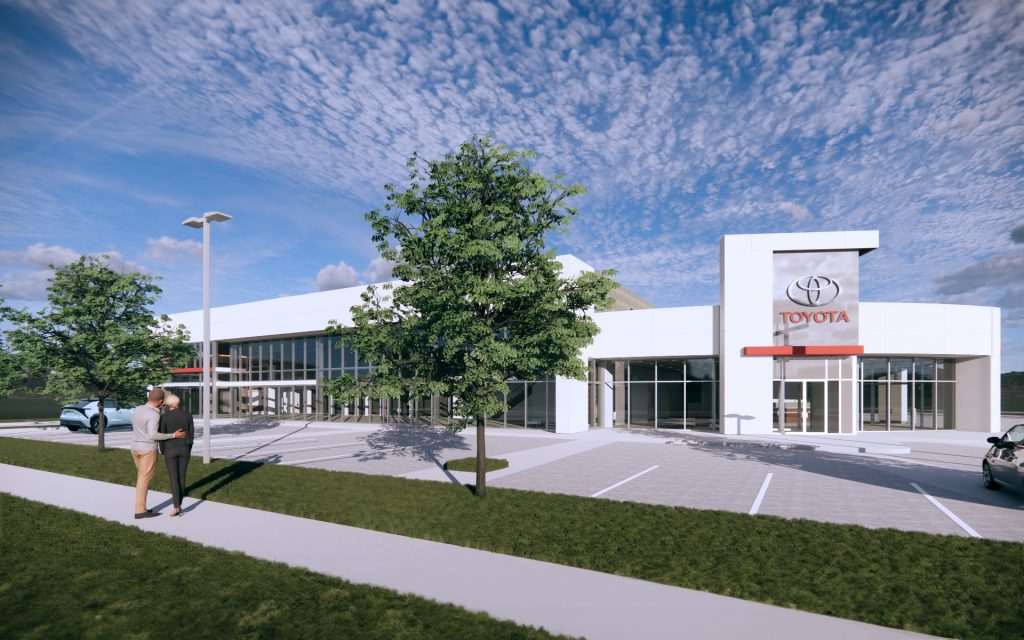 "Toyota Peace Arch opened in 1966, and the location is one of the most recognized – often described as a landmark," says Kotsalis. "
After more than five decades, we want to continue and enhance the excellence of Toyota Peace Arch and undergo a comprehensive revitalization of the facility, its amenities, the customer services area, and its entire exterior facade, which will create a modern, seamless Toyota guest experience. We're thrilled our valued clients will soon witness the transformation firsthand, as we'll remain open throughout the exciting renovation process."

Once renovations are complete, new features at Toyota Peace Arch will include: a touchless car wash for on-site wash and vacuum services; technology centre for electric vehicles, and a completely redone customer waiting area. Upon completion, the dealership will also have a refreshed exterior that follows Toyota corporate building design standards.

Toyota Peace Arch was previously under the leadership of the Vines family, before joining the OpenRoad Group family in 2018. The Toyota dealership has been awarded Toyota's highest honour for excellence in customer service, sales volumes, and market penetration. It has also earned the prestigious President's Program Award an impressive five times.

In addition, Toyota Peace Arch values community partnership through its many charitable donations over the years to the Special Olympics, the Canada Cup Softball Tournament and the Peace Arch Hospital Foundation.

"We're proud to be part of an incredible community and look forward to showcasing the newly refreshed Toyota Peace Arch to our customers, new, current, and past, very soon," adds Tan.

OpenRoad Toyota Peace Arch will still be open during renovations. The dealershipis located at 3174 King George Blvd in Surrey, BC. For current opening days and hours, please visit www.openroadtoyotapeacearch.com.