WIRELESS SMART IN EAR HEADPHONES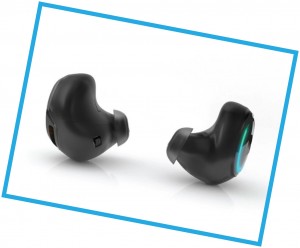 Dash Smart Earphones are amazing wireless earbuds that track your fitness, too. These headphones are an MP3 player, fitness tracker and Bluetooth headset all in one.
The Dash is the world's first smart headphones. These wireless smart in ear headphones include a 4GB integrated music player, which can hold approximately 1,000 songs. If that's not enough, they also include body sensors which makes them the ultimate fitness tracker. They can track workout performances and body vitals like heart rate, oxygen saturation, body temperature and calories burned, pace, steps, cadence and distance, providing real-time feedback on your performance – and it doesn't need to be hooked up to your phone to do so.
The Dash gets rid of wires entirely, offering instead a pair of completely discrete earbuds that can work with a connected smartphone, or completely on their own. The Dash is also water resistant and fits securely in your ear (three sizes available) so no matter what you're doing, you won't lose them.
You can also control playback from the on-device touch sensitive surface, as well as turn off passive audio noise cancellation to fully hear your surroundings, which is handy if you're running in a busy city. The left bud controls your activity monitoring (you can get audio updates on your current measured stats), while the right one manages audio controls, including audio volume and playlist selection. There's an ear bone microphone for making calls, and a transparent audio feature for when you need to hear what's going on around you; when you're cycling or running, for instance. The Dash crams in an IR LED and optical sensor, 3-axis accelerometer, ambient mic and ear bone mic. And each bud contains a 100mAh battery, which should be good for three hours of use. And they're water resistant, too.
And if you get in early, you can net yourself a bargain; they're expected to go on sale for US$300, but early bird backers can snap up a set for US$200. The anticipated delivery date for The Dash is October, 2014, which means we don't have long to wait to see if these really can deliver on their apparent potential.