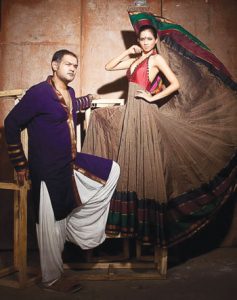 About:
Fashion is a religion rather than a profession' an adage Shravan Kumar Ramaswamy lives by. A true-blue fashionista based out of Hyderabad, has unparalleled command on the latest trends and styles. Known for his unusual creations using the rich variety of handlooms available in India, Shravan Kumar has often shocked the fashion community with his bold usage of unconventional fabrics in his designs. His style of design is research oriented and he focuses on creating new trends every season instead on run-of-the-mill fare. His collections usually reflect his way of approach to life that is ethnic and regal. Shravan Kumar believes fashion is a "recurring cycle" in a nutshell. His motto is that there is no good or bad fashion; one should wear clothing that suits their palette.
Shravan Kumar firmly believes in giving back to the community he works with and he has instituted an annual event 'An Ode to the Weaves and Weavers' to support the cause of weavers. He's been holding this event for the last 2 years and intends to continue every year. His latest Ode collection, 'Pink Wedding' showcasing wedding attires created with handlooms, was quickly lapped up by the general public and was highly appreciated by the fashion community.
Shravan's Contribution to Weaves & Weavers: Shravan Kumar has carved a niche for himself as the city's highly acclaimed fashion designer. During his journey for more than 18 years, he had created magic with fabrics, which were admired by people all across India. This research oriented designer looks up to fashion as his religion, than a mere passion and had set more trends, than he followed.
Despite the fact that weavers were the second largest community after farmers and one the biggest providers of employment, weavers in India have been facing several problems since time immemorial. Millions of weavers are working out of their homes in the absence of electricity and poor infrastructure. One of the major problems is the negligible amount of credit available to them. Defective policy, neglect and competition from multinationals have taken a toll on the communities of traditional weavers in the country. Taking a note these tragic issues, Shravan Ramaswamy, as a well-acclaimed fashion designer of Hyderabad, plays his honest part by paying a tribute to weavers of the nation, through AN ODE TO WEAVES & WEAVERS.
AN ODE TO WEAVES & WEAVERS: SHRAVAN KUMAR
A Style for Every Story
Every day, at my desk, I spend most of my time creating designs, looking at colors, to catch a certain rhythm, a tone of voice, a slant of light. I have always been in love with art, design, fashion, weaves and the many variations that they create…As a designer I have always wanted to explore and expand beyond the repertoire of indigenous designs. Always thought of making something with a marked difference.
The fabric of our lives
The parallels between historic and contemporary weaving present a dynamic relationship between the past and the present. In this rapidly changing world many weavers look to the work of their ancestors as a means of achieving balance in their work.
A Loom with a View
To me weaving represents a balance in life. You can't use enough string, you can't use too much string, or else you are going to break strings. The weaving, if it's too tight, it will go in like an hourglass. If it's too loose, it just won't look right. So you have to find a third option, you have to find the way. You have to find a certain degree of strength and balance between everything and your fabric will be complete.
Fashion is the language of love, intimacy and depth.
My goal is to create inspiring works of art that serve as a record of the culture itself. To work with the best artists and the best weavers…… Best in the world, and what better place to have been rooted in India …… exposed to a rich heritage of handlooms that I have always loved to mesh into my designs. The handmade the craft in the world, is the rarity, is the artist, is the artisan. There is nothing like working with the artist and the sense of what they are doing, they have the vision. Each product embodies not only the trials and celebrations of the craftsman but a moment in their life. As weaving is passed down through generations each weaver is linked by their ability to maintain tradition while adapting to changing times. When I say something is made by hand, the care, the attention, the detail is what you get. The passion of trying to make the best design in the world is very important to me.
My first vision and inspiration was to see my mother dressed in a beautiful saree. How common it was, yet so unique.