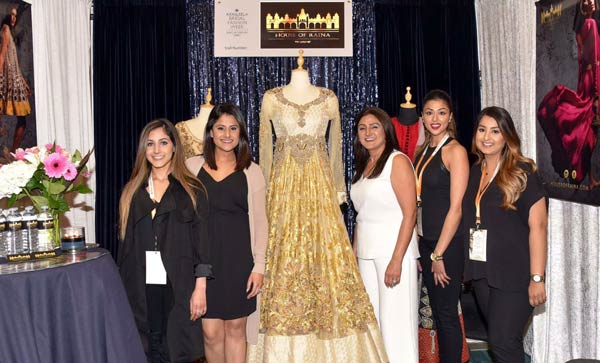 Q1.Tell us about yourself and House of Raina?
Raina (Райна) is a transcription of the Bulgarian form of Regina (Italian) and Reina (Castilian). It means Queen (from the Germanic Königin) where it came from—since English is a Germanic language.
Our name is meant to represent our clients.  They should feel extra glamourous and prestigious in our garments.  Given that we cater to a niche market we understand that our clients have an elevated sense of style and understand the importance of higher quality fabrics, embroidery, and tailoring.
House of Raina is a multi-designer boutique carrying some of the biggest names in Indian Fashion.  Our collection ranges from Indian fusion contemporary style, to traditional bridal wear.  We respect the artistic integrity of all designers in their efforts to create something unique.  For this reason, we import clothing directly from the designers and work with them to customize and perfect the outfits for our clients.  The benefit of working directly with the designer is that it ensures that all designs are delivered exactly how the customer wants them
Q2.How did you get into this business? 

Three years ago while I was planning my own wedding, I was looking for something original for my engagement party. To my dismay, the only options I had were to take pictures of designer pieces to local vendors and hope that they could make what I wanted. I made a trip out to London and visited a few multi-designer boutiques.  It was almost like an awakening being there and trying on these outfits that I thought were impossible to attain.  I brought home my outfit and was in love, the fit and quality were unlike anything I had experienced before.  It was a few months after this experience that I began to research designers in India and started communicating with them about potentially bringing their designs to this side of the world.  About a year after initial contact, I traveled to Mumbai and met with all of the designers personally.  It was great that they felt so enthusiastic about the market in Vancouver, many of them even spoke about how they had clients from here purchasing online.  This reinforced what I thought was lacking in our market, and I haven't looked back since.
Q3.I understand you are opening store in Surrey, where are you opening it?

The store will be opening in the Little India Plaza in Surrey.  It is on the corner of 128th Street and 80th Avenue.
Q4.What kind of research did you do to prepare to open?
I researched where the market was concentrated.  If someone thinks of looking for South Asian outfits, they usually go to Payal Business Center so I had to be close to it.  However, I realized that my boutique was offering a different shopping experience and that I needed a little separation.  I chose the Little India Plaza as it's close to Payal Business Centre and at the same time clients coming to us will have a private shopping experience without having to travel too far out of their way.
Q5. How are you different from other designers?
•    We are authentic and original.  All of our garments have labels from the designer, and the level of craftsmanship is incomparable to anything we have here.
The designers that we carry include:
1.    Shyamal & Bhumika
2.    Payal Singhal
3.    Rohit Verma
4.    Tarun Tahiliani
5.    Pawan & Pranav Haute Couture
Q6.Are there certain dresses that work for certain body types?
We work with all body types to ensure that the outfit a client has picked is the most flattering to their body type.  The experts are the designers. We send the measurements to them, then they make the adjustments to ensure that the client is comfortable and love what they have purchased.
Q7. Do you advise the bride on what size to order?
We do as much as we can to help the bride select the right size. We re-order the chosen design in the brides' measurements. This allows the bride to make any necessary changes. Given that we are in the bridal industry, we do everything we can ensure that our brides' have the best possible experience with us and feel confident and in control of their bridal outfits.
Q8.How much time should brides allot for an appointment?
Because I know, after reading this, they'll be running to House of Raina!
Typically, we ask brides to book a consultation with us to ensure that we have enough time and attention for each bride that visits our boutique. Depending on the bride, consultations can last anywhere from an hour to two hours.