BY J.M. LEE
Namanmeet Singh, Director of Elegant Glass & Shower Mirrors Ltd., started his journey in 2003. He came to Canada as a Male Nanny and made a small basement his new home. Later, after years of struggle, hard work, research, and exploration, he stepped into the glass business. In 2008, with a clear vision and belief in himself and his abilities, he opened a small shop of 2,000 Sq. Ft. with a single saw machine. He was the only one working there.
"I'm always passionate about whatever I embark on, whether related to my business or community work. This inspires me to improve each time, which has helped me take my company to the next level," says Namanmeet Singh, CEO of Elegant Glass & Shower Mirrors Ltd.
He is focused and determined towards his work, always exploring possibilities and unafraid to fail. "Every mistake one makes leads one to be savvy and soon as an expert, recognizing one's capabilities and potential."
 In no time, he proceeded towards having a showroom and production unit in a 23,000 Sq ft. shop with high precision tools and CNC machines plus 45 employees. It was astonishing!
"The new facility includes a modern showroom and an in-house workshop that ensure better quality and high production expected to increase tenfold," Namanmeet says with pride. "It also eased the work of my employees." He adds, "Designers come into our showroom and like what they see in the products on display. We never let people leave our showroom disappointed but are always impressed with everything we've been working on."
Elegant Glass & Shower Mirrors Ltd. takes pride in all its creations. This unique company will give your home or business a unique look. They specialize in mirrors, tub doors, steam doors, custom shower doors, frameless shower doors, custom wood closets, organizers, ventilated wire shelving, and tabletops. Elegant Glass understands that all its clients are quality-conscious, so it ensures everyone gets the best quality products.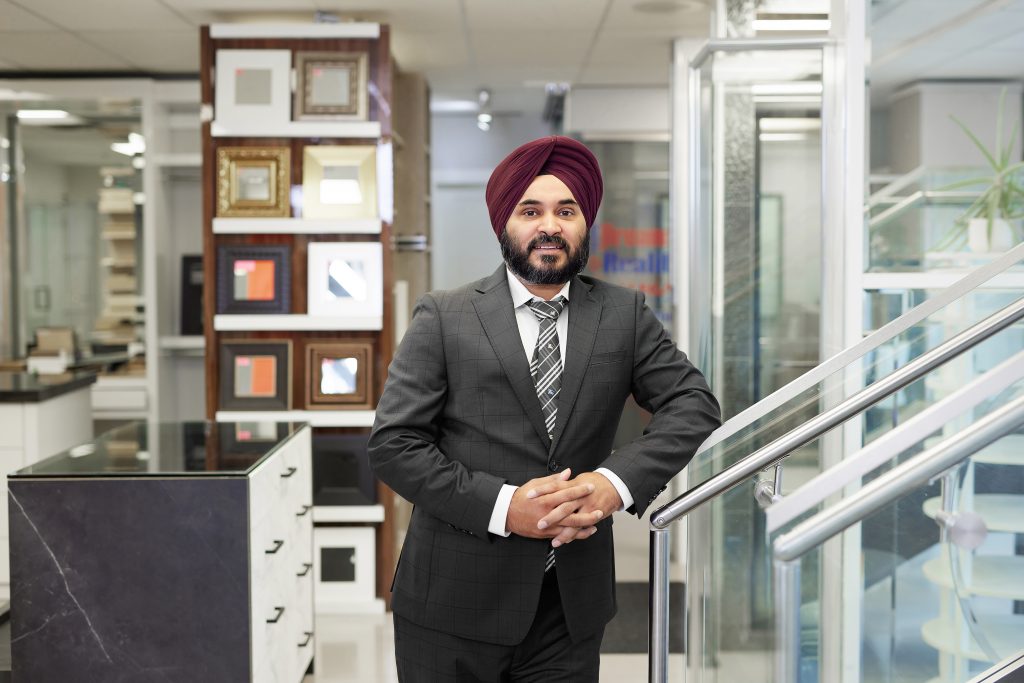 Elegant Glass Trading Ltd. is another company Namanmeet owns that trades different products from various countries – USA, Europe, China and India that helps it cater high quality products and a vast range of products to its customers. " Now the company is in the process of setting up the plant in China as a Co-partner to produce Glass and Hardware for easy access in and across Canada at the reasonable price and in minimum timeline.
He mentioned introducing structured steelwork in 2017, which was in great demand. Since then, his company has been working on several steelwork projects. Namanmeet's innovation and creativity have helped him run his business and opened doors for new opportunities to give an elegant look to various homes. One classic example he quoted says, "Giving a clean look to bathrooms is to use custom-painted Glass instead of tiles in bathrooms," which various home designers and homeowners have well-received.
With his dedication, commitment, and passion, Elegant Glass has become one of the leading companies in Custom Shower Doors, Mirrors, Closet Organizers, Glass Back Splash, and frameless Glass Railings Glass. The company is doing Installation at a large scale and majorly doing projects and WHOLESALE with various renowned construction companies.
The company had started selling its high-quality products to other glass companies during the COVID-19 pandemic when many people were struggling and losing their jobs. He intended to help the skilled young generation to start their own business by using their experience and will help them in all the ways he could. To fulfill their requirements, the company keeps its inventory of over 3.5 – 4 million (Glass and hardware) under one roof. And now, Elegant Glass proudly serves North America with its products. With this, Elegant Glass is now one of the biggest wholesale companies in the Lower Mainland.
Leading to success consistently and with his enduring experience in construction, Namanmeet recently started a venture towards his other passion and interest i.e. Real Estate Development. He is developing exciting projects in cities like Langley and Chilliwack under his other company, "Hollycrest Properties," which aims to help provide affordable homes for families and the young generation. Hollycrest Properties believes in elevating lifestyle, bringing new multi-family market and rental residential units in Fraser Valley, striving to go above and beyond in designs, redefining living through innovation, and aiming to provide a home where one starts from.          
Loaded with passion and dedication, it is no wonder Namanmeet opened his door, leading towards his success.