April 19, Bangalore: Grammy® Award Winning Indian Musician and noted Environmentalist Ricky Kej has been Nominated in the TOP 3 for the highest award on Sustainability – The United Nations 'SDG ACTION AWARDS'. Ricky Kej's 'My Earth Songs' project has been nominated as a finalist from over 2000 entries from organizations and individuals from 142 countries around the world. The winner will be announced on 02 May 2019 at a special Awards Ceremony held at the SDG Global Festival of Action in Bonn, Germany. Ricky Kej will be attending the ceremony.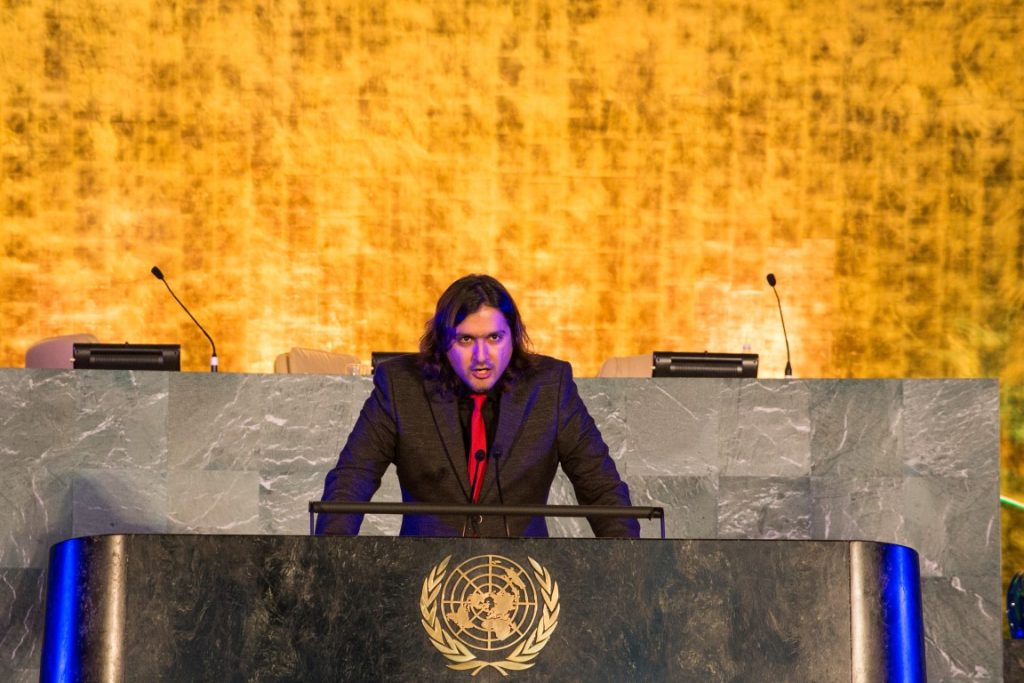 The UN SDG Action Awards recognizes individuals, civil society organizations, subnational governments, foundations, networks, private sector leaders who are advancing the global movement for the Sustainable Development Goals in the most transformative, impactful and innovative way. The UN SDG Action Awards aim to identify the top SDG advocacy change makers in every corner of the earth: Mobilizers, Storytellers, Campaigners, Connectors, Visualizers, Includers, Creatives.
Ricky's 'My Earth Songs' which are 27 children's rhymes, is the world's first ever set of songs based on the 17 Sustainable Development Goals (SDG's). These songs highlight the needs of the planet, and the action that the people of this planet need to take to correct the imbalances and ensure a clean, green planet for generations to come. It aims at enlightening the young through music, igniting in them that spark – to be responsible and spread awareness among their peers and everyone they interact with. These songs have already been published in India and are impacting over 4.9 Million children.
The UN SDG Action Awards ensures that the nominated initiatives and projects are highlighted throughout the year as an inspiration and role model to the growing global community of SDG leaders, decision-makers and influencers.
Ricky Kej on being nominated, said "I am beyond thrilled to be nominated for this meaningful and prestigious award. 'My Earth Songs' is a sincere effort to ensure a new generation of environmentally connected human beings. Everyone needs to play their part to create a more environmentally conscious society. I believe as musicians, we must use our art to raise awareness on sustainable development, and the best way is to start with children. Our audience will sing our songs, and keep humming them many times a day. One goal will catch their attention, followed by another, and another, becoming a topic of conversation that will build into a cause for action".
He added, "It's time to revive the spirit of compassion. I hope this young movement of 'My Earth Songs' will spur a revolution to restore our planet, and help it breathe easy again!"
Link to the SDG Action Award nominated initiative: https://sdgactionawards.org/initiative/1740
About the UN SDG Action Awards https://sdgactionawards.org:
To meet the SDGs (Sustainable Development Goals) we need everyone to take action. Every year the UN SDG Action Awards are organized by the UN SDG Action Campaign, a special inter-agency initiative of the UN Secretary General mandated to scale up, broaden and sustain the global movement of action for the SDGs.
About the MY EARTH SONGS (www.MyEarthSongs.com):
'My Earth Songs' by Grammy® Award Winner and Environmentalist Ricky Kej, is a set of 27 songs for Children based on the Sustainable Development Goals. The United Nations Sustainable Development Goals (SDGs), otherwise known as the Global Goals, are a universal call to action to end poverty, protect the planet and ensure that all people enjoy peace and prosperity.
Music is a universal language that has the power to retain a positive message in the consciousness of the listener. Songs we learn as children remain with us forever. The morals contained in them direct our choices and our lives. With this in mind, was created 'My Earth Songs'. These songs are already impacting over 4.9 Million children
'My Earth Songs' highlights the needs of the planet and the action we, the people of the planet, need to take to correct the imbalances and ensure a clean, green planet for future generations. It aims at enlightening the young through music. These songs are written for children aged 5 to 11 and the lyrics are extremely simple to learn. There are 27 songs and each SDG has at least one song. The tunes are very catchy, and can be memorized through a single listen and are Fun and positive.
All the songs are available for free to any publisher, organization, educational institution, Government entity, teachers or individuals for any and all non-commercial usage. Songs have been donated to MacMillan publishers in India, to print the English versions of these songs in millions of textbooks, starting the 2019 academic year. UNICEF India has endorsed these songs and 'My Earth Songs' was officially launched on World Children's Day in November 2018. The songs are currently available in multiple languages.