Minister Amrik Virk
Continuing His Service to Community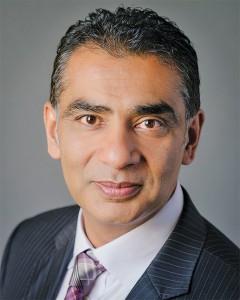 During a sit-down interview with Amrik Virk, one thing became abundantly clear – this is someone who was born to serve the community. His enthusiasm in this regard is obvious to anyone who has had the opportunity to speak to the Minister of Advanced Education and MLA (Member of the Legislative Assembly of British Columbia) for Surrey-Tynehead.
"Service to people, it's not a career to me, it has always been a way of life."
The Honourable Amrik Virk has been serving for most of his life – for over 25 ½, he was a distinguished member of the Royal Canadian Mounted Police, and now he continues this public service as an elected official. In describing his transition, he indicates that "it was a labour of love serving and protecting Canadians, and now I see it as a labour of love serving British Columbians in office. In many ways, I look at it as continuing my service."
"I have a simple job from the Premier," Minister Virk jokes. "I have to train the next one million people in the province."
This valuing of service to others, he explains, was very much a family tradition. Most of Minister Virk's uncles  served in the military in India, or married into military families. He came to Canada as an immigrant in 1969, and has never lost the appreciation of being allowed to come to Canada and giving back to the country that accepted him and his family. His family settled in Williams Lake, where his father worked in a lumber mill. The Minister himself worked in the lumber mill, a job he was holding while awaiting word of whether or not he would be accepted into the RCMP.
"I look back very fondly on each and every day of 25 and a half years with the RCMP, with the utmost respect that I was allowed to serve, that it was a privilege for me to serve."
While Minister Virk acknowledges he has had a steep learning curve in front of him as Minister of Advanced Education, he sounds prepared for the challenge. While he had prior exposure to the field of advance education – for example through serving one year with Simon Fraser University's Outreach Board and 5 years with Kwantlen Polytechnic University's Board, he was Minister of a very broad ministry with a scope that spans the entire province. Among many other responsibilities, the Ministry of Advance Education oversees the province's public post-secondary institutions as well as the private ones. It is ultimately tasked with meeting the needs of both local and international students. "It's a broad ministry but it's important to align everything under some key goals," he explains.  "How do we align education with job opportunities? Are we training the right people, at the right time, for the right jobs? At the same time, we need to ensure there are valuable opportunities to conduct creative research by colleges and universities that helps British Columbians."
"We need to ensure that education is relevant, is nimble, that it is flexible, and that is not just meeting today's job needs, but that it's meeting job needs in 5, 10, 15 years down the road. In that way, we need to not just look at today's needs, but the needs that are around the corner."
Another goal outlined by the Minister is to raise post-secondary graduation rates of Indigenous Communities. "Our First Nations have been vulnerable because of geography and past practices, and we are absolutely committed to ensuring graduation rates, K-12 and post-secondary, are equal to non-Aboriginals."
Despite having such wide-ranging responsibilities and major goals ahead of him, the Minister still manages to also make time for his family and self-care priorities. "Fitness is a lifestyle choice for my entire family," he explains. His eldest daughter is on the Canadian karate team, and has held multiple championships including Canadian, North American, Commonwealth and Pan-American titles. In fact, the Minister and his two other daughters also train `regularly in Karate. He also advises that every morning, after a cupful of chai, he and his wife work out in their home gym.
When asked about what he would like DRISHTI readers to know, Minister Virk advises that often South Asian parents feel their children should choose from only limited number of careers, such as doctors and lawyers, but need to understand there are many wonderful 'non-traditional' opportunities that pay well and offer good job security. He believes that they should do some research on these other types of careers – as they would be pleasantly surprised, and likely would then support their children's exploration of these careers.
"My challenge is to all parents, my challenge is to all students. You have to work very hard, but you will realize the fruits of labour. Then, when you are able to, ask yourself, 'how can I give back?' How can you give back, to your country?