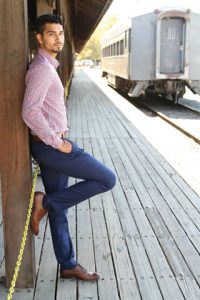 Hello there, my name is Kunwar Dodd and I am from Surrey, British Columbia. I am a Nursing student at Kwantlen Polytechnic University with two and half years of Criminology background.
I have recently participated in the 22nd annual Mr. and Miss India America 2014 pageant on August 23, 2014 in Los Angeles, California and won the title of Mr. India Globe 2014. I was the only Canadian contestant in this pageant. One of the judges for that pageant was renowned bollywood writer/producer/director Mr. Anurag Kashyap. This pageant is going to be aired on Star Plus in the near future.
Furthermore, I walked the ramp for internationally renowned designer Amita Bal at the 8th Akka world conference in San Jose, where Preity Zinta was the show stopper. Also, for the same event, I was a judge for Ms. Akka 2014 beauty pageant. I have also attained success on Punjabi Vines, a social media site where individuals can show case their comedic talents. I have also done background acting for popular TV series "once upon a time" and "the cult".
Just recently I was featured in "The Voice" newspaper in regards to wining the title. Here is the link for that article: http://www.voiceonline.com/mr-india-globe-2014-kunwar-dodd-and-his-best-friend-dilpreet-virk-have-their-sights-set-on-bollywood/ . Other winners of the pageant were also mentioned in article by India West, here is the link for that as well: http://www.indiawest.com/entertainment/global/spirit-of-india-pageant-crowns-mr-miss-india-america/article_8b6062e4-2ed6-11e4-bcfb-0019bb2963f4.html
I would highly appreciate it if you can please give me a chance to be featured in "Drishti" magazine in regards to winning the title as it would help advance my career in the modeling industry and hence help me towards my ultimate goal of becoming a bollywood actor.
Below is a bit of information about me that might be helpful for you along with few pictures. If you need anything else please feel free to contact me  at this email.
Born in India, raised in Canada, and got a break in America. Yes, our very own talented and good looking, Sikh male model won a title of Mr.India Globe 2014 on August 23rd in Los Angles CA. Kunwar Dodd was born on November 2nd 1992 in Village of Panchhat, Punjab, India; For most of his life, he lived in District of Jalandhar, town Adampur. In the early age, he attended St. Anthony's Convent School, Chomo. Kunwar left the soil of india and adapted a new culture of Canada in 2004. Finished his high school in Surrey B.C, and now attending Kwantlen Polytechnic University to become a Nurse. While attending college, he also works as a security guard with a company in British Columbia, and has a passion of acting. Mr.Dodd is very well-known on "Punjabi Vines" (7 seconds comedy videos), but recently discovered another talent of his, which is modeling. When an Indian American top model Dilpreet Virk saw his Vine video on Facebook, Mr.Virk was amazed by the talent, and sent him a message congratulating him for all the success. As they talked for months and became really good friends, Kunwar saw Dilpreet's modeling pictures, and asked him to guide him into the modeling industry. Mr.Virk is former Mr.India Globe 2012, Mr.India North America 2012, and current title holder of Mr.USA United Nations 2014 and Mr.United Nations World 2014. As Mr.Virk started to help Kunwar with his modeling career, Kunwar applied for Mr.India Globe 2014 pageant; which he actually won the title. Once it was a dream, but now its a reality. Dodd and Virk have also walked as a celebrity model for Renowned international Fashion Designer Amita Bal for 8th AKKA Convention in San Jose CA, on top of that both best friends were the celebrity judges for the beauty pageant in CA. Now both of their dream is to get a break in Bollywood. They believe Anything is possible with hard work and dedication. What ever you do, do it with all your heart and world will bow down to you.
I thank you for taking your valuable time out for going over this email, as I am looking forward to hearing from you soon.