BY NINA CORRIE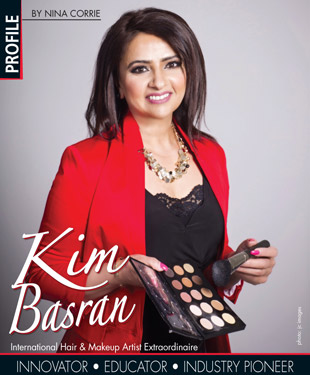 Innovator.  Educator.  Industry Pioneer.  International Hair and Makeup Artist Extraordinaire, Kim Basran has never been afraid to dream big dreams.  As a young girl who was born in India and raised in Canada, she discovered she had a keen eye for beauty and imagined one day using this gift to help others look and feel their absolute best.
At a time when few South Asian women were working in the beauty industry, Kim enrolled in Blanche MacDonald, graduating with honors as a certified makeup artist in the year 2000. She is considered a pioneer in the Indo Canadian community paving the way for other artists to enter the industry and follow in her footsteps as an ethical, sincere and dedicated artist who is always pursuing excellence in her field.
Since then, success has vindicated her decision to follow her bliss.  In addition to providing her hair, makeup, and fashion expertise to over thousands of clients for their special occasions, Kim's extensive portfolio includes weddings, graduations, anniversaries, award ceremonies, special events, advertising, and photo shoots of all sorts, including head shots for actors and models.
Kim has also worked extensively within the entertainment and fashion industries.  Among her list of illustrious clients are music superstars Gurdas Maan and Amrinder Gill, celebrity designers Satya Paul and Manish Malhotra, and 2013 Femina Miss World India, Navneet Kaur Dhillon.  She has also dressed models for the Times of India Film Awards, including supermodel Candice Pinto.
In 2010, Kim was awarded the Wedlocks Award for Best Hair and Makeup Artist. The WedLuxe awards were designed to recognize outstanding vendor contributions to the Canadian wedding event industry and there are no paid submissions to WedLuxe to win this award. The winners for each category are determined by the organization and there is no payment involved.
"For somebody who wanted to be an artist in this industry from a young age and having now experienced such career highlights as winning the Wedluxe Award, providing makeup services at the Times of India award show, and being a personal makeup artist for Gurdas Mann; I know the training I took at Blanche MacDonald is what gave me the pillars to stand on and build my successful career.
Throughout the years, I am constantly asked the same questions about where to attend school from aspiring makeup artists. My answer is always, Blanche MacDonald as it is a reputable school that will give you the foundation to build your skills.
As my business is constantly evolving and growing, I am continuously hiring new artists. My requirement is that any artists hired need to have formal, certified training for a minimum of 5-6 months at a beauty school. I respectfully educate both my clients and other aspiring artists by letting them know that you cannot learn how to do be a professional makeup artist that is able to apply makeup flawlessly from watching youtube videos or taking a 2 week class.
Just as my suppliers and partners in business have gone through their formal training for their respective careers, it is vitally important to attend a certified school in the industry. From learning how to keep your brushes and tools hygienically clean for your clients to learning the basics of skin care to working with any type of skin, textures and tones, and even mature skin, the training provided at a school such as Blanche MacDonald is the key to having a successful, professional and reputable business.
Always learning, always challenging herself, and most importantly, always eager to help others, Kim earned her Professional Development Instructor certification in 2012 and is currently working toward a Masters Degree, hoping to pass on her vast knowledge and experience to others.
Kim continues to dream big.  Her future plans include expanding her flourishing business, eventually offering her own line of products at specialized salons.   She also dreams of offering more personal development seminars to continue her mission of making women look and feel their best.  To build a legacy in which the name, Kim Basran is synonymous with elegance, excellence, and flawless attention to detail. Forever innovating.
Forever growing.  Forever dreaming. Forever Kim.