BY J.M.LEE
Despite sharing a last name, Raj Sidhu and Mindy Sidhu aren't related — but they do have one thing in common. Both Fraser Valley residents are committed to transforming cancer care in their communities through their advocacy work with the BC Cancer Foundation.
Community support of cancer research and care has a tremendous impact on the many families facing this life-changing disease, says Raj, who has chaired the Foundation's Fraser Region Transformation Council since September 2022. Together, he and Mindy are working to raise awareness and funds for the new BC Cancer centre that's under construction in Surrey.
"One in every two British Columbians will suffer from cancer. Most of us have been 'touched' by cancer within our families," he shares. "Almost 10,000 people are diagnosed each year in the Fraser region, and that number continues to grow. We need more treatment and research space and technology, and we need to raise funds to make this a reality."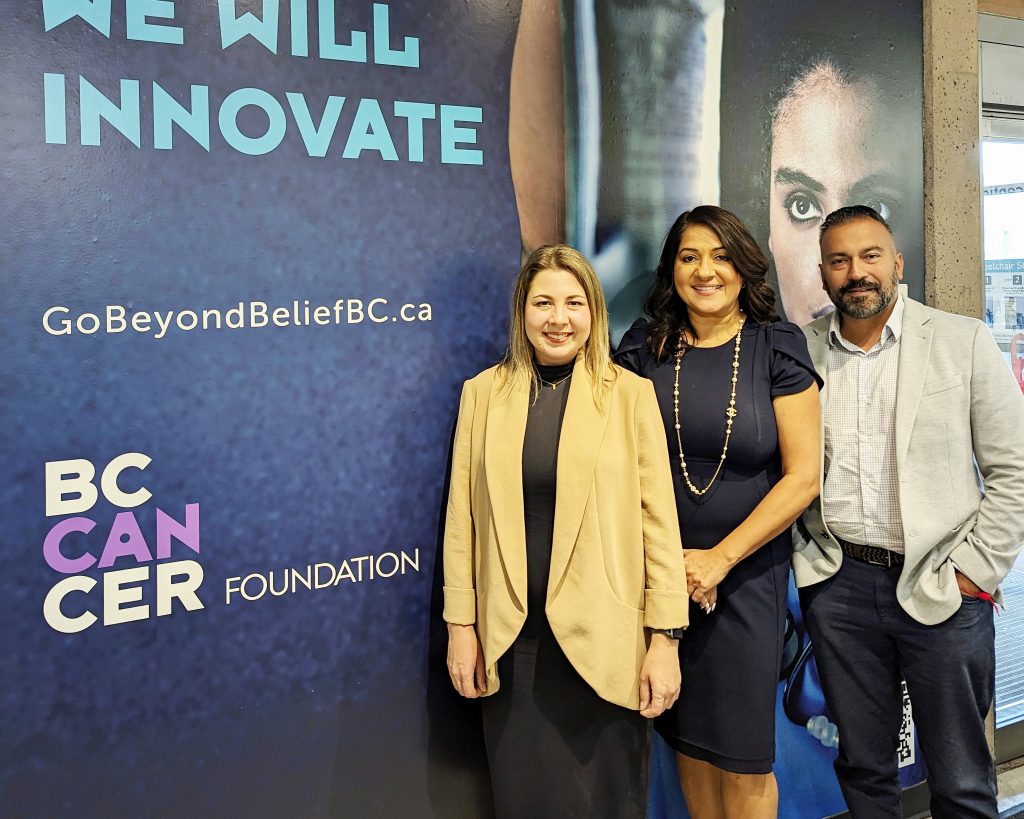 MINDY SIDHU, who also sits on the Foundation's Transformation Council, was introduced to the organization by Raj — and is motivated by her own deeply personal connection to cancer.
"I was honored when Raj reached out to me about getting involved with the BC Cancer Foundation," Mindy recalls. "It was an easy decision, because I lost my father to cancer. He was diagnosed a week after his 75th birthday and passed away a week after his 76th birthday."
Mindy was shocked to discover her own family had become a part of the "one in every two" statistic. But it prompted her to take action, and she became dedicated to working with the Foundation to bring elevated cancer care to the Surrey and Fraser Valley communities.
"Cancer diagnoses are on the rise and demand for care is expected to increase by 60% over the next decade," explains Mindy. "And about a third of new diagnoses will come from the Fraser region because of our rapidly growing population. I can't think of a better way to impact our communities than supporting the transformation of cancer care."
"When a family member is afflicted with cancer, there is nothing you want more than the right amount of care at the right time. I greatly respect all the hardworking oncologists, support staff and care teams at BC Cancer, but my father had an aggressive cancer. When someone you love receives that type of diagnosis, it's important they have immediate access to care. Losing my father so quickly inspired me to help make a difference for others. I have a personal commitment to continue my father's legacy."
KRISTINA LEBED, BC Cancer Foundation's executive director of the Fraser Region, works closely with Mindy and Raj and is leading the Foundation's $30 million fundraising campaign for the new BC Cancer centre in Surrey.
"I am fortunate to work with such passionate community leaders as Raj and Mindy, who are spreading awareness of the transformative impact the new BC Cancer centre in Surrey will have on our communities. The new centre will be equipped with the latest in life-saving technology and greatly increase BC Cancer's capacity to deliver treatments in the Fraser region."
The new centre will double the Fraser Region's capacity to deliver chemotherapy treatments. It will also bring PET/CT imaging to the Fraser Valley for the first time — saving thousands of patients from needing to travel to Vancouver for this important diagnostic scan each year.
"This new BC Cancer centre will bring new hope to thousands of patients and families in the Fraser region and beyond. It will ensure timely access to care close to home, and also allow BC Cancer's researchers to expand their work and collaborate with colleagues across the province."
Cancer is the greatest health challenge of our lifetime, says Kristina, but by coming together the community can make a huge impact on the future of cancer care in British Columbia.
Join Raj and Mindy in supporting cancer care in your community, or donate to the new BC Cancer centre in Surrey at www.bccancerfoundation.com