By Shashi Goel
A VIP Sales Manager holds many responsibilities and should bring success year by year—like Khan Parveez—a well-known VIP Sales Manager at Brian Jessel BMW.
Born in Bangalore India, Khan moved to Canada 2 decades ago. His continuous hard work, dedication, and work ethic earned him a diaspora of accolades, one of which is the title of "BMW Gold Sales Master" conferred by BMW Canada. This title is scarcely awarded to a few sales leaders throughout the entire country for demonstrating outstanding Sales and Customer satisfaction every year.
Despite a great deal of competition and challenges in the market, Khan survives and thrives. He shared that the secret of success in the industry is through consistent efforts and a drive and desire to work passionately.
 "Each customer has unique requirements, understanding their aspirations and finding the best solution possible, led him to reach the highest career," he said.
"My approach is customer-centric; you know everything starts with a cordial customer interaction from the time you approach a client. I have also learned that people have worked extremely hard to get their dream car. Customers want to treat themselves for their success and hard work. Understanding each customer with a meaningful conversation leads to invaluable and powerful feedback from clients which is of utmost essential aspects of the sales industry. So, if you apply those skills, it will lead you ahead of others."
Khan says that if you apply the right customer-oriented skills with true passion and Genuity to help, you develop an everlasting impression with your customers which cements your present and future sales and business."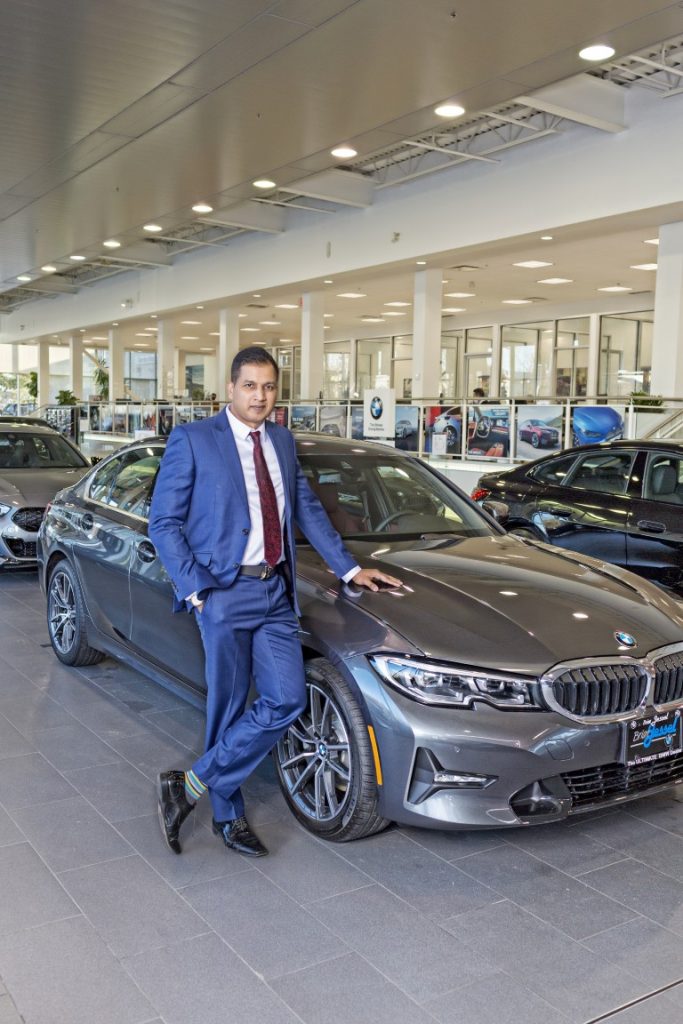 Fourteen years ago, when Khan joined Brian Jessel BMW, he felt nervous and doubtful about his ability to grow in all aspects. Still, he accepted challenges each day and continued learning with vigour and enthusiasm, leading him to succeed. "I think I did prove myself very well; I'm delighted with my decision," states Khan.
He also shared his previous sales experience in the motor industry. His previous job catered to people about a vehicle solely commuting from point A to point B. In contrast, he understood that people come here not just to buy a car but also to celebrate their years of hard work and success by getting a premium BMW.
Last year, Brian Jessel BMW celebrated its 30th anniversary. Given the extraordinarily successful dealership and high volume of sales, it is important to look back and find out its strengths. "Our policies have been time-tested," Khan reiterates. "But on the same note, you must know that everything starts with outstanding customer service not just while buying a BMW but the client's experience through their entire journey owning a BMW.
Meeting such successful and hardworking clientele always inspires him to push the bar forward at his work to perform best. That way, he serves his clients best.
 "Most of the clients I meet are contented because I help them in the right way. Usually, they already know what they want, but sometimes, when I need to guide them, I help them narrow down their decision with all kinds of accommodations for what they are buying. It helps them to find the right car that suits their need best," says Khan.
The Roman poet Juvenal once said, "A healthy body is a healthy mind." Khan always expresses an emphasis on physical fitness. "With my busy lifestyle I still dedicate an hour or so for a good outside jog or working on my fitness in the gym for atleast 3-4 days in a week, and he inspires and motivates his team to follow the same. "To remain fit and active assists your brain and brawn to perform optimal. I do not get tired of answering customers' queries physically and mentally. You take it more enthusiastically and provide them with the best and proper answer."
Khan proudly shares his family's contribution to his career and success. Every opportunity, he likes to give a helping hand to his wife with housework, especially in the kitchen as she takes all the responsibilities at home due to his demanding job. His wife makes sure that her family should be together at dinner time with strict instructions of no gadgets as we are all leading fragmented Tech-centered lives, and dinner meals are not just about eating together but having family connection through conversations.
Khan further shares that he always makes sure that, "While I drop my children at the school, I ask them during the driving time about their plan for the day and share mine as well. It helps them develop planning and time management etiquette."
He maintains his work spirits high in his career with Brian Jessel BMW for almost 15 years running. "Just the culture here, it keeps me energized to look forward every day to coming in and working here."
Khan's advice to all Drishti readers who aspire to have a career in not just the auto industry. First, make the best use of your time by constant learning, practise, and be good to yourself. Next, be genuine with your friends and others, share anything you think you know that can be beneficial to your colleague in their growth. It is a great feeling to share your knowledge and contribute to a colleague's growth. And I think when you guide younger sales reps grow, you also grow as a human being."