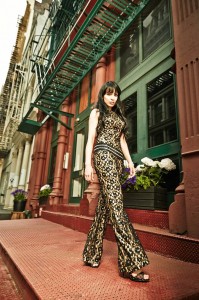 Gurpreet believes in pre-destination. Everything is written: we are meant to walk a certain path, meet certain people, meant to feel certain pain—and it is all to prepare us for what is yet to come.
For her, growing up was never easy. Being the youngest of three siblings and having been raised by a single mother, life has been quite a challenging journey. She doesn't come from a wealthy family, or have been sheltered from the truths and realities of life. She was just six-month old and her elder twin brothers just about a year old, when their father left on the streets of New york city. Her father has never been a part of her life. Her mother was straight from the pind and didn't speak a word of English. To keep the family together, her mother worked day and night, gave them an education, raised them to be who and what they are today. There were times when they would go to bed without food. They never had a happy childhood like most people, instead, they've seen bloodshed, struggled and endured pain. Her mother and brothers are her world. Growing up with two brothers, Parminder & Parninder, made her a tomboy, and her struggle makes her the person she is today. The pain gives her the strength to carry on. Religion plays a huge role in her life—without it, she would be a lost soul. Her faith is what keeps her positive.
"No matter what happens in life, deal with it, take both the good and the bad," she philosophizes.  "Eventually you will have gone through so much that you become unbreakable. I was a very shy and quiet girl growing up. I always kept to myself and let my emotions and feelings bleed through my passion for theatre."
Life was tough and acting was her escape. What made her get into acting was to be anyone else except her real persona, and in theater, she found her temporary escape from her real life.
"I loved school and learning. I've always been excited to learn new things. I have a degree in Theatre and Communication—which I completed in New york. I have been acting since the age of six. I did my first commercial at the age of seven for PBS. Theater has always been my passion and love. I'm very passionate about Shakespearean theater! I've played Lady Macbeth, Juliet, and have performed various Shakespearean monologues. Theater is where I get my spontaneity from, and the rush and excitement of performing live on stage for an audience is unreal. I have also been in plays such as One flew Over the Cuckoo's Nest, "West Side Story," "The Laramie Project," and "Vagina Monologues."
She and her family moved to Vancouver about eight years ago. She grew up with a mixed group of friends but never had any desi friends. Her Punjabi was horrible. However, being around such a huge Punjabi community in Vancouver, it was not at all difficult to pick it up. Joining Redfm 93.1 was a huge turning point in her career.
"I am blessed to be working for Redfm since day one. Radio was something I have never done prior to Redfm so I found it very strange that I had to be in a room and talk to myself even though there was an audience I could not see. Three months down the road I was in love with it. My radio personality is who I am: the same person off and on air. I started out with hosting "Balle Balle Shava Shava" and today I have moved on am on air six days a week on Redfm hosting Punjabi Take Over, Fiesta Fridays, Senti Sundays and Live at the Live on Locations. I found Father figures within Kulwinder Sanghera (president of Southasian Broadcasting) and Shivraj Ghuman. I found brothers and mentors Nick Chowlia, Baljit Singh Deo and Rupy Bains."
Her first project was in a music video for Arif Lohar's Song "Jugni" directed by Baljit Singh Deo.  Thereafter, she landed her first role in the punjabi movie "Jag Jeondeyan De Mele" also directed by Baljit Singh Deo. After being appreciated for the role she played as Kiran in the film, she landed her second punjabi movie opposite Gurpreet Ghuggi in "Yaara o Dildaara" directed by Ksshitij Chaudhary.  In 2012 she had the honor of working with Baljit Deo in Mirza. She was approached by Gippy Grewal  for the role of Kammo in the film "Best of Luck" opposite Binnu Dhillon. She dropped out of the scene for a bit but couldn't avoid it for long. 2014 has been so far very busy for her. She has various projects yet to be released and a few that are in the works. With that all being said she always love learning new things and exploring new ventures so she also has surprises coming along the way for 2014.