ANYTHING BUT A TYPICAL LAW FIRM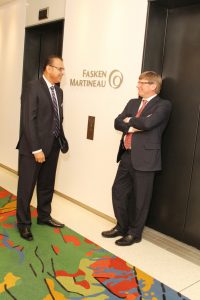 "There may be someone who has not set up their business properly…We encourage them to connect with Fasken Martineau to guide them through it. "We are a full service business firm, and we are always happy to help out in any way that we can." "Fasken Martineau also has several staff and lawyers who speak South Asian languages."
With an office in Vancouver as well as across Canada and around the world, Fasken Martineau manages to serve their clients' needs locally, nationally and internationally. Fasken Martineau is a full-service business law firm. Given the firm's size, its lawyers are able to specialize in many different facets of business law. They handle mining and energy, two of the largest industries in the province, as well as technology work, banking, clean technology, real estate, labour relations for management, tax work, life sciences, family run businesses and estate planning. Fasken Martineau's local office opened approximately 130 years ago, and over the years it has grown to become the largest law firm in the city. Given that today's companies and entrepreneurs may extend their dealings beyond provincial, national and even international borders, the firm recognized the importance of expanding its services to maintain an optimal level of service to its client base. "In 2000, our partnership decided that, to better serve our clients, essentially we needed to go beyond Vancouver, beyond British Columbia," William Westeringh, Q.C., Managing Partner at Fasken Martineau, explains. "Today in Canada and abroad, the firm now has over 800 lawyers." These lawyers work in Fasken Martineau offices all around the world – including in Vancouver, Calgary, Toronto, Ottawa, Québec City, Montréal, London, Paris and Johannesburg.
While having a global reach, the Vancouver office remains very much a local office. "We have about 140 lawyers in Vancouver, and the majority of the work we do is Western Canada-based," says Westeringh, who has been with the firm since 1988.  "Sometimes people think  …you're a big firm, you're only doing major, massive projects. No, not at all. A bulk of our work remains for British Columbians. The fact that we are big means we have expertise in many areas and we are absolutely competitive when it comes to price."
The firm manages to maintain a local focus while still being able to meet the needs of an increasingly diverse client group. "For about fifteen, and certainly the last ten years, we have worked hard to assist people who are abroad in Asia and want to invest in Western Canada, and those who are here and want to invest abroad."
This recognition of diverse needs does not extend just to their clients. A perusal of Fasken Martineau's website reveals the great emphasis they place on diversity in their workplace. "Within our firm, we have a diversity policy that is firm-wide," advises Westeringh. "We have a diversity committee and all of the offices, including the Vancouver office, are represented." Fasken Martineau is also a socially conscious organization, supporting many local and national causes, such as the United Way, cancer research, and the Night of Miracles fundraiser for BC Children's Hospital, put on by the South Asian business community.
When asked for any advice he can give DRISHTI readers, Westeringh emphasizes the importance of being proactive. "It's good to be proactive and get legal advice. If you wait until there's a problem, that's probably not a good thing. Our lawyers can help a client structure things in a way so that they can avoid such problems." That can also be said about businesses that started off small but now find themselves growing significantly. "There may be someone who has not set up their business properly, so it may be at risk. We encourage them to connect with Fasken Martineau to guide them through it, whatever their needs may be. We are a full service business firm, and we are always happy to help out in any way that we can." Fasken Martineau also has several staff and lawyers who speak South Asian languages.
Westeringh also wanted to acknowledge the South Asian community for its many great achievements. "The community should be very proud of itself for the contributions it makes. To politics, business, charity, the South Asian community is really involved, and should be proud of what it is contributing to British Columbia."
Fasken Martineau's office is located at 2900-550 Burrard Street in Vancouver. To learn more about Fasken Martineau – please call at 604-631-4752 or visit www.fasken.com