August 28, 2023

Students, staff and visitors at Simon Fraser University's Burnaby campus now have a new way to quickly get around: e-bikes.

Thirty Evolve E-Bikes are now available to ride on Burnaby Mountain 24 hours a day, seven days a week. The electric pedal-assist bikes can be found at nine designated parking zones strategically located across campus, including outside student residences to the west and adjacent the UniverCity neighbourhood to the east.

Evolve is an e-bike share program created by BCAA that operates alongside the Evo Car Share program, which has been a fixture at SFU since 2016. Anyone that downloads the Evo App can now also see where the nearest e-bike is, book it and ride around Burnaby campus and the surrounding area. All trips must start and end at any approved Evolve parking zone around campus and stay on bike lanes and designated paved paths.

"I'm thrilled by the addition of e-bikes to our Burnaby campus ahead of the fall semester. I can't wait to see another environmentally friendly way to get across campus," says Martin Pochurko, SFU vice president, finance and administration. "As our campus community continues to grow, it's important that we have sustainable and active transportation options to improve livability and make Burnaby Mountain a more connected and vibrant place to live, work and study."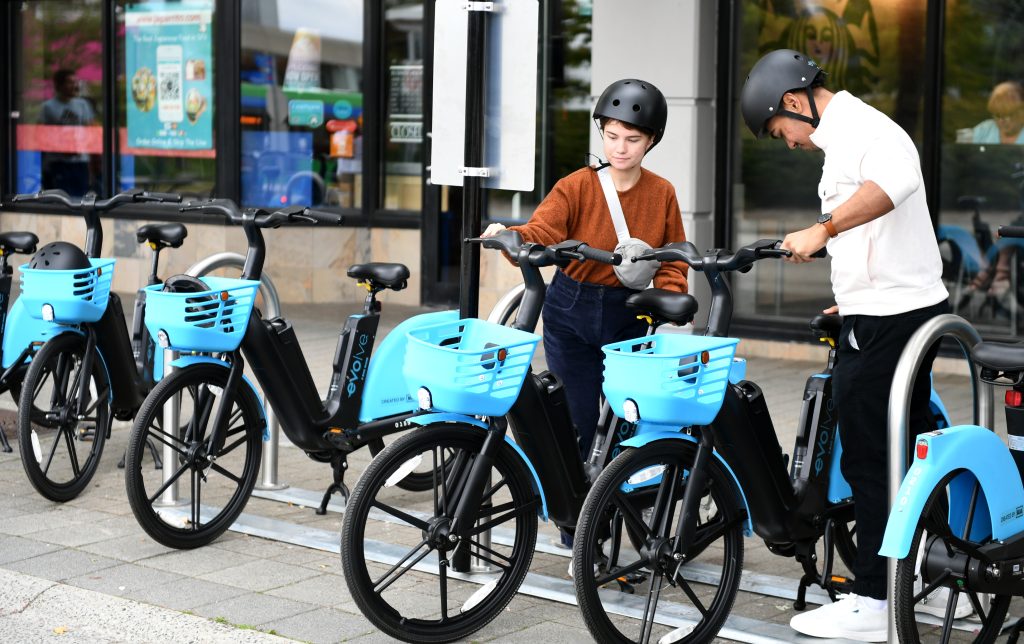 The service provides the SFU community with an additional mode of sustainable transportation while on campus, in addition to existing services like the campus shuttle. Using the new e-bikes, students living in residence can ride to a grocery store in three minutes instead of a 15-minute walk.
Each e-bike includes complimentary use of a helmet if riders don't have their own, and access to safety information, riding tips and advice on the app and at evo.ca/evolve. The program has flexible pricing of $0.35 per minute, or $12.99 per hour, plus an additional $1.25 unlocking fee per trip. Frequent riders can subscribe for $9.99 a month, lowering the rate to $0.10 per minute. 

"BCAA has been operating Evolve E-Bike Share programs with private businesses in Metro Vancouver and for the public in Whistler. This is our first campus-based program, and we are super excited to be partnering with SFU to drive a mode shift towards sustainable transportation, and providing hands-on education for students, while also benefiting residents and visitors," says Leanne Buhler, Senior Manager, Strategic Ventures at BCAA. "This program marks our commitment to both present and future generations, and we're actively seeking more public opportunities across the region to extend this positive impact." 
While Evolve E-Bikes can go up to 25 km/h, some areas of campus, such as the Academic Quadrangle courtyard and Convocation Mall, will remain off limits. These areas are highlighted in red in the Evo App and power of the e-bikes will be automatically eliminated when entering these no-riding zones to ensure the safety of all users. 
This zero-emission electric bike share program also advances SFU's sustainable transportation goals. One of the university's 2025 targets is to reduce emissions – such as indirect greenhouse gasses created by people commuting to, from and around SFU – by 25 per cent from 2019 levels.

In addition to SFU, Evolve currently operates a public e-bike share service in Whistler and offers private programs for businesses and groups in Metro Vancouver, Victoria and Whistler. 

To find out more about the Evolve E-Bike Share program at SFU, visit https://www.sfu.ca/parking/alternative-transport/ebikes.html. 
EVOLVE E-BIKE LOCATIONS AT SFU:
NE Transportation Centre
SW Transportation Centre
Town & Gown Square
University High Street
Fraser International College
Dining Commons Entrance
Dining Commons Patio
Water Tower
Courtyard Residence