Auto review by Veeno Dewan
The Lexus LC500 is the Japanese luxury brand's ultimate two-door coupe and roadster and the unofficial flagship of the Lexus lineup and its aspirational halo model. This striking, dramatic, sensuous coupe looks triple its price. The Lexus LC is aggressive yet graceful, with the big trademark spindle front grille melding into a swooping low hood. Its side keyline has a severely pinched waist and drops into an intimidating rear stance. The interior is appealing and suitably hi-tech, with tiny vestigial rear seats. The LC competes with other luxury grand touring cars, including the BMW 8 Series and Mercedes-Benz SL-Class. The LC500 also has an available hybrid option as a v6, battery-powered LC500h model, and a slinky-looking power top convertible version.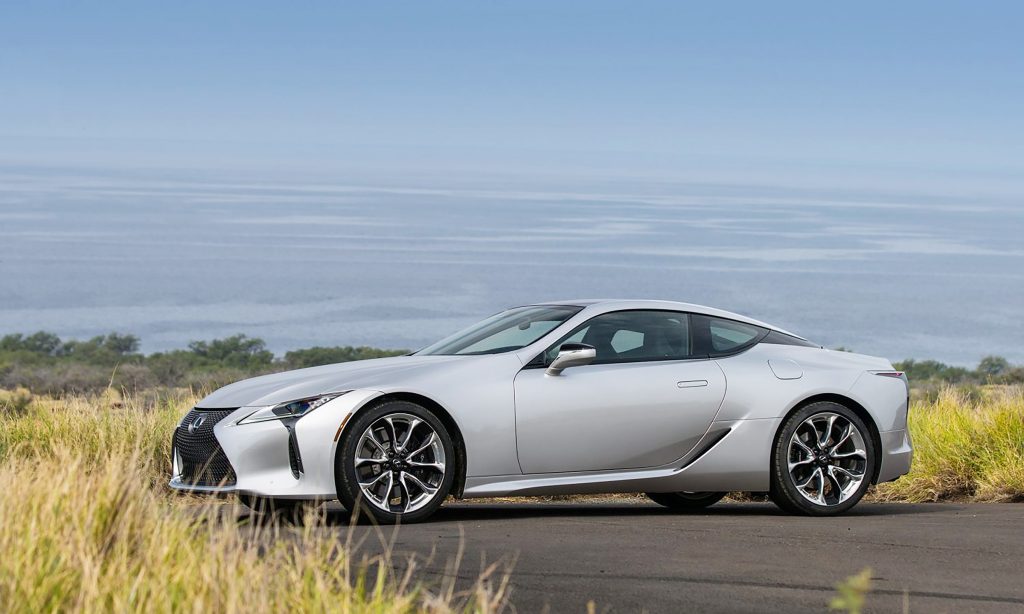 The LC 500 receives a few slight upgrades for 2024, with a new multimedia system, new colors, and improved safety features. Also new is the revised front and rear suspension tuning and recalibrated variable steering and rear steering tuning. There is also the Lexus LC500 Bespoke Build coupe-only special edition, while the Sport package now includes 21-inch wheels.
The LC500 has a delightful old-school 5.0L V8 engine or the hybrid engine (LC 500h), which consists of a 3.5L V6 unit paired with two electric motors, a CVT automatic, and a four-speed conventional automatic. The hybrid system sends its 354 hp to the rear wheels. The non-turbo V8 produces a prodigious 471 hp and 398 lb-ft of torque paired with a 10-speed automatic transmission.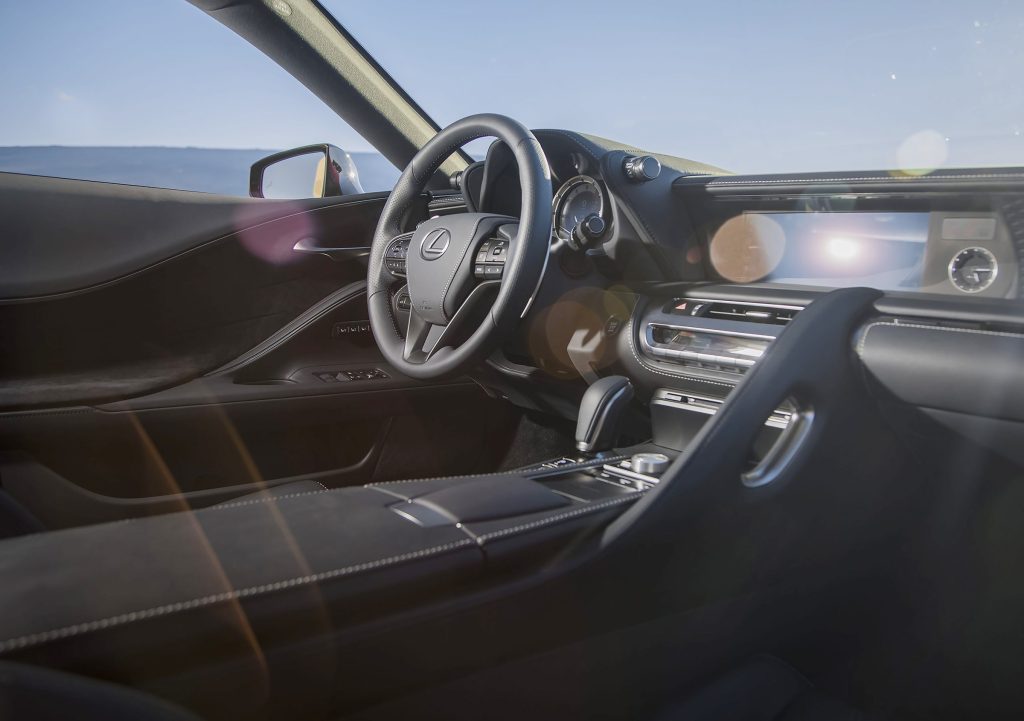 The LC500 model starts at $109,100, with the LC 500 Performance—at $121,950. The LC 500h Performance—$126,300, and the LC 500 Convertible is priced at $125,900. A performance package is an option, adding a carbon-fiber roof, carbon scuff plates, active sport rear differential, performance dampers, 4-wheel steering, a power retractable rear spoiler, and 21-inch forged wheels. It is an expensive package at $18,450. Lexus offers more expensive personalized custom versions with more bespoke exterior and interior features.
More detailed changes include adding the Lexus+ 2.5 safety suite, with extra features and a new, more user-friendly 12.3-inch infotainment screen and setup. There are also new paint and interior colors. Lexus includes a host of driver-assist features as standard. Adaptive cruise control, lane keep assist, automatic emergency braking, automatic high beams, and blind-spot monitoring are featured on all trims.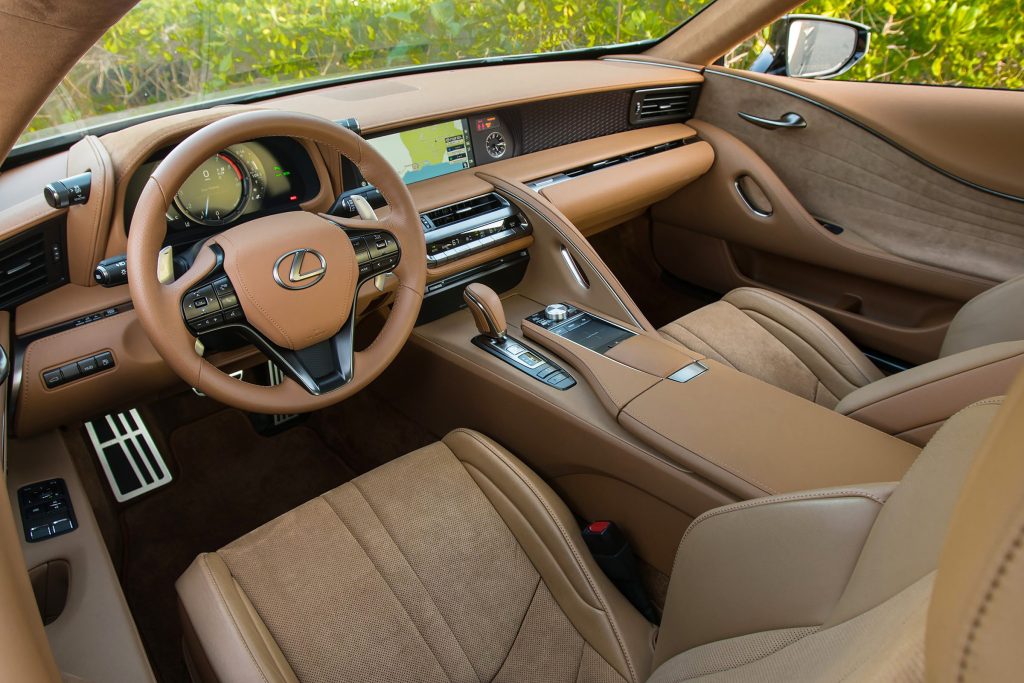 Interior-wise—there is an opulent yet sporty cabin with Lexus' meticulous attention to detail. It's all in the finely stitched leather seats and trim, beautifully sculpted doors, impressive feeling surfaces, controls, and instrumentation. The controls have high-quality weight and feel and a real metal trim. It is a cozy, roomy interior with ample legroom and shoulder room. Meanwhile, the tiny rear seats are not suitable for most adults and are more for storage. The trunk will carry a set of golf clubs or overnight luggage if necessary, but otherwise, it is small.
On the road, the LC500 is quick, with a satisfying, raw rush of power, accentuated by the responsiveness of the ten-speed transmission. The big V8 is thunderous in its power delivery and screams to be pushed into the higher rev range. Handling is precise, with direct steering and a stable, well-centered feel. No doubt, thanks to the highly engineered double-wishbone front suspension and the five-point multilink rear suspension setup. The continuously adaptive shocks are tuned to handle bumps and road imperfections in milliseconds. Some drivers may feel the steering is too light and vague, but this is a big, heavy car, and the steering has been re-tuned to account for this. A major plus is the rear-wheel steering system to add agility when diving into quick corners.
Overall, words fail to accurately describe the allure of this car. It is fast, luxurious, comfortable, and a heart-stopping beautiful supercar from all angles. Highly recommended as the ultimate grand tourer.
2024 Lexus LC500 – Priced from $109,100 – $126,300 Plus options.
(All photos courtesy of Lexus. Canada).