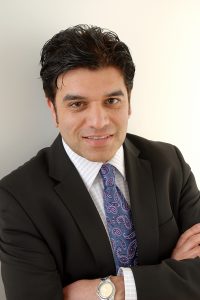 The University of British Columbia Faculty of Medicine is pleased to announce the appointment of Dr. Gurdeep Parhar as Executive Associate Dean, Clinical Affairs, effective April 1, 2014.
After growing up in Kitimat, in northern British Columbia, Dr. Parhar received his MD from the University of Calgary in 1992 and subsequently completed his post graduate training at Royal Columbian Hospital in New Westminster, BC.
Dr. Parhar is currently the Associate Dean, Equity and Professionalism, and also UBC's Acting-Associate Vice-President, Equity and Inclusion. Previously, he served as Co-Acting Head and Associate Head of the UBC Department of Family Practice.
Dr. Parhar's clinical practice in Vancouver Coastal Health and in Fraser Health focuses on immigrants, refugees, workers' health and patients with severe disabilities.  He teaches extensively in undergraduate and postgraduate programs on the topics of professionalism, equity, cultural safety, psychosocial aspects of healthcare, and medical disability.  Dr. Parhar is currently the principal investigator on several educational innovation grants employing interprofessional models to address issues important to underserved populations, particularly Indigenous Peoples.
For MD Curriculum Renewal, Dr. Parhar chaired the Working Group on Social Responsibility and Accountability. He also led the revision and senate approval of the Professional Standards for the Faculties of Medicine and Dentistry.
Aiming to improve patient safety in British Columbia, Dr. Parhar has served in leadership positions reviewing the prescribing patterns of physicians as well as surgical complications.
Nationally, Dr. Parhar is currently the Co-Chair for the Association of Faculties of Medicine of Canada (AFMC) Group on Professionalism and served as the national Co-Chair of the Group on Equity, Diversity and Gender.
At the University of British Columbia, he created and taught a course entitled "Medical Aspects of Disability", a mandatory course in the Masters of Vocational Rehabilitation Counseling Program.
He was the Occupational Physician for the City of Vancouver where he was responsible for reviewing the health of injured and ill workers in the various departments of the City of Vancouver including the City of Vancouver Fire Department, Parks and Recreation, and Engineering Department.
Dr. Parhar has served as the Occupational Physician for the Workplace Health and Safety (WHS) Program at the University of British Columbia.
He was a Medical Advisor to the Workers' Compensation Board of British Columbia for five (5) years.
He is a Marine Medical Examiner certified by Transport Canada and determined fitness to work for all seafarers who work in the marine industry.
He was the first and only Medical Coordinator for the Workers' Compensation Appeal Tribunal of British Columbia (WCAT) for nine (9) years retiring in February 2014.
He is currently the Chairperson of the Royal Canadian Mounted Police (RCMP) Medical Review Board
With all of his commitments, he co-hosts a weekly television program entitled "Pearls for Success" targeting the well-being of new Canadians.
In 2010, Dr. Parhar was awarded the Trial Lawyers Association of British Columbia (TLABC) President's Award and the BC College of Family Physicians' Teacher of the Year Award.  In 2011, Dr. Parhar was awarded a UBC Killam Teaching Prize (UBC's most prestigious teaching award) and the University of Calgary's, Faculty of Medicine Alumnus of Distinction Award.
In 2012, Dr. Parhar made the key note address to the Medical University of Vienna entitled "Diversity- Recruiting, Supporting and Promoting Excellence".  In July 2013, Dr. Parhar was invited as a visiting professor to teach Professionalism in Saigon Medical School Vietnam.
As Executive Associate Dean, Clinical Affairs, Dr. Parhar will provide strategic coordination and leadership between the Faculty of Medicine and the Health Authorities. Working with the provincial government, other Universities, agencies and other public sector institutions, he will strengthen and support those faculty members engaged in clinical activities throughout the Province. Dr. Parhar will provide oversight of the Office of Clinical Faculty Affairs and will be a key member of the Faculty's executive management team.