Surrey, British Columbia – The deadline to submit an application for the January Marie Lapuz Youth Leadership Awards is December 31, 2018, at noon.
For the 2018 award cycle, Sher Vancouver will be awarding a cash prize of $500 to the winner and multiple runner-up prizes of $250.
The award has been given every year since 2015.  Past recipients include youth activists from Albania, Canada, and India.
About the Award
The January Marie Lapuz Youth Leadership Award is an annual award bestowed upon a deserving youth between 16 to 30 years of age who has demonstrated involvement, commitment, and leadership in the LGBTQ community whether locally, nationally, and/or internationally.  Applications from groups who also service this age group are welcome.
FOR FULL DETAILS ON HOW TO APPLY AND TO CHECK OUT PREVIOUS WINNERS CLICK ON THE FOLLOWING LINK
https://januarylapuz.net/january-marie-lapuz-youth-leadership-award/
No Fear Counselling 
Sher Vancouver acknowledges the generous financial support of No Fear Counselling for funding the January Marie Lapuz Youth Leadership Award.  No Fear Counselling is a full service counselling firm with multiple locations throughout Metro Vancouver.  Counselling is provided by professional Master's level counsellors in multiple languages.  For more information on No Fear Counselling check out https://nofearcounselling.com/
About January
January Marie Lapuz was born on April 9, 1986, in Santiago City, Philippines and passed away on September 30, 2012, in New Westminster, B.C.  January was the Social Coordinator of Sher Vancouver.  She was the first transgender person to hold an Executive position within the group.
Being the life of the party, January would make everyone laugh.  She was a kind, caring, generous and loyal friend. January was a great singer and dancer.  She was known as our very own "Beyonce."
January had many challenges and struggles as an immigrant, as a person of colour, and as a transgender woman living in poverty.  Nonetheless, she was a bright light and shining star in Sher Vancouver.  She was a fabulous MC on our "Pride of Bollywood" float in the Vancouver Pride Parade and the "Bang Bang Bollywood" dance nights.
Not a day goes by that January's friends don't think of her.  We miss her and we all know that she is watching over us like an Angel in Heaven.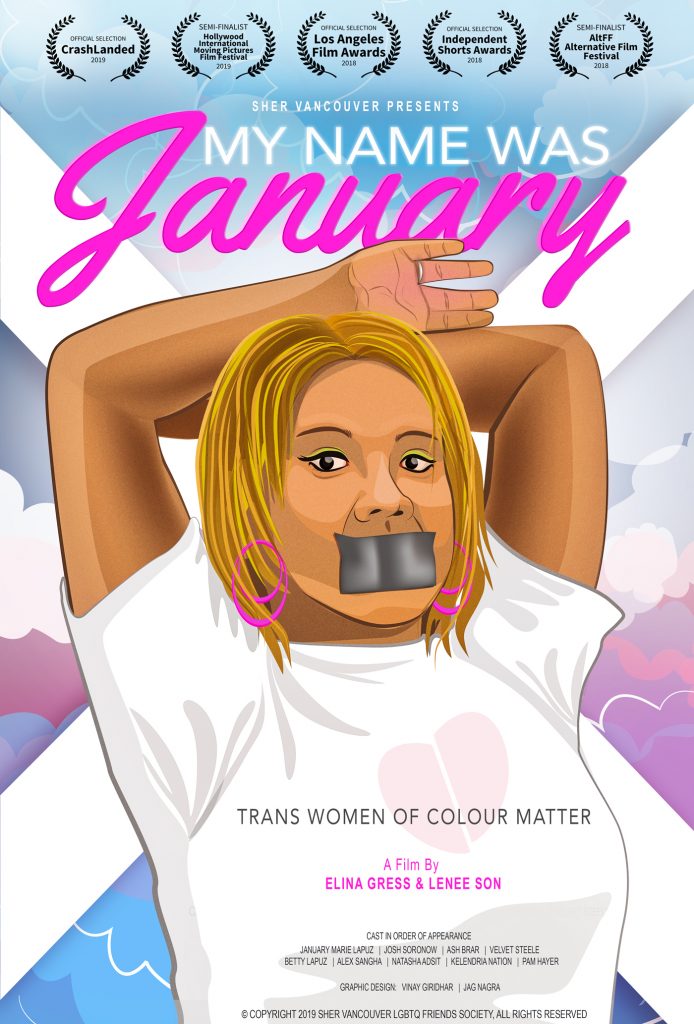 Documentary
An award-winning local documentary film, My Name Was January, has been produced by Sher Vancouver to honour and pay tribute to January and other trans women of colour.  You can purchase the film at this link https://www.movingimages.ca/store/products.php?MyNameWasJanuary
What is Sher Vancouver?
Sher Vancouver is a social, cultural, and support non-profit organization for LGBTQ South Asians and their friends and families. Everyone is welcome in Sher.  For more information on Sher Vancouver check out http://shervancouver.com