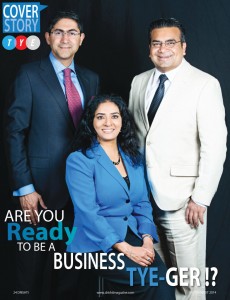 The TiE Young Entrepreneurs ("TYE") program launches in Surrey in October 2014
TYE, is a premier entrepreneurship program for high school students aged 16 to18. The TYE program has been a great success since its launch in Vancouver three years ago. With growing demand especially from many bright and motivated students from across the Fraser Valley, a second chapter of TYE is being launched in Surrey this October. Applications are now open at www.tyevancouver.com/apply.
The aim of the TYE program is to provide students in grades 11 and 12 with an entrepreneurial skill set that can be applied to any vocation that they choose to pursue. The leadership team at TYE is of the view that a well-rounded entrepreneur is one that looks for innovative opportunities for change, while being mindful of economics and the community in which they live. At TYE entrepreneurship is viewed as a mindset, one which its leaders think that needs to be fostered in Canada at a young age.
TYE participants gain a strong grounding in the basics of business planning, marketing and sales, finance, manufacturing and operations, commercial law, etc. Most likely they will be aware of the importance of technology in the business and why businesses are turning to companies like Salesforce to help them to streamline the service they provide to their customers. You can learn more about this right here. There is no escaping technology. The majority of businesses are using this as a way of developing their business in a positive way. And with the help of companies like TrustRadius, getting to see what your customers actually think has never been easier. They also learn about teamwork and leadership as they work in small teams to think of innovative ideas, and develop these ideas into a business concepts supported by a comprehensive business plan. TYE students build confidence through public speaking workshops, and by regularly pitching their ideas to potential customers, suppliers, and financiers in simulated business presentations.
Students are selected for TYE from a wide range of applicants drawn from schools across the Lower Mainland. The program runs on Saturday mornings from October until June and requires a significant amount of student participation outside of the classroom. For students selected to participate in the program, TYE provides an opportunity to understand and build contacts in the world of business and entrepreneurship, learning directly from successful business people and professionals.
TYE is part of TiE Vancouver, a volunteer driven non-profit with a mandate to foster the next generation of entrepreneurs. TiE Vancouver is Talent Ideas and Enterprise. TiE Vancouver is one of 61 chapters around the world across 17 different countries. Globally, TiE supports new business ventures and their commercialization, provides mentorship and professional development, and through its members across the globe and across different industries, facilitates access to business contacts and networks. Just as TiE is global, so is the TYE program; 23 chapters participated in the TYE program last year and more chapters join each year. Vancouver recently played host to the Global Venture Competition in June 2014 – see some of the action at www.tyevancouver.com/globals.
Celine Harjani was on the TYE Vancouver that won at the TYE Globals held in Washington DC in 2013: " TYE Vancouver was a fun and amazing learning opportunity. I have met and connected with many awesome people through this program including entrepreneurs, to lawyers, business leaders and many committed fellow students. TYE has had a deep impact on me. I am so thankful to have been a part of this program. It was truly a life-changing learning opportunity that I will cherish for the rest of my life." Many other students have similar feelings about TYE. TYE, aims to show young people the amazing opportunities offered by careers as entrepreneurs and in different fields of business, and to share the real life lessons learned by entrepreneurs.
Vik Khanna, a successful local entrepreneur with experience in Marketing, Technology, Real Estate and other business lines, brought TYE to Vancouver in 2011. Vik says, "Having been on this journey for the past few years, I have seen over 100 young people grow and develop through the TYE experience. TYE Surrey has the potential to have a huge impact and we are very pleased to launch this second chapter and help many more students learn about business."
"I believe the most powerful result is the creation of an ecosystem, which includes the students, their mentors and teachers, who are drawn from the business community. I am especially proud to see the alumni of the earlier classes attending the TYE sessions and coaching and helping the new students. This ecosystem is very powerful and looking at the strength of the sponsors who stand behind TYE it is no surprise that the students get exposure to many of the brightest business minds in BC."
Omar Visram, the current chair of the Vancouver TYE chapter notes "In my first year leading the Vancouver TYE Chapter, I have found it very rewarding to watch the students grow into confident public speakers who are able to respond to tough questions about their business concepts. The ability to think on your feet is an important skill and it is one that students develop very quickly in the TYE program. I am very excited to see the program expand into Surrey as this means more British Columbians will have access to the high quality training offered by our program."
TYE's current sponsors include Coast Capital, KPMG, Fasken Martineau, SFU, Surrey Board of Trade, Beedie, Khanna Enterprises, SPF Precut Lumber, Ampri Group, Atiga Investments Inc., New World Natural Foods, Brady Dahmer Design, Khare Communications, R Town, and many others.
TYE has also brought the business community together as the mentors, instructors and speakers bring a common passion toward youth entrepreneurship. Amit Sandhu and Rattan Bagga were the two co-chairs of TYE Vancouver before passing the torch onto Omar Visram. Amit states, "The TYE community is a network of dedicated business leaders and program alumni that bring positive, motivational energy when talking about entrepreneurship and sharing their wisdom and experience with youth. After three successful years, this community continues to grow and thrive and I'm delighted to see the expansion of the program to Surrey, one of the lower mainland's most progressive cities. The TYE experience, along with the network of mentors and alumni, help prepare young people for their post-secondary education and careers in a challenging, highly supportive and engaging way." Rattan adds, "TYE is a massively rewarding experience for both students and parents alike, I would highly encourage students to take on this opportunity and learn new skills that will open doors for them all throughout their lives. I also strongly recommend that mentors take advantage of this program as it truly allows mentors to grow as individuals and as leaders all the while connecting with their peers and the youth. I feel very fortunate to be a part of such an amazing program as it has taught me how important the youth of today truly is, and the overall experience has been incredibly valuable."
Anita Huberman, CEO of the Surrey Board of Trade is a key member of the team that is driving the expansion into Surrey. Anita notes that "The Surrey Board of Trade is pleased to be supporting and helping to drive the TiE Young Entrepreneurs Program in Surrey. As an industry organization that supports and attracts business to Surrey, and as part of our workplace development and youth entrepreneur mandate of our strategic plan, we are driven to support our entrepreneurs and business leaders of tomorrow to ensure that they have the skills and attitude to drive our economy forward."
The idea of TYE Surrey started with a conversation between Nawal Tandon of Drishti, and Vik at last year's thank you event for the BC Children's Hospital A Night of Miracles. That led to introductions to other members of TYE and Nawal has been instrumental in bringing TYE to Surrey. Nawal states, "Youth will be the leaders of tomorrow; hence, Drishti Magazine is totally committed in supporting the goals of TYE. We are hopeful that we can discover the crème de la crème among the talented young people so that we can tap their entrepreneurial energy that would bring brilliance to global economy in the very near future—and through it—robust economic activity to the township of Surrey, BC."
Pehlaj Malhotra of Coast Capital says, "We are delighted to be part of the TYE team. TYE is an extraordinary program that introduces young adults to business fundamentals through a fun filled experience. They meet and learn from many of the leading business people of Surrey and Vancouver, they make strong friendships by working in teams with their colleagues from different schools across the Lower Mainland, and they grow in terms of experience and self-confidence. You can really see the transformation in the students over the year they work with TYE and truly achieve their potential. We see them shine during TYE and go on to shine at University and in other endeavors, and this makes it all worthwhile. We are developing our future leaders, and making sure they understand the value of hard work, dedication, and teamwork, and that with these skills they can achieve success and have a really great time doing it."
The venue will be Central City, in Surrey which is convenient and provides access to local business leaders from across the Lower Mainland.
Applications are invited from students who have the right set of capabilities and a positive attitude and commitment to learning and personal development. Please go to the website http://tyevancouver.com/ for more details.
Drishti Magazine will be following the TYE Program as part of a continuing series and we hope to see the students develop and shine, and make all of Surrey and Vancouver very proud of our youth.