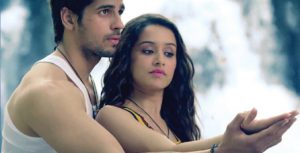 Ek Villain' has already got a thumbs up from the film fraternity.
"EK Villain", which came out of producer Ekta Kapoor's stable, crossed Rs.100 crore mark at the box office. If people liked Sidharth Malhotra and Shraddha as the lead pair, they equally appreciated Riteish Deshmukh in his villainous avatar.
Ek Villain' boasts of a strong plot and high-end performances by its lead actors, from the theatrical trailers. The film starring Riteish Deshukh, Shraddha Kapoor and Sidharth Malhotra boasts of a strong plot and high-end performances by its lead actors, from the theatrical trailers.
The thriller film's trailers, with a lot of intrigue element, have generated a lot of interest among people.
'Ek Villain' has already got a thumbs up from the film fraternity, who cannot stop applauding the film – its director, actors and especially Riteish Deshmukh.
This is Riteish Deshmukh's second consecutive release after the successful 'Humshakals'. While 'Humshakals' was panned by critics, the movie still managed to collect a whopping Rs 50 crore at the box office.
Riteish Deshmukh had earlier said that Humshakals success will eat the BO collection of 'Ek Villain', we believe his fans are more excited to see him in his first ever negative role.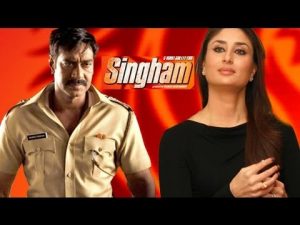 Singham Returns to fight black money menace
Ajay Devgn, who was seen as the nononsense, gritty cop in Singham (2011), will be taking the franchise forward this year.
The sequel of the film, Singham Returns, is expected to hit theatres on August 15, 2014, with Ajay playing Bajirao Singham in the action-packed entertainer. The makers of the movie say that it will have power-packed performances from all the actors. "This time around, Bajirao Singham and his muscleflexing ways will take the story a few notches higher, highlighting some current and deeprooted issues that the aam aadmi (common man) faces on a daily basis, through an edgier and thrilling platform," says an industry insider.
The film, to be directed by Rohit Shetty, will continue to highlight the services of the police force. "Singham Returns will not only see the powerful hit Ajay-Rohit duo play on their home turf, but will also see Kareena Kapoor Khan play Ajay's love interest. Actors like Amole Gupte, Anupam Kher, and others, will be part of the new cast," says the insider.
– See more at: http://www.bollywood.com/celebrities/ajay-devgan/news/top-cop-returns#sthash.06IH1r2A.dpuf
Bajirao Singham will return, this time as the new Deputy Commissioner of Police, Mumbai.
Ajay Devgn will reprise his role as a supercop from blockbuster director Rohit Shetty's Singham (2011). The sequel, Singham Returns, will see him battling villainous forces and even some political parties to eradicate the menace of black money. The movie's trailer will be launched today. The issue of black money is in the news now more than ever. So, the audience will easily connect with it."
Primarily due to its dynamic and heroic portrayal of the men in khaki, cinegoers had listed Singham among the most popular films of recent times. The hit jodi of Ajay and Rohit, who are also collaborating as producers, hopes to repeat their success story with this film that releases August 15.
Salman Khan's 'Kick'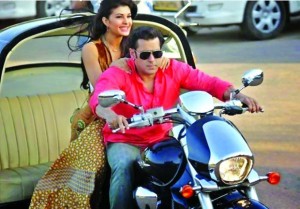 Kick has a bumper opening at the box office of 70-75%
The Opening Shows are at the same level as Dhoom 3 and Chennai Express
If the trend of opening show continues through the day a 30 crore + opening  day is on card which has so far only been done  by Dhoom 3, Chennai Express and Ek Tha tiger. Kick will definitely be highest opener of 2014 and ahead of Salman 's previous Jai Ho. Starring Salman Khan, Jacqueline Fernandez, Randeep Hooda and Nawazuddin Siddiqui, 'Kick' is directed and produced by Sajid Nadiadwala.
Salman Khan has lent his voice for three tracks in the film- 'Jumme ki Raat', 'Hangover' and 'Tu Hi Tu'.
Intense actor Randeep Hooda and power house of talent Nawauddin Siddiqui will be seen sharing screen space with Salman for the first time.
British beauty Nargis Fakhri will feature in a special dance number in the film.
The film has some breath-taking action sequences.
Priyanka Chopra's 'Mary Kom' to open Toronto International Film Festival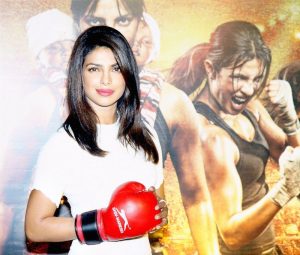 Priyanka Chopra's Mary Kom will not just travel all the way to the Toronto International Film Festival, but also open it. Being a one of a kind biopic on a woman athlete, Mary Kom is definitely a step forward for Bollywood.
The trailer, which was released on Wednesday, gave a glimpse into the story of aspirations and inspirations, taking us through the meandering course of ace boxer MC Mary Kom's life. Priyanka looks spectacular in the trailer, and packs in a real punch, literally! The movie is slated to hit screens in India on September 5.
After two recent disappointing outings in Zanjeer and Gunday, Priyanka's Mary Kom gives her an opportunity to portray a strong character and we hope it gets her appreciation on the world stage as well.
The 39th Toronto International Film Festival (TIFF) will take place from September 4 to September 14.