For nearly 4 decades Jot Singh Khalsa, founder and owner of Khalsa Kirpans, has created unique swords, kirpans, knives and jewelry for Sikh and non-Sikh collectors worldwide. Jot Singh considers himself fortunate to 'walk the sharp edge', creating swords and knives that are true, practical weapons, as well as beautifully inspiring works of art.
Jot Singh's teacher, the late Yogi Harbhajan Singh, Siri Singh Sahib of Sikh Dharma, urged him many years ago to use his artistic skills to create things that will uplift and inspire people. That aim has been the guiding principle for what is offered by Khalsa Kirpans and The Khalsa Raj Collection, headquartered outside of Boston, MA, USA. At the request of his teacher, in 1999, Jot Singh created a $300,000 sword, which was presented by Sikh Dharma International during a celebration of the 'Birth of the Khalsa' in Anandpur Sahib, India. In late 2011, Jot Singh was commisioned by Harjit Singh Sajjan, now the Canadian Defense Minister, to create a special kirpan to be presented as an honor to a U.S. Army Major General with whom he had served in Afghanistan. In April, 2016, a Baisakhi Celebration took place on Parliament Hill in Ottawa, Canada for the first time.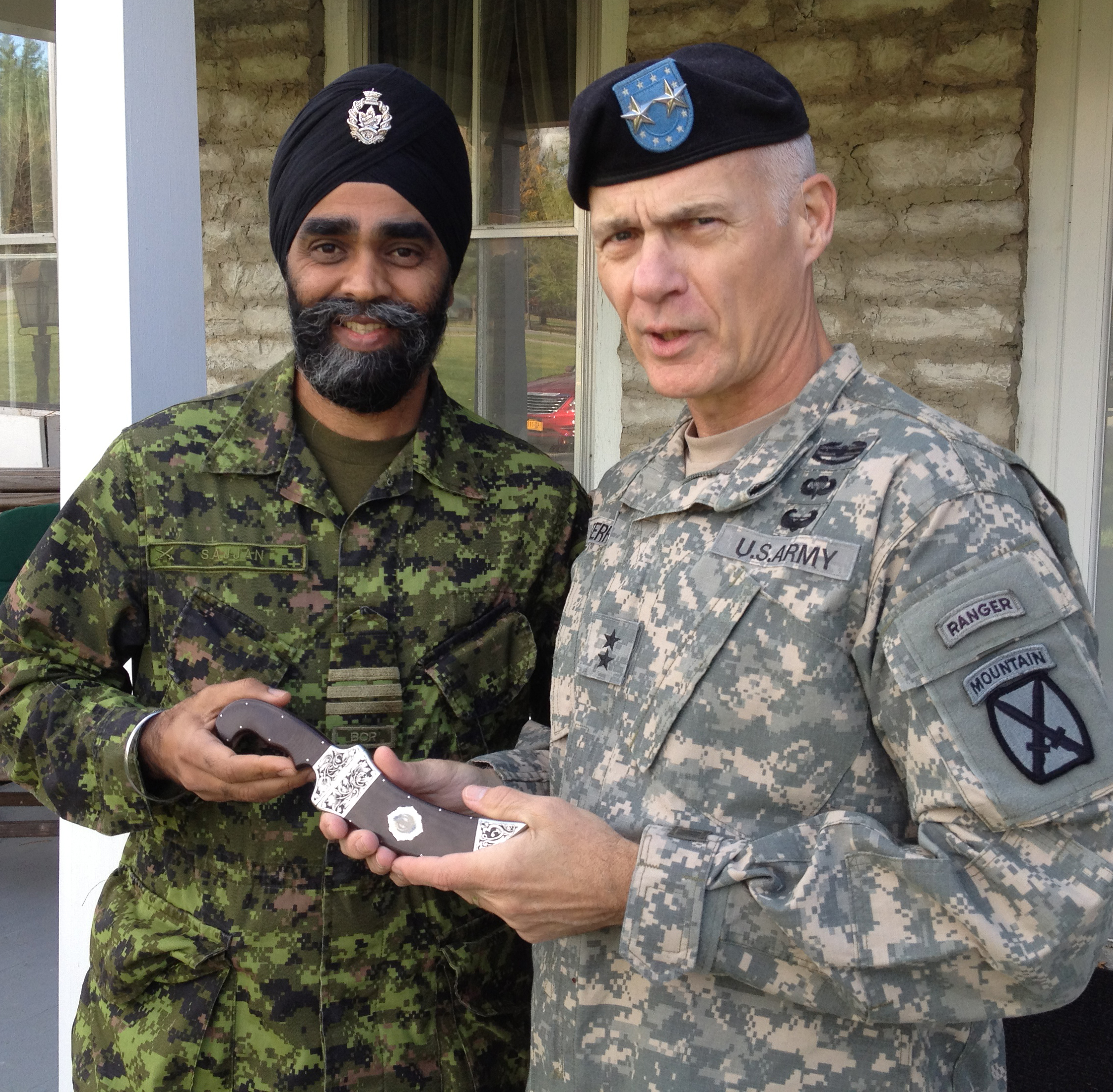 During the celebration, Prime Minister Justin Trudeau was honored by Canadian Sikhs for his manifest respect for diversity and presented with a sword from Jot Singh. Most recently, Jot Singh created a $100,000 sword honoring the life and legacy of the 10th Sikh Master, Guru Gobind Singh. This ceremonial sword was presented by Sikh Dharma International in Patna, India in Janurary, 2017. During that same event, honoring the 350th birth anniversary of the Tenth Master, the finest kirpan Jot Singh ever created was presented by a highly respected United Kingdom Sikh visionary, Bhai Sahib Mohinder Singh Ahluwalia, who had purchased the kirpan in 2011 with the intention of offering it in Patna in 2017. Jot Singh has gratefully served the Sikh Panth throughout the world, offering original 'edged' designs and Sikh jewelry. Please visit KhalsaKirpans.com and TheKhalsaRaj.com to enjoy the wide range of products offered. You will find magnificent matched sets of symbolic Sikh jewelry for wedding parties or everyday wear. And feel free to contact Jot Singh with any special needs or interests that you have. Jot Singh is a master at creating 'one of a kind' swords or kirpans, now in more affordable models, that will serve as honored keepsakes in your family's legacy.