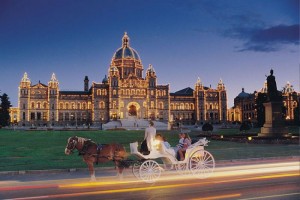 Looking for a quick and easy family getaway? Why not visit Victoria. It's not too far away, you don't need to convert your cash to another currency, and you'd be visiting one of the most beautiful cities in the world, where there is plenty to do for the entire family.
Victoria was given its name in 1843 and it is the oldest city in the province. It has been the provincial capital since British Columbia joined the rest of Canada, in 1871. The city's scenery and moderate climate is a reason many people from all over Canada retire there. As our provincial capital, it is also home to many government workers. And with several post-secondary institutions based there, it also has a large student population.
There is little planning required to visit Victoria. You take the ferry from the Tsawwassen Ferry Terminal to Victoria's Schwartz Bay Terminal, which is a about a 90-minute voyage. Check the BC Ferries website for departure times. Note: if you plan on visiting during a long weekend, you may want to pay extra and reserve a space on the ferry, otherwise chances are you will be waiting up to a few hours (unless you walk on board – in which case you can catch a bus that will take you to downtown Victoria). If you do end up waiting, the shops at both terminals have plenty of restaurants and places to sit and read (or maybe enjoy the beautiful ocean air).
No trip to Victoria is complete without visiting the downtown core, in particular the Inner Harbour Causeway. There are plenty of shops and places to eat, and from there you can walk to attractions such as the Royal BC Museum and Undersea Gardens. You can also tour major sites downtown by hopping aboard a double-decker tour bus, horse-drawn carriage or a kabuki cab (where you sit in a carriage and someone peddles you around on a bicycle).
I've often heard that people from England feel right at home in Victoria. That's because the architecture downtown is very much like the kind you would see in London. This architecture is evident with the Empress Hotel, located across the street from the causeway. You don't need to stay at the hotel to enjoy some of its offerings, such as Afternoon tea.
Also downtown are the Legislative Buildings – where our MLAs sit to introduce and debate bills and laws. There are free guided tours available to those who want to see what goes on in the there.
A few blocks away from the Legislative Buildings, and steps from the ocean, is Beacon Hill Park. There is plenty to do for young and old alike at Beacon Hill Park, such as visiting water parks, flower gardens, a kids' playground and a petting zoo. Another beautiful park, one that is very close to the ferry terminal (but away from most of the other attractions, so you may want to visit it either when you first arrive, or when you leave) is also well worth the visit: Butchart Gardens is beautiful no matter what time of the year you go, but if you go in the summer you get another special treat with your admission ticket – a free fireworks show every Saturday night in July and August.
For great views of the city, be sure to visit Mount Douglas and Mount Tolmie (these are not very large and you can drive to the top. Some of the more healthy residents of Victoria even bike up).
So next time you want to go on a vacation your entire family will enjoy, and you don't want to have to plan too much for it, consider a trip to our provincial capital – Victoria.