Vancouver, B.C. – The Women Against Multiple Sclerosis (WAMS) Luncheon is back at the Fairmont Vancouver Hotel for a fifth year on November 22, 2019. This year, WAMS is pleased to be honouring Canadian soccer legend Christine Sinclair, who will be recognized at the event for her outstanding support of the MS community.
The three-time Olympian and Canadian women's soccer team captain has been one of Canada's most public figures in the campaign to end MS, supporting A&W's Burgers to Beat MS and serving as honorary chair of the MS Society Acts of Greatness campaign.
An initiative of the MS Society of Canada, WAMS is a powerful network of prominent and determined female leaders who have a keen desire to use their knowledge and influence to inspire others. The luncheon attracts 400 leading professionals from a wide range of industries
in support of the movement to end MS. In addition to raising funds to support MS research, the luncheon functions as a networking event that provides table purchasers and sponsors high profile exposure.
 "This event is always one of the highlights of the year for us," says Cindy Elliott, Chair of the WAMS BC Committee. "We're thrilled to be celebrating the incredible achievements made by the amazing women who are working towards a future without MS."    
Additionally, WAMS is pleased to welcome Zahra Al-Harazi as the guest speaker for this year's luncheon. Zahra is among Canada's most successful entrepreneurs and has helped countless individuals realize their potential for success. She has spoken to audiences worldwide and has inspired leading institutions such as The Royal Bank of Canada, Ernst & Young, Great West Life, and more.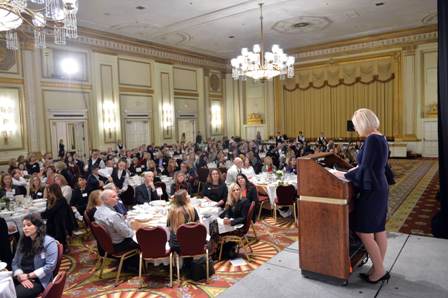 When:               Friday, November 22, 2019
Time:               12:00 PM – 2:30 PM
Where:            Fairmont Hotel Vancouver
900 West Georgia Street
Vancouver, BC V6C 2W6
For more information on this important event, or to purchase tickets, visit: www.wamsbc.ca
About WAMS
Led by the Multiple Sclerosis Society of Canada, Women Against Multiple Sclerosis (WAMS) is a collective of professional women committed to raising research funds to end MS while participating in exclusive and meaningful networking opportunities. Through MS research-focused fundraising, WAMS strives to enable professional and personal growth for Canadian women. The B.C. chapter was formed in 2015 and since then has raised over $500,000.
In addition to raising valuable, important funds towards a cure for MS, the information and support generated from WAMS will empower women with MS to continue living their lives with strength and courage.

About multiple sclerosis and the MS Society of Canada
Canada has one of the highest rates of multiple sclerosis in the world with 11 Canadians diagnosed with MS every day. MS is a chronic autoimmune disease of the central nervous system comprising of the brain, spinal cord and optic nerve. Most people with MS are diagnosed between the ages of 15 and 40 and the unpredictable effects of the disease last for the rest of their lives. The MS Society provides programs and services for people with MS and their families, advocates for those living with MS, and funds research to help improve the quality of life for people living with MS and to ultimately find a cure for this disease.