BY GARY THANDI
Shweta Desai is a recipient of the Madhu Varshney MBA Entrance Scholarship and a student with the University of British Columbia's Sauder School of Business Master of Business Administration (MBA) program. The Madhu Varshney MBA Entrance Scholarship is awarded to primarily international students who have demonstrated an ability to engage in innovative academic endeavors. The scholarship helps cover some of the tuition costs of the prestigious MBA program.
According to its website, the UBC Sauder School of Business envisions the future of the business to "be shaped by leaders who set the highest standards for ethical and effective business practices." The School prides itself on "Driving innovation, furthering business knowledge, leading change—these are just some of the big things happening in the UBC Sauder community." The School offers certificate, diploma, undergraduate, graduate, doctorate, and executive education programs "designed to help graduates and business professionals excel in today's business climate." UBC Sauder School of Business is ranked #16 for business research excellence in North America.
Born and raised in Southern India, Shweta attended an engineering college. "Many of my peers chose to study IT or something related to computer science, but I chose to study chemical engineering, as I always had an interest in that area," she explains. "It was a choice not many students would make, but studies in chemical engineering fit more with what I enjoyed and wanted to learn more about." She completed her undergraduate degree in Bangalore at the RV College of Engineering, and soon after that received a job offer from Unilever to work in research and development. Unilever is a British-Dutch multinational company that produces consumer goods such as nutrition, hygiene, and personal care products (some of these goods include Axe, Dove, Degree, and Noxema) headquartered in London, United Kingdom, and Rotterdam, The Netherlands.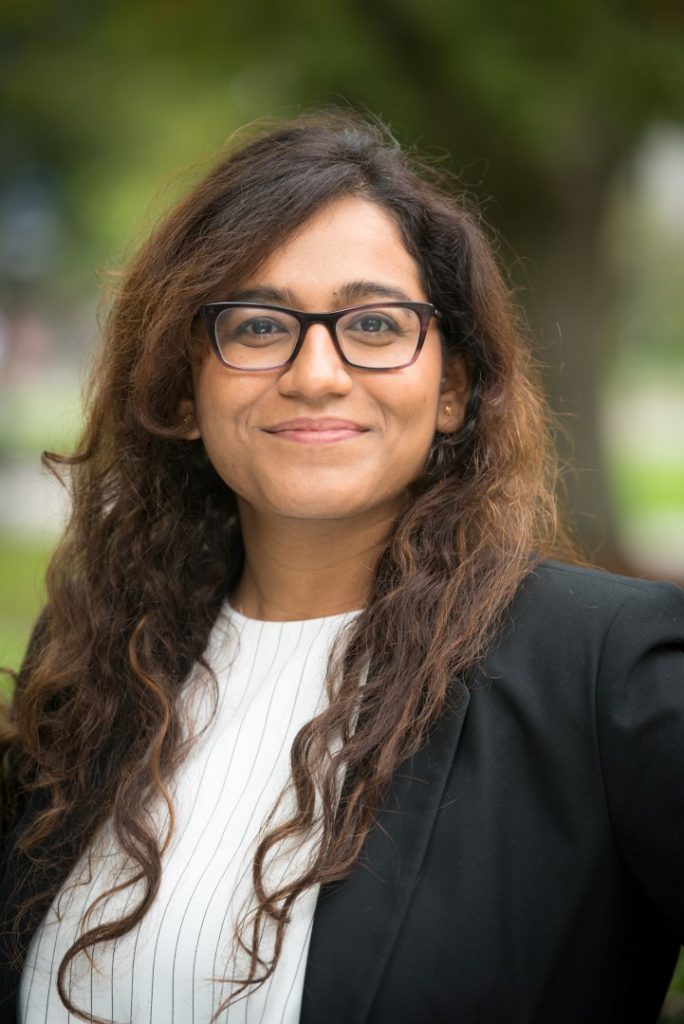 "I worked on projects aimed at reducing one's footprint on various sustainability projects," Shweta reveals. She visited underprivileged families that struggled with water access and would come up with strategies that could help them address this concern. In particular, she worked on developing a water-saving detergent, which increased Unilever's overall business while also significantly reducing water usage. "That was one of the biggest influences in my personal life and career," she notes. "One needs to find purpose in work, that is when you will enjoy what you do, and find meaning in it. I saw how people use your product and can decrease their suffering and struggles and ultimately increase their happiness. Even a small step can make a difference. I have seen that first-hand."
Shweta is passionate about working with organizations that can have a direct and tangible impact on people's lives, who simultaneously emphasize sustainable practices and procedures. Before her current studies, she worked for nearly 8 years with other well-known international brands such OMO, Surf Excel and Persil which are the brands of Unilever. She also worked for Novozymes which is a Danish Biotech organization. She has worked with clients and consumers from all over the world, including Africa, Asia, Europe, and Latin America.
With her technical background being a foundation, Shweta decided to pursue another of her interests – marketing. "I applied to the University of British Columbia and the Sauder School of Business. They offered a particular course on ethics and sustainability, which was very much aligned with my values. I decided to apply and was accepted, and here I am."
The UBC Sauder School of Business "is proud to award entrance scholarships to 35-45% of every class. Our vision is to attract a balanced mix of top talent from Canada and abroad. We look for students who demonstrate the highest standard of academic excellence and commitment and dedication to their career ambitions. Candidates are assessed on many factors, including (but not limited to) work experience, academic achievement, business drive, and the quality of the application essays." The Madhu Varshney MBA Entrance Scholarship is for "students who demonstrate exceptional aptitude and academic excellence, preference given to international students."
Shweta has been in Vancouver for about a year. "When I landed here, it seemed so different," she recalls. I had never been to North America before. I really love nature, I love how people are accepting here. It is fantastic to live here. I really enjoy it."
"The program is very intensive. I spent at least 10 hours a day on coursework for the first few months. The courses they offer and the professors we have are really amazing. This is a different education system than what I have grown up with. The professors are amicable. They are open to feedback and suggestions. The program values ideas, the cohort is very diverse. There are many people from the program who come from all around the world. There is always a healthy debate, I really enjoy that."
"Without the scholarship, it wouldn't have been possible for me to come and study here. Education abroad is expensive, and so I am very grateful for this Madhu Varshney MBA Entrance Scholarship."