BY SONIA WEST
Dr. Shimi K. Kang, B.Sc., MD, FRCPC, is an award-winning University of Alberta (UofA), University of British Columbia (UBC) & Harvard-trained doctor, researcher, media expert, keynote speaker, global social entrepreneur, and #1 best-selling Canadian author. She is a Clinical Associate Professor at the UBC, founder of the Provincial Youth Mental Health & Addictions Program at BC Children's Hospital, and the past Medical Director for Child and Youth Mental Health for the City of Vancouver. She is also a board member of Science World.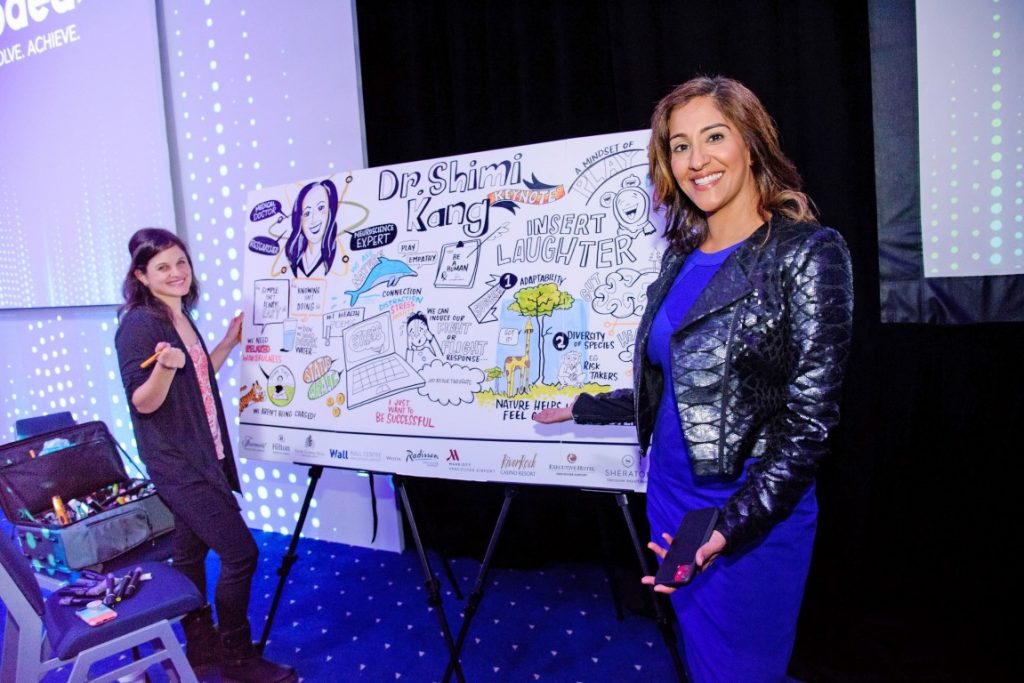 Dr. Shimi K. Kang is the youngest child of hardworking immigrant parents. The unified tutelage of her father's love of math & education and her mother's faith & resilience instilled the notion of perseverance and the quest for knowledge within the family. Both parents strongly believed and role modeled spirituality and Sikh values. Her father, Malkiat Singh Kang, came to Canada in his early 20s, an immigrant from Punjab with little to his name. His first job was as a potato farmer, where he suffered frostbite to his hands from pulling potatoes from the ground. He also worked in a mill and as a taxi driver while providing for his five children and sponsoring countless relatives from India. He became a Math teacher in Alberta and then ultimately a principal. He lived with PTSD (Post Traumatic Stress Disorder), rooted in Punjab's childhood experiences during the India-Pakistan partition: he witnessed the heinous murder of his best friend—a young Muslim boy.
Dr. Kang now understands the impact of intergenerational trauma. It changes our chromosomes (epigenetics), leading to increased risk for stress-related chronic diseases such as mental illness, addiction, diabetes, and heart disease. She wants the South Asian community to use science and compassion to heal, protect, and optimize their most powerful asset—their minds. Her hope and mission are focusing on mental wealth for all. Hence, she hosts the Youtube channel Mental Wealth with Dr. Shimi K. Kang.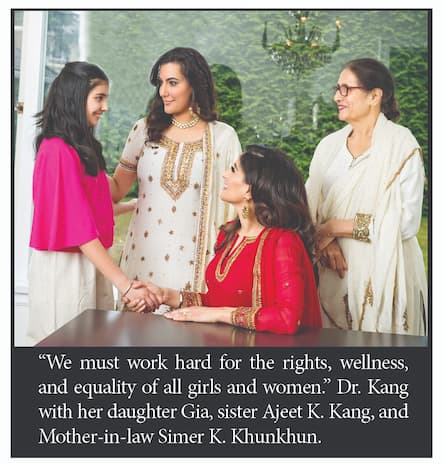 Dr. Kang recalls that her older sister Nina, a Science teacher, bought her a human brain model when she was only 10 years old. The models for teaching science from her sister's curriculum intrigued Dr. Kang. This early introduction to the human brain's scientific workings ignited her passion for medicine and pushed her to learn the human mind's science. Almost 30 years of medical training helped her understand how we, as humans, think and why we behave and do the things we do.
She says it is imperative to teach kids how their brains work. "If we can get the curriculum in Canada, India, and the world to do this, then we can change the mental health pandemic. I was at the World Health Organization in Geneva, Switzerland, and worked on the research that concluded stress was the #1 health epidemic of the 21st century. We face an existential threat with rising stress, anxiety, depression, and addiction, especially in young people. This is the first generation in human history predicted to not outlive the one that came before them."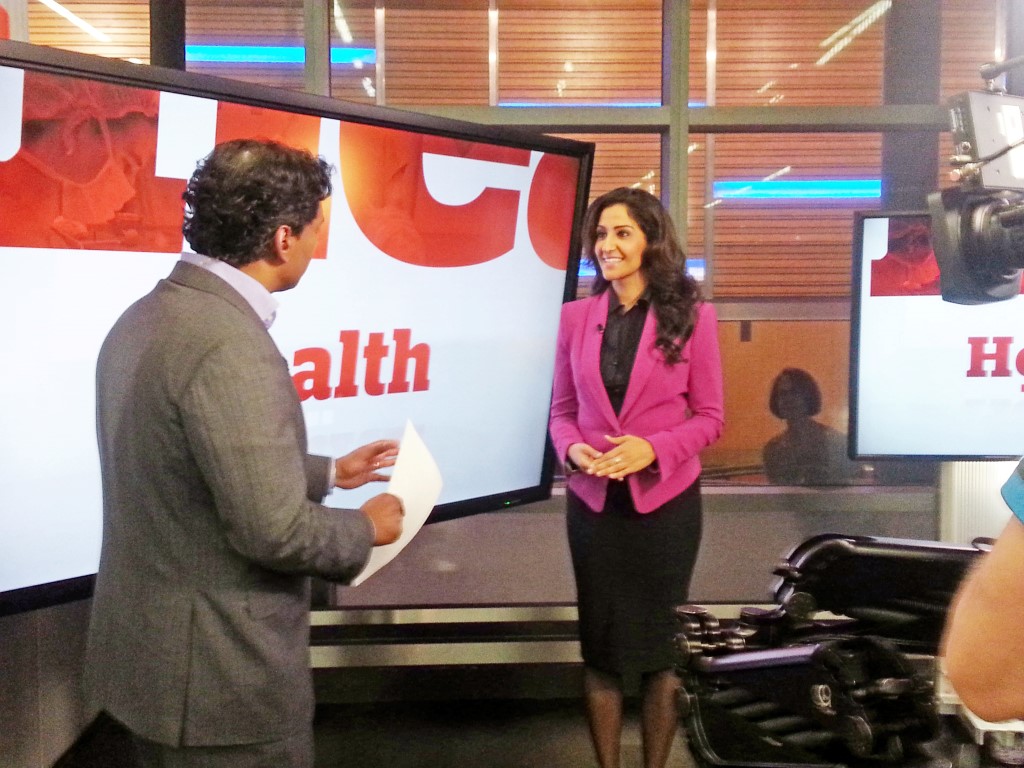 Dr. Kang is the Co-Founder & Creator of Dolphin Kids™, a program designed by mental health experts and teachers to help students, teachers, and parents develop the five critical 21st century CQ skills Consciousness Quotient. These are communication, critical thinking, collaboration, creativity, and contribution—the proven skills needed for health, happiness, and success. The programs are in-person and online and provide neuroscience-backed tools to directly enhance a child's self- motivation, adaptability, and social-emotional development. Research suggests that when children learn more about the brain's functions and essential inner workings, they know how to control and optimize their emotions, behavior, intelligence, creativity, relationships, and thinking patterns.
Their mission is to empower children with neuroscience education and positive coping tools to keep their minds and bodies intelligent, happy, and strong! Play, Others, and Downtime (POD) are the curriculum's fundamental building blocks and the three unique pillars of Dolphin Kids™. All programs are backed by the latest in scientific research to enhance children's development and include: social and emotional development, fitness, nature, mindfulness, gratitude journaling, and the art of positive thinking in their curriculum. Sewa, meditation, yoga, mindful breathing, and helping others are all part of the program. Dr. Kang and Dolphin Kids are working in India with their global partners Dolphin POD, assisting some of the most vulnerable children globally, orphans in India who have experienced severe trauma and poverty. Her latest venture is an app that provides the same tools digitally Spark Mindset.

Wholeheartedly, despite being an expert, she missed diagnosing her own son's ADHD & learning differences. "It didn't happen until he was in grade 5, and it should have been picked up much earlier." He had difficulty with school, and she felt something was wrong. Now, her 15-year-old son, Joesh, is a confident young man, public speaker, and youth ambassador for Stigma-Free Society. His Tedx on ADHD is an excellent resource for others to identify with.
Her daughter, Gia, was also diagnosed late in grade 3 as having dyslexia. "These kids are brilliant. Wherever there is a deficit, there is a gift." That's how the human brain works. A good example: Joesh is a gifted public speaker and athlete, while Gia is excellent at art, music and has high empathy. Her middle son, Jaever, does not have learning differences however needed and mastered vital coping skills to deal with the stress of his numerous life-threatening allergies.
"Our community needs to understand and support children, teens, adults, and the elderly with issues such as trauma, neurodiversity, learning differences, stress, and mental health issues." We need early identification and interventions in our schools, health care system, and community. We need to reduce stigma and build advocacy and awareness. With science and compassion, we can make a tremendous impact on countless lives and brighten our collective future.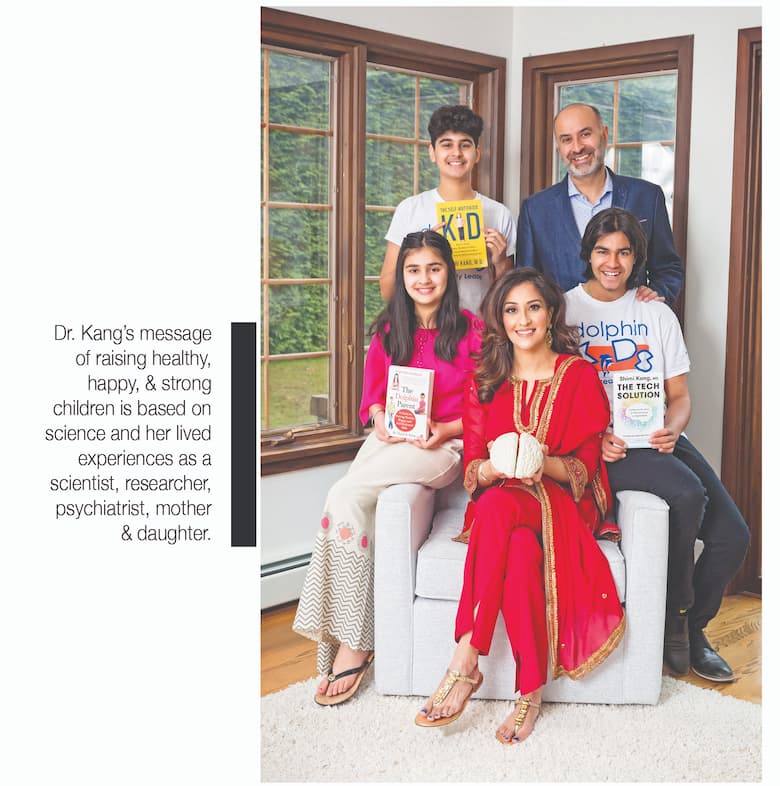 Her message to the South Asian community is to advocate for everyone, especially our children. Ask questions and not accept something that doesn't feel right. "Children are our most outstanding teachers. Look at them, understand them, and observe what drives their motivation — it is play, others, and downtime. Play does not include addiction such as video gaming, gambling, shopping, or other compulsive activities. Those give short-term pleasure, not happiness. Health, joy, and success come from self-care, connection, and a play mindset of learning through trial and error, being comfortable with uncertainty, and trying again.
She stresses the importance of advocating for one's health and trusting their body and intuition. Dr. Kang lives with a genetic condition called Ehlers Danlos syndrome (EDS), resulting in the body not producing enough collagen. As a teenager, she dislocated her knees and was hypermobile but did not think much of it. In her 20s, her knees would frequently swell up, especially when long-distance running or playing sports. In her late 30s and after three pregnancies, she developed a severe chronic pain syndrome as her body lost collagen with age and stress. Her health severely deteriorated, compelling her to apply for partial disability as a doctor. It was difficult for her to navigate the healthcare system as she looked healthy outside but experienced severe pain inside. She is grateful for the many practitioners that helped along the way, yet she also felt judged by others and saw her chart indicating a "busy mom of three, a doctor with an unknown pain." To have this taken seriously, she had to stay strong, trust herself, and advocate for herself. She recalls her perseverance, which helped to solve the mystery of her health. "I pushed the medical system and discovered my diagnosis of EDS, a large cyst at the base of my spine, bilateral cataracts in my eyes, and some weakness and nerve damage in my extremities along with hypermobility and chronic pain."

She learned to trust her body's signals, intuition, and intelligence—and find the science and treatment team she needed. She ordered her genetic test online, found a community with similar conditions, changed her diet, tailored her exercise, and began meditating and praying. She added functional medicine and alternative treatments to the traditional medical model. "My journey of over ten years has led me to the place where I have a deeper understanding of holistic mind-body health and the impact of our environment, diet, lifestyle, as well as an openness to eastern, alternative, and advanced treatments. I truly believe in our body's intelligence. I know I will live a long healthy life as long as I follow my intuition and science."

We ask her what she enjoys in her downtime. She tells us she loves to meditate and pray. She starts every morning with Japji Sahib and practices her breathing. She believes in the power of the positive mind and "Chardi Khala—where focus goes, neurons grow."
Links: https://www.dolphinkids.ca/
https://www.drshimikang.com/

https://app.sparkmindset.ca/
South Asian Mental Health Alliance http://
samhaa.org/
Punjabi Kids Health https://www.facebook.com/
Punjabi-KidsHealth/videos/welcome-to-punjabi- kids-health /408168573806097/
Kelty Resource Center BC Children's hospital https:// keltymentalhealth.ca/