BY SHASHI GOEL
Robert Deol is the Regional Manager, Commercial Banking with Envision Financial, a division of First West Credit Union. An enthusiastic and passionate commercial finance expert with more than 19 years banking experience, Deol is quick to share that the most fulfilling part of his role is working with entrepreneurs across B.C. to help them realize their financial goals and grow their businesses.
A passion for business banking is in Deol's blood. In the 1930s his grandfather served as money lender in Manila, Philippines where he helped many local entrepreneurs start their own small businesses. Similarly, Deol's father carved a successful 30-year career as an entrepreneur in the insurance industry. Inspired by real life learnings and experiences with his family, Deol earned his Bachelor of Business Administration degree and Chartered Profession Accounting (CPA-CMA) designation in order to pursue his great passion: to help and work with entreprenures.
Growing up in a tightly-knit community in Mission, B.C., Deol has always considered himself a community-oriented, family-oriented person – something he believes is also crucial to his professional life. As a values-driven leader, he's thrilled to be part of a credit union whose purpose aligns with his own values. "At Envision Financial and First West Credit Union, our members are our owners, and we succeed when they succeed," he says. "It's about neighbour-helping-neighbour. That's the credit union difference, and that's why it's such a good fit for me."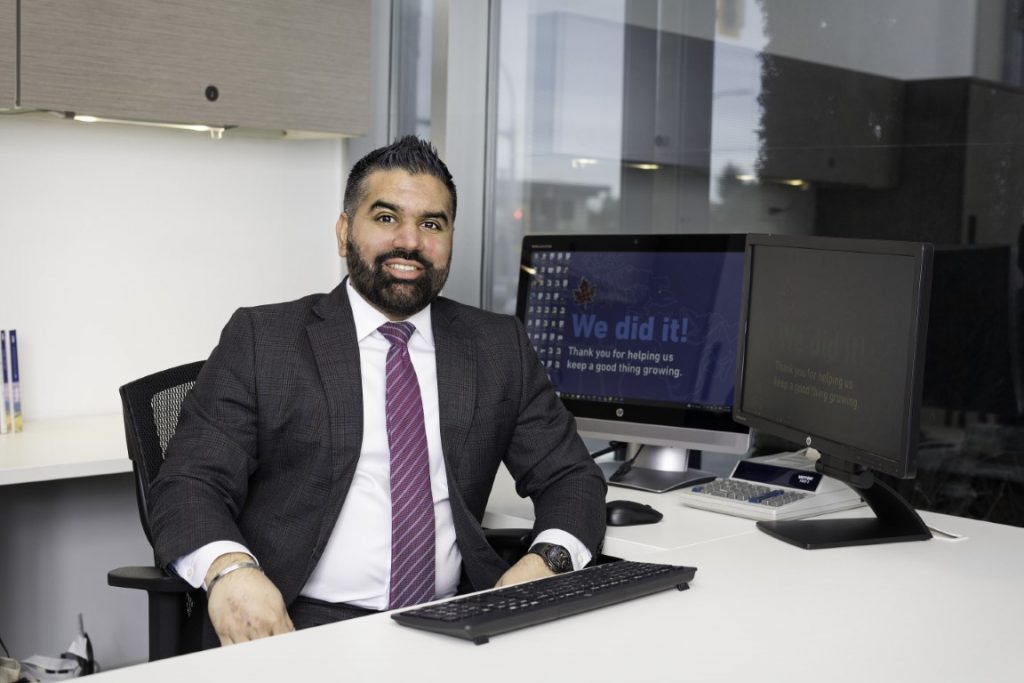 Deol started his banking career in 2003 with Envision Finanical as a part time member service representative while attending university. Through hard work and an entrepreneurial spirit, he advanced his career quickly, becoming a Senior Financial Advisor until he joined Envision Financial's commercial banking division as a Senior Commerical Banking Advisor. After gaining extensive experience in the field, working alongside legendary and highly-esteemed commercial lenders like Tochi Sandhu, Deol achieved a new career milestone when he was appointed Regional Manager serving the Surrey and Delta communities with Envision Financial.
"Persistence and hard work are two keys that have brought me success in my career," Deol says. "It's satisfying to live and work with a purpose. Whether it's a $50,000 loan to help a promising start-up, or a $50 million commercial financing deal to help a well-established B.C. business take the next step in their journey, I love being able to help businesses grow and achieve their vision."
Deol says his career journey with Envision Financial has been immensely satisfying because he's part of a company focused on helping people – including the members and businesses he works with, but also many charitable causes in the community.
"I get to see the direct impact of my work, which is incredibly rewarding," he says. "My team and I are right there as a partners with our local business members as they grow. It keeps me inspired and motivated to do more. But it's also important to me to be part of an organization that gives back so much to the community, supporting causes like the food banks. That kind of commitment aligns with my own values, who I am, and where I come from."
When asked what his members appreciate most about his team of lenders, Deol is quick to point to Envision Financial's local decision making and close connection to its members. "Our teams know their local communities intimately, which fosters trust with our members when making financing decisions," he says.
He emphasizes that he has seen tremendous success in people's lives and careers since joining the company. "Our services at Envision Financial are comprehensive," he says. "We provide commercial and residential banking, mortgages, personal loans, equipment financing, agricultural financing, and many other financing options. In addition, we also have one of the best teams of expert wealth management advisors around. It really is the complete package in terms of the advice and support we can provide our members."
"Our main goal is to help our members and communities thrive," explains Deol. "On a daily basis, that means finding solutions and forging partnerships for greater financial success."
Being physically active and interested in sports is one of the ways Deol gets engaged in his community. "I'm pretty active, and I play many sports such as football, basketball, golf and snowboarding," says Deol. But his greatest joy is spending time with his family. "Even the pandemic has had its upsides on a personal level, because I've been able to spend even more time with my wife, young daughter and immediate family," he says. "It's what keeps me grounded."