After 64 basketball games over 4 days featuring 32 teams in 3 brackets, champions have been crowned at the 2022 Girls Tsumura Basketball Invitational at Langley Events Centre.
On Friday, the Lord Tweedsmuir Panthers and South Kamloops Titans won their respective 8-team brackets, while on Saturday night, the Riverside Rapids took home the 2022 TBI Tournament Title for the 16-team bracket.
For full scores and rosters from the tournament, please visit www.langleyeventscentre.com/tbi
RIVERSIDE RAPIDS 73 WALNUT GROVE GATORS 68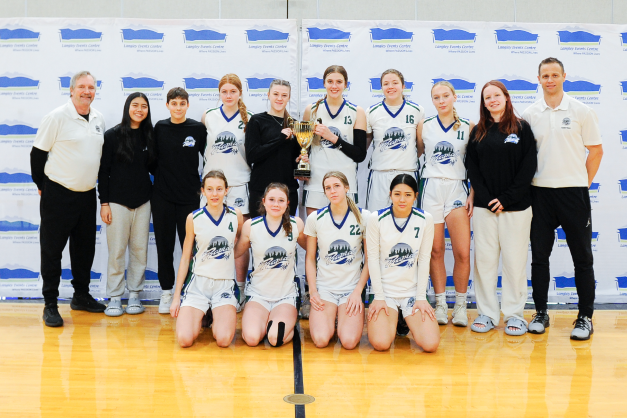 For the second straight season, the Riverside Rapids are TBI champions.
The Rapids built an 11-point halftime lead and then held off the second-half charge of the Walnut Grove Gators – who got the lead down to a single basket twice in the fourth quarter – but could not complete the comeback as Riverside won 73-68.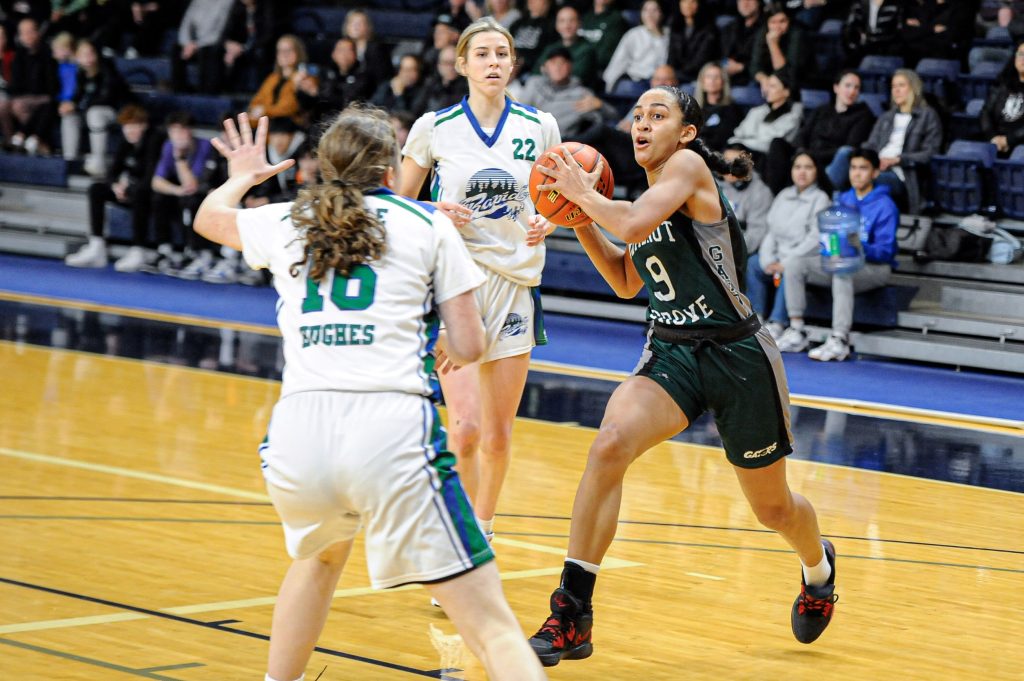 Holding Walnut Grove to 23 first-half points was instrumental as was the fact 6-2 centre Natalie Curley was able to stay on the floor the entire fourth quarter despite playing with four fouls, said Riverside coach Paul Lanford.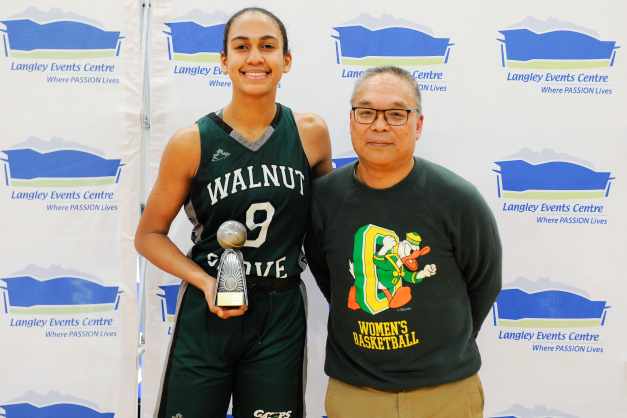 And while last year's TBI title victory was a near-perfect game, the veteran coach said, this thing was far from perfect.
"We didn't play as well as we do normally and (on defence) we reached too much. A lot of times you don't learn when you win, but hopefully we can learn from those mistakes," he said.
Of course, making things difficult for Riverside was the fact they were lined up against Walnut Grove scoring sensation Kiera Pemberton.
Pemberton scored 21 of her team's 23 first-half points and finished with 48 points. It marked the fourth straight game Pemberton scored more than 40 points – she also had 47, 43 and 47 points in the first 3 games of the TBI. She was named the Most Valuable Player despite her team coming up short in the championship final.
Langford called the 6-0 guard unbelievable, especially her balance as she drove the lane and was able to manoeuvre her way in the paint, despite the Rapids having 3forwards standing 6-2, 6-0 and 5-10.
The Gators used a strong third quarter to cut the deficit from 11 points down to four with 10 minutes, but every time Walnut Grove made a push – getting within 3 points twice and 2 points on another pair of occasions in the fourth, Riverside had an answer.
The Rapids had 4 players reach double figures, led by Avery Sussex's 21 points. Jorja Hart scored 16, Curley had 14 and Annabelle Neufeld finished with 11, including a trio of 3-pointers.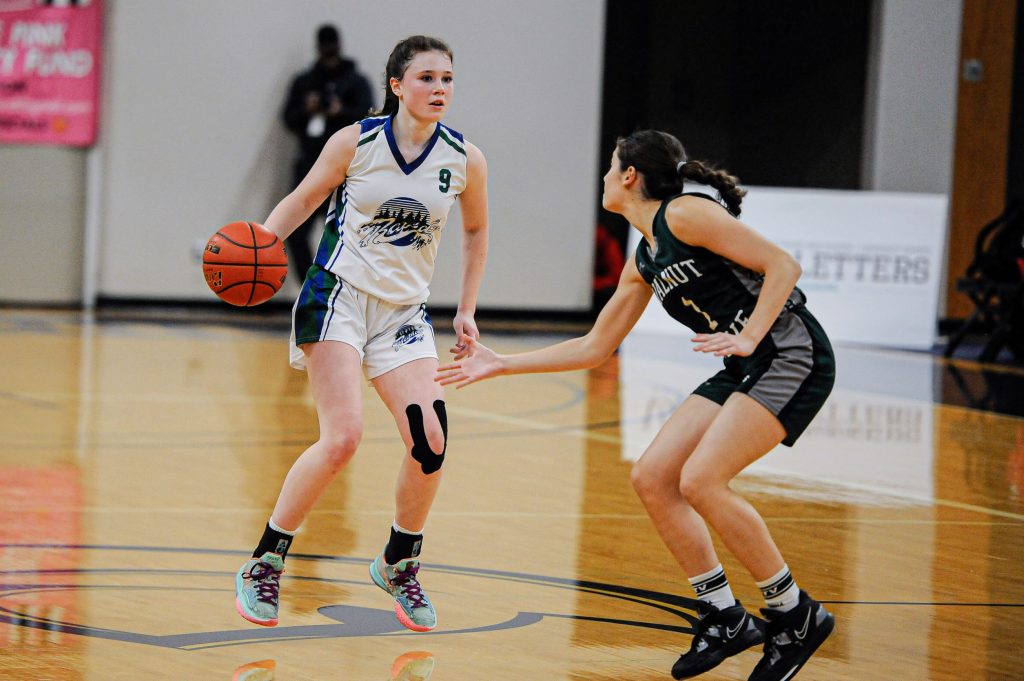 Sussex was her team's Vancouver Bandits Player of the Game while Kyanna Knodel picked up the honour for Walnut Grove.
Sussex was coming off a 33-point performance in the semi-final round and while her scoring may have been down in the championship coach, Langford said, her ability to do everything else is what makes her so valuable.
"Avery is wonderful to watch. Avery brought the ball up every time, she made sure the ball was looked after, she went to the foul line, she knocked down her shots. Avery is so wonderful to coach, the whole group is," he said.
In the third-place game, the Okanagan Mission Huskies defeated the Mulgrave Titans 87-83 in overtime.
SOUTH KAMLOOPS 52 VERNON 28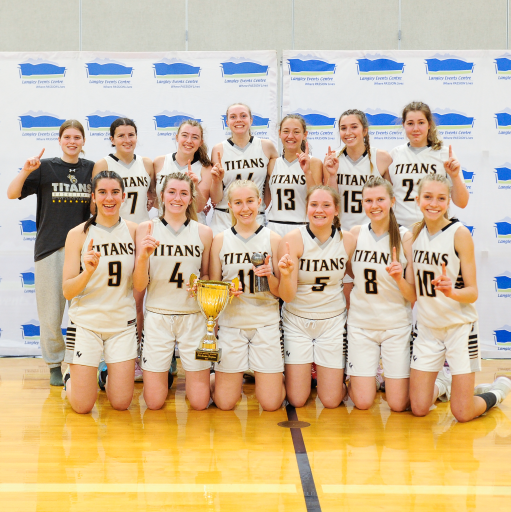 It all starts on the defensive end for the South Kamloops Titans.
Facing the Vernon Panthers in Friday afternoon's championship final of the 2022 Girls Tsumura Basketball Invitational Bracket Championship, South Kamloops offence sputtered on the offensive end in the third quarter, as they scored just 4 points. And while only scoring a pair of field goals in a 10-minute span might spell for trouble for teams, the Titans defence shone brightly in that same quarter, allowing not a single point.
In the end, South Kamloops took home the title with a 52-28 victory, wrapping up a 3-day run at Langley Events Centre where the Titans' average margin of victory was 30 points as they also beat the Heritage Woods Kodiaks 50-45 in the opening round and 94-32 over the Pitt Meadows Marauders.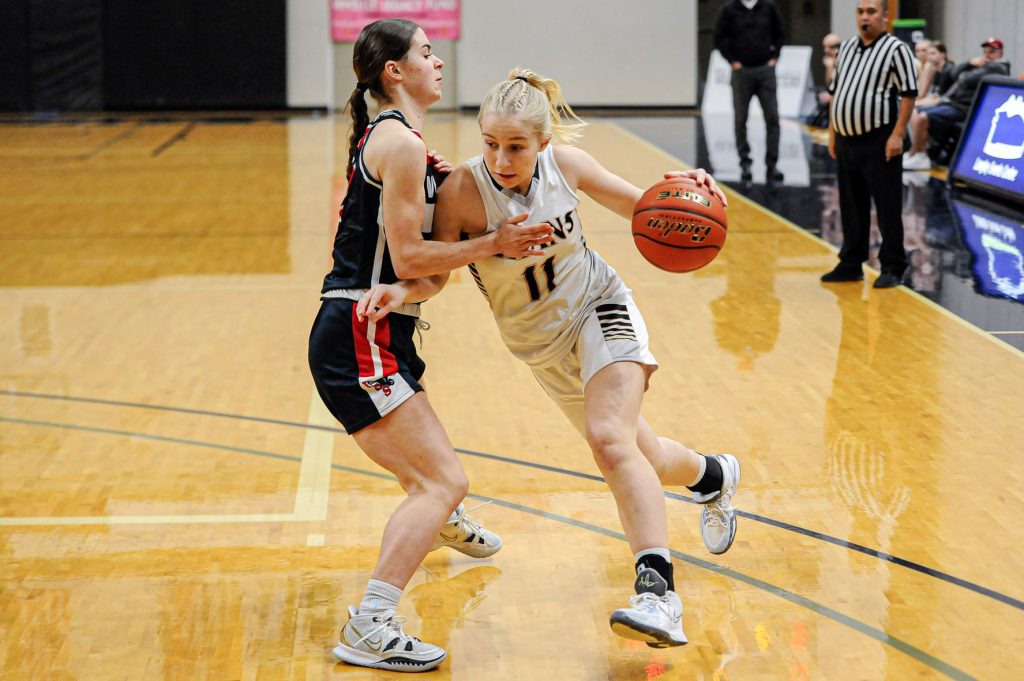 "We are a defensive team; we like to make sure we take care of that end and control the things we can control. We stress our defensive fundamentals and stress our defensive positioning, and focus on that, and hopefully do enough on offence to get the job done," explained Titans coach Del Komarniski.
The Panthers boasted a significant size advantage with a trio of Grade 12 forwards who stand 6-0 feet or taller. By comparison, the Grade 11-heavy Titans' tallest player is Grade 12 5-10 forward Grace McDonald, 1 of just 3 Grade 12s on the team.
"(Our players there to support the ball and support the low-post presence. Vernon is a big team, a couple of big kids who play very well; we had a challenge guarding them one-on-one; we needed to do it with other people and the other people stepped up to help," Komarniski said.
McDonald scored 13 points for South Kamloops while Lucy Marchese had a dozen and Kiana Kaczur led all scorers with 17 points. Kaczur was named Most Valuable Player. "She gives us everything she has; she never short-changes us on effort; she stays positive, she stays upbeat; she runs our team. The team looks at her for leadership and she provides it. She's a gift to our school," Komarniski said.
Vernon's Beth Butler and Lauren Hoard scored 6 points apiece for the Panthers.
LORD TWEEDSMUIR 69 MAPLE RIDGE 43
Head coach Mike Mitro hopes someone out there is watching and takes notice of Sevene Grewal. Grewal – a 5-6 Grade 12 guard – did what she has done all week at the 2022 Girls Tsumura Basketball Invitational: find a way to get points.
On Friday afternoon, Grewal scored 29 points, the third straight game she led the Lord Tweedsmuir Panthers in points as her team overcame an early 8-2 deficit to defeat the Maple Ridge Ramblers 69-43.
The teams were playing in the championship final of the TBI Regional Draw (Draw 3), an eight-team bracket of the 32-team tournament at Langley Events Centre.
Grewal led the team with 18 points in their first victory, upped that total to 24 in game two and then capped off the tournament title and Most Valuable Player award with a 29-point effort. She finished with 14 3-pointers.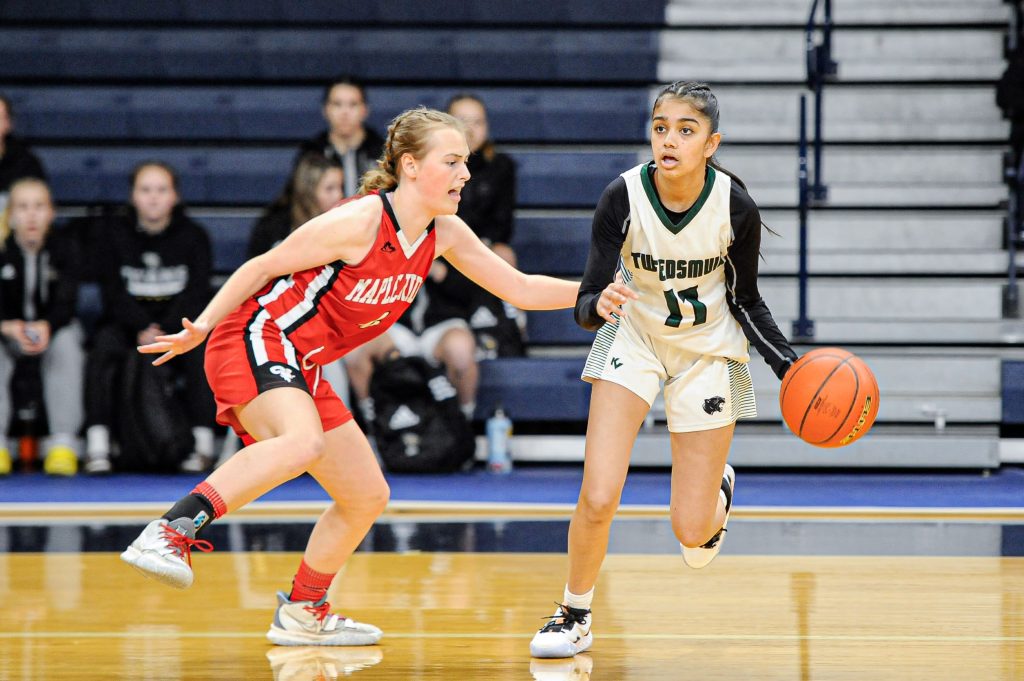 "When we needed someone to step – at the start of the game or the end of the game – to hit big shots, she was there. She logged a lot of minutes – and she was sick – so she did a pretty amazing job to fight through," Mitro said. "I am hoping some people saw her: she wants to play next year."
The Panthers defeated the Aldergrove Totems 91-54 and R.E. Mountain Eagles 65-52.
In all 3 victories, Tweedsmuir wore down their opponents in the second half
"When you are tired, you go down to your base level so the fitter you get, you can stay focused longer and longer," Mitro said. "The fourth quarter, this is when it is going to pay off. We got our lay-ups and those are easy baskets; if you have to work for it every time, you get tired, and that is what (Maple Ridge) had to do."
The Ramblers were led by Kayleigh Marks' 24 points.
Photos courtesy of Langley Events Centre