BY SONIA WEST
Rita Chohan is best known for her successful home staging business, An Elegant Touch Home Staging and Design.  She is a socialite, respected in her community. She has a sense of fashion and entrepreneurship even from her adolescence.  Our readers are familiar with her business acumen, but there is more to this successful woman who is not afraid to forge her distinctive path. She shares her story from the beginning and her enthusiasm for the life she has designed.
Her story in Canada began when she was three years old, and her family emigrated from England to Vancouver.  Her parents had one of the first businesses to open up on Main St in 1973.  The Ashoka Trading Company Ltd was like a mini department store supplying all wedding or religious needs and suits and saris; no wedding was ever complete without shopping at Ashoka Trading Company.
"My mom has inspired me.  In 1965 Mom worked in factories in England to put dad through school.  She came to this country at twenty, with minimal knowledge of the language, the culture, and became a successful business owner."
Her mother would work seven days a week, 10 hours a day.  The other shop owners felt like family. It was a close-knit circle of support and friendship rather than competition. All of the kids went to the same elementary school and then the same high school
"We had no hobbies. Working at the store was our hobby" she and her sisters often laugh and reminisce about those days.
She recalls the birth of her younger sister, "Mom had the baby, and came back to work a few days later, a playpen set up behind the counter."
Her mother was the first one to bring Indian clothes to market.  She was bringing the culture to Vancouver.
Rita has been featured in countless magazines, participated in fashion shows, and received many awards, including The "Excellence In Business Award" by Shakti Society.  She was recognized in Seattle, Washington as "Ravishing Woman of the Day" for business achievements and representing Canada. She was honored to walk the runway for 2019 INSPIRATION – A fashion show by influential women in the community.
She was the first one to execute a South Asian Fashion Show in 1988 for an anniversary party for the business. "We could not get South Asian models because back in those days, it was unheard of…so we had to use Caucasian models." Shushma, who covered the event, was impressed by the idea and welcomed Rita to have a regular fashion segment on her show, Indradhanush – "What's New In Vancouver".
In 1991 Rita opened Ashoka Boutique on the corner of Main St. and 49th. "My roots are in Main St. I was the first one to open up a boutique. The concept was to import ready-made suits from Bombay." In 1995 Rita was married to Ruman Chohan.  Her sister took over the boutique while Rita settled into married life. Rita completed her Bachelor of Business Administration from SFU and opted for a conventional desk job for an insurance company until she became pregnant with her first son Akash.  A stay-at-home mom for eight years, Rita planned on having a second child to no avail.  When she had not become pregnant, she decided to get back into the workforce.  While sitting at home one night, she watched HGTV and became inspired by the concept of home staging and interior design.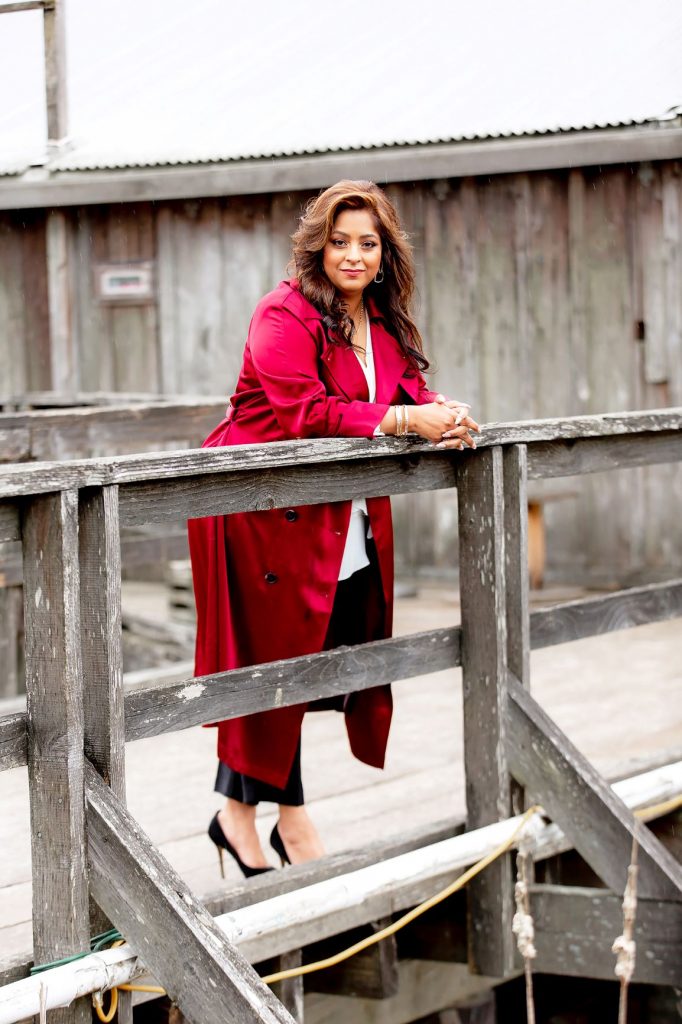 "Honestly, it was just something to keep me busy, get some adult interaction.  I thought this is going to be a hobby." She started her business at 40 years old as a hobby in 2010. "The biggest challenge was educating people on what is home staging and why do you need it." As clients shared their experiences, skeptics also became believers, and the business soared.
 Her husband: "Ruman has been my rock, very supportive.  He encouraged it, calling his buddies, realtors, and builders to explain what home staging was."
Because I didn't have expectations, I think I enjoyed it even more, because it  may sound cliché, it wasn't for the money, it was for the passion—something that I liked doing."
She says although it is a male-dominated industry where she works, everyone was respectful to her. "I love working with builders and realtors."
Coincidentally, just six months after she had started her business, she became pregnant with her second son, Armaan. "He was our little miracle baby. Thus, we had two babies—Armaan and our business," she quips with a chuckle. "I am all about quality time with my family, our little unit of four people."
Just as she inherited that tenacious business streak, her son Akash began his charitable endeavor called Kids Care.  He prepares and distributes care packages to the homeless.
Rita has a message to other women who are thinking of starting a business or getting back into the workforce: "At the age of 40, I can say proudly, even with a newborn baby, I managed to start my business. It's never too late to get out there and pursue your passion."