Ingredients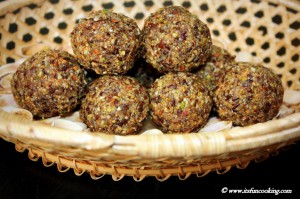 Flax seeds (Agase beeja – ½ cup
Sesame seeds – ½ cup
Walnuts (akhrot) – ¼ cup
Almonds (badam) – ¼ cup
Pistachios – ¼ cup
Coarsely powdered mix of flax seeds, sesame seeds, dry nuts powder
Dates (Khajoor) – 4-5
Dried fig (Anjeer) – 4-5
Brown sugar or powdered jiggery 3-4 tsps
Ghee (clarified butter) – 2 tsps
Cardamom powder –  ¾ – 1 tsp
Honey – 2 tsp (optional)
Method
Dry roast the flax seeds and sesame seeds separately. (Note – Flax seeds have to be roasted till they pop and crack well)
Similarly dry roast Almonds, Pistachios, and Walnuts.
Roughly chop the dried figs and dates.
Now coarsely powder the flax seeds and sesame together.
Similarly powder the roasted dry nuts.
Lastly coaresely powder/fine chop the chopped dates and dry figs.
In a pan add ghee and add the coarsely powdered dates and figs.
Mix them well. After a minute add brown sugar or the powdered jaggery and give it a mix.
Add ½ cup water just to get a syrup consistency to bind all the powders.
Once the syrups starts to thicken add the powdered mix of seeds and dry nuts.
Give a mix and swtich of the flame. Allow this to slightly cool and add cardomom powder for flavor. Honey can be added for extra sweetness at this point of time.
Mix them well and take this mixture in one hand and press it to start giving the shape of laddu's or any desired shapes.
Enjoy this wonderfully healthy bite of laddu filled with rich nutrient values.