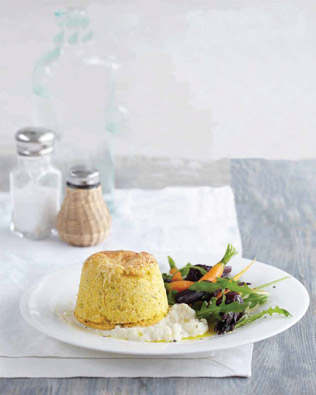 SOUFFLE
parmesan 20g, finely grated
instant polenta 100g
extra-virgin olive oil
goat's cheese 75g
lemon thyme 1/2 tsp leaves
flat-leaf parsley 1/2 tsp, finely chopped
butter 1 tbsp, melted
ground white pepper 1/4 tsp
pink salt or sea salt flakes 3/4 tsp
eggs 3, separated
CAULIFLOWER CREAM
small cauliflower 1/2, about 175g
milk 200ml
cumin seeds1/4 tsp
pink salt or sea salt flakes
1/2 tsp
SALAD GARNISH
baby beetroot 4, or
2 normal-sized,
cut into wedges
olive oil
baby carrots 4
rocket 40g
extra-virgin olive oil
butter
Heat the oven to 180C.
Toss the beetroot in olive oil, wrap in foil and bake in the oven for 30 minutes or until tender. Cool and remove skin.
To make the soufflés, lightly butter 4 x 150ml ovenproof cups or moulds and dust with a little of the parmesan. In a small saucepan, bring 400ml water to simmer and whisk in the polenta. Turn down the heat and cook for 5-10 minutes until polenta is thick and smooth. Whisk in 1 tbsp extra-virgin olive oil and allow to cool. Transfer the polenta to a food processor, add the goat's cheese, remaining parmesan, lemon thyme, parsley, salt and white pepper. Pulse the processor until combined. Add egg yolks and pulse again. Pour into a bowl.
Whisk the egg whites in another large bowl until firm peaks form. Fold half the egg white into the polenta cheese mixture until just combined. Lightly fold in the remaining egg whites, being careful to retain as much air as possible. Divide mixture between cups or moulds, smoothing the tops as you go.
Spread a tea towel in the bottom of a roasting tin and put the cups or moulds on top. Pour in boiling water to reach 2/3 up the sides of the moulds.
Bake for 40 minutes until soufflés are firm and risen. Allow to cool to room temperature before turning out into an ovenproof dish (to bake again before serving).
To make the cauliflower cream, cut the cauliflower into small pieces and put into a small saucepan. Cover with milk, add cumin and simmer until soft. Strain the cauliflower to separate from the milk. Purée the cauliflower in a blender until smooth and creamy. Thin with a little of the poaching milk if needed and season.
Cook the carrots in a pan with a little butter and water until tender. To reheat the soufflés, heat the oven to 200C. Spoon 3 tbsp vegetable stock over the soufflés and bake for 5-7 minutes until piping hot.
To serve, spoon and spread cauliflower cream on each serving plate and put a soufflé on top. Arrange beetroot, baby carrots and rocket on the plate. Drizzle with olive oil and scatter with cracked pepper.