Karnail has a message for our readers, "I feel proud that I brought a colored person into the industry where it was only white. I may be the first Indo-Canadian winemaker in Canada."
No matter how you navigate your life, manage your fate— what is meant to be, will be. This statement is a testament to the journey and eventual success of Karnail Singh Sidhu. He is the successful owner of Kalala Organic Estate Winery, named after his small village in India called Kalala in the Punjab region of Barnala. True to his cultural roots, and despite nay-sayers' objections, the label for his wine is written in Punjabi. He does not subscribe to others' imposed views in life. He is a man that follows the wisdom ingrained within him from his parents and is most influenced by his father, Malkit Singh Sidhu. Karnail and his wife, Narinder, have grown their businesses tremendously successful.
He is an unlikely entrepreneur in the craft of winemaking. Visibly he is a traditional Sikh man with a turban, which has become his trademark identifier.
Growing up near a military base, Karnail would spend most of his days watching airplanes land and take off. He dreamed of becoming a fighter pilot and applied to the Indian Air Force. As luck would have it, he never realized that dream because there were bigger things in store for his future.
In India, he studied to become an Electrical Engineer. In 1993 he immigrated to Canada with his family. He tried to gain employment in his field of study, but, as luck would have it, he was denied by the Electrical Safety Branch of BC to write the exam. He attempted to gain employment, but racism was prevalent in the early years of his journey in Canada, and no one would take his resume.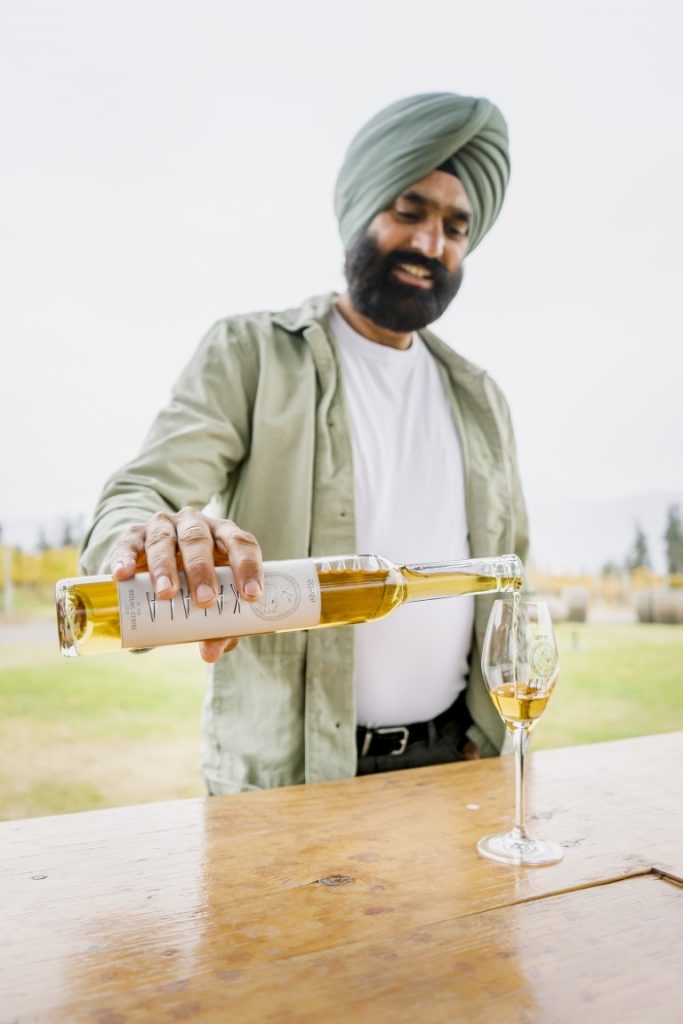 Karnail started his career in the wine industry in 1996 at Summerhill Pyramid Winery. At the winery, he took viticulture courses and learned the best grape-growing practices. In India, his family had grown cotton, rice, wheat, sugar cane and more. He knew how to farm. His engineering mind was inquisitive and wanted to understand how, so he returned to his organic farming roots. And as his knowledge grew, so did he within the winery, and he became a Vineyard Manager shortly after joining the team.
Karnail became very passionate about the wine industry and decided he wanted to open his own winery. He planted his first organic vineyard in 2001 in West Kelowna.
He started making wine for his winery in 2006. His wines have won many local, national, and international awards, including the most prestigious Chardonnay du Monde competition in France and multiple awards in the UK, US, Europe, and Korea. Karnail was recognized as Indo-Canadian Entrepreneur of the Year in 2016 by the Indo-Canadian Chamber of Commerce, and he also received 2019 Viticulturist of the Year in 2020.
Karnail purchased the Mobile Juice Factory in 2017. He now travels across the Okanagan and BC with the Mobile Juice Factory, pressing all types of fruits, from Apples to Peaches to Cherries and Blueberries. He also sells his organic pressed juices online and at his wineries.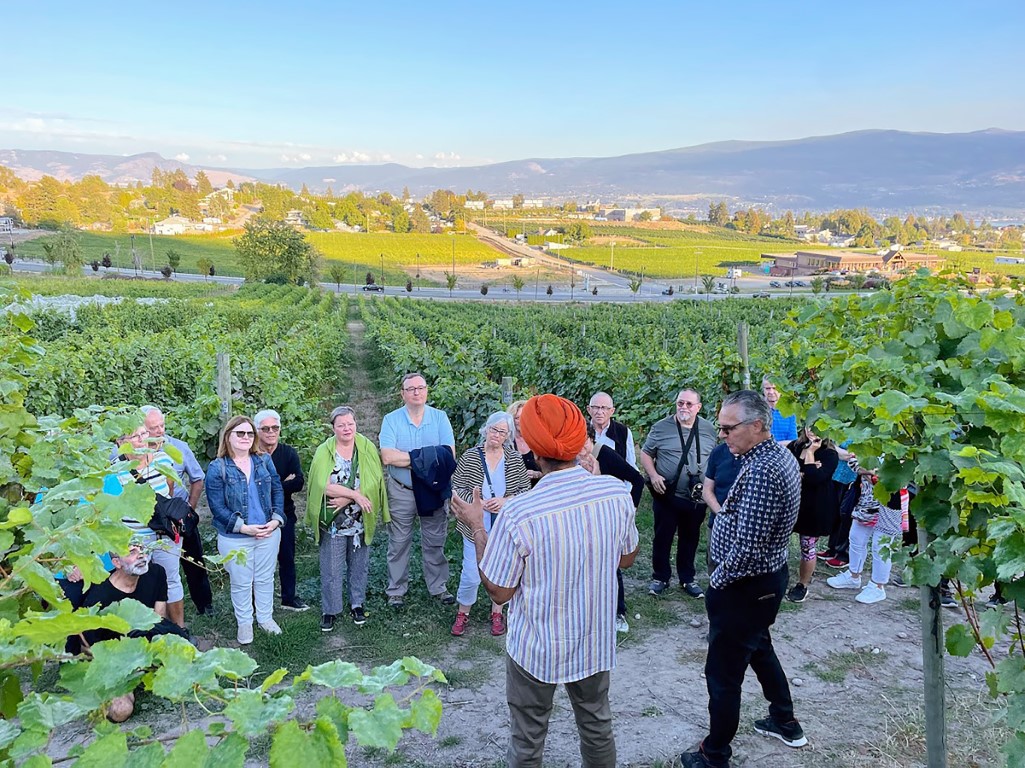 Karnail acquired one of the oldest wineries in West Kelowna, Little Straw Vineyard and Winery, at the end of 2021. He is now transitioning the vineyard into an organic vineyard. Eventually, he will rebrand that winery and introduce his premium wine label called Dostana Organic Wines there soon.
Karnail Singh is deeply rooted in his heritage. Although his turban may be a hindrance to some, as in most things about Karnail Singh, he has turned that into a positive. It has become his identity, his trademark. He is recognized immediately in the wine world as an organic winemaker with a distinctive appearance, "My turban has become my brand."
His father admitted to Karnail that his biggest regret in life was not educating his daughters (Karnail's sisters); his father stressed the importance of education. Malkit Singh solidified a promise that his granddaughter would receive an education. As Malkit Singh was living his last days in the hospital, Karnail never left his bedside. His father said to him, "Don't be sad. My dad is not here, and your dad will not be here. Its life…what it is meant to be, will be. No one can take your luck."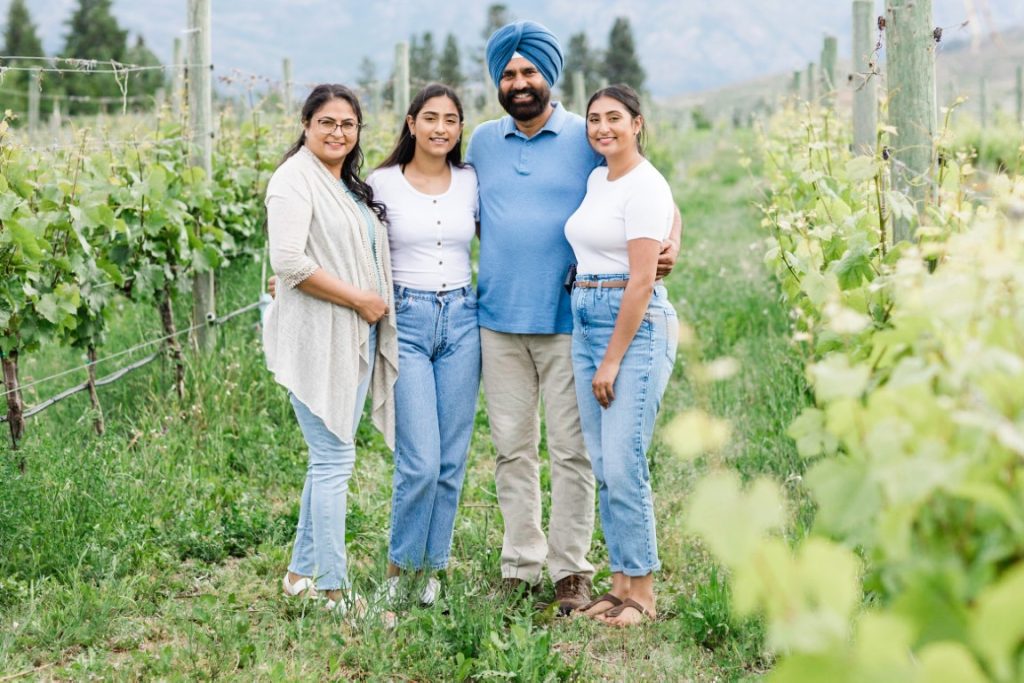 As the circle of life continues, whatever is meant to be will be as it should. Karnail's daughters, Simran and Kiran, who have worked alongside their parents since they were small children, are learning the family businesses to one day continue their father's legacy.
After all of his paths not traveled, after trial and tribulation, His advice to our readers is simple and straightforward, "If something doesn't work, make it work."