BY SONIA WEST
Reminded of her late father's memory, Harwinder Kaur Sandhu still hears his voice, saying, "Don't let anyone tell you that you're less than anyone because you are a girl. Things will be difficult but not impossible. There is nothing that you cannot do."
These are the words that Harwinder Kaur Sandhu had armed herself since she was a little girl, the same words that her late father used to tell her. To this day, she can still hear her father's advice encouraging and reminding her that the world is her oyster and the possibilities are limitless. And she has achieved precisely that.
Vernon-Monashee MLA Harwinder Kaur Sandhu made history on November 8 after all the results, including mail-in ballots, were counted. This was coincidentally her middle daughter Jasreen's 14th birthday. She had a lot to celebrate! She is the first person of color to be elected ever in the Vernon-Monashee area. She is the first NDP MLA to get elected in an astounding 36 years. This victory came exactly 10 years after her first husband, Sammy, passed away on November 6, 2012. He shared the same sentiment as her father and would have been so proud of her accomplishments.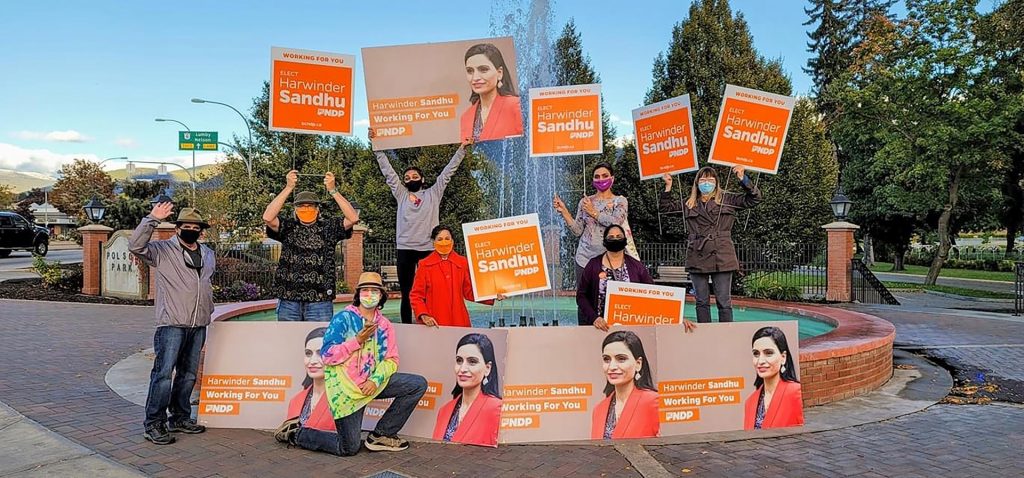 Harwinder's parents were Narkewal Singh Boparai and Surinder Kaur Boparai. Born in Jaura, in the district of Firozpur in Punjab, India, Harwinder is fond of recalling her modest upbringing with her two siblings, a boy and a girl, and how they received an abundance of love from their parents, who treated them all equally. Her father believed in the equality of men and women, which empowered her to become the person she is today.
She moved to Canada in 2001. In her early 20's her father passed away. Barely a week after, she would write an exam to become a registered nurse, and she passed it with flying colors. Growing up, she knew she was meant to practice medicine and get involved in charitable work, she reminisces. Never motivated by money, she describes herself as an 'advocate for the people.' She has been employed with Vernon Jubilee Hospital and has worked in healthcare for over 16 years. She has taken a leave from her job as Patient Care Coordinator to serve as MLA. She is well respected by her constituents and is known for her stand on human rights activists and her commitment to empowering women.
Harwinder's commitment to public service is inspired by her personal experience of overcoming adversity. She knows how hard it can be to make ends meet and get by. After being left widowed with two young children, she had to adapt to life as a single working mother. She has since remarried, and together with her husband Baljit Singh Sandhu, they are raising three children.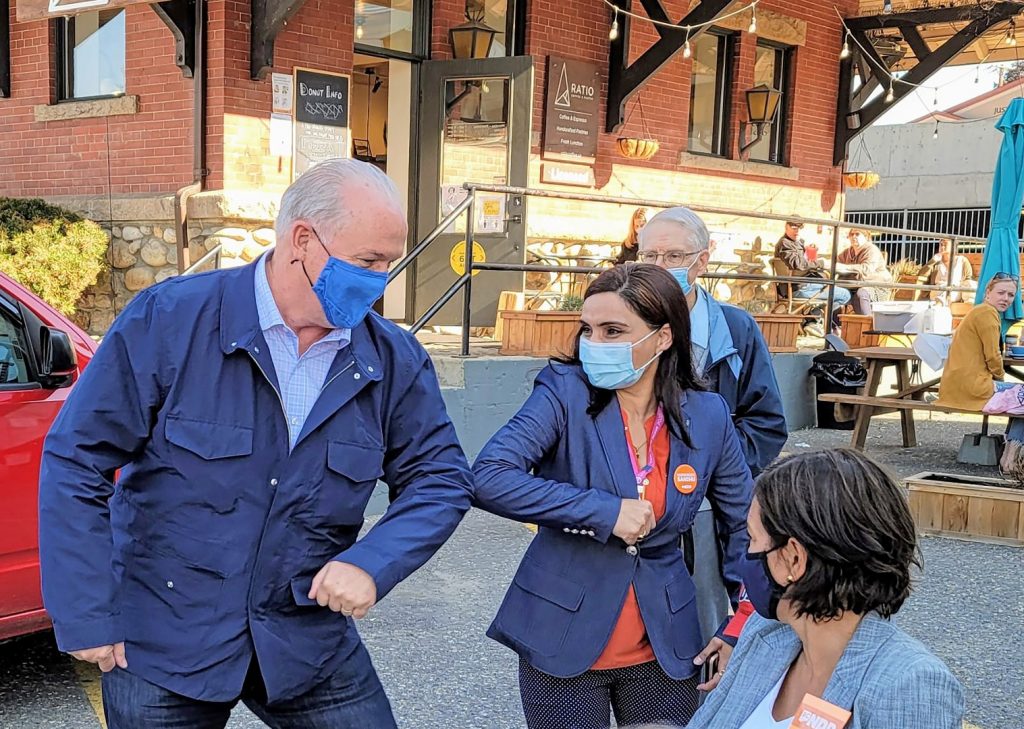 Her life in politics has been a struggle, and at times disheartening. She had to deal with racism. She recalls instances where she would extend her hand in a greeting, only to have her kindness unreciprocated. She realized that not being accepted was something she would have to overcome. She would need to develop a thick skin to the non-believers and vandals that would try to sabotage her. Her signs were defaced with obscenities as well as chopped up with a chainsaw. Ignorant social media trolls would criticize her for being an immigrant. "Everyone is an immigrant," she says, making light of the fact that this country is made up of immigrants unless you are indigenous. Not feeling ill-will towards the doubting Thomases, she philosophizes, "I feel for these people and wish one day that they will have some inner light of acceptance and love. I must admit that it hurts like crazy at that moment. But then, you become even stronger."
She is proud to call Vernon home, focusing on strengthening healthcare, protecting people's rights, and making life better and more affordable for families. She has fought for better healthcare for everyone and fair treatment for nurses with the BC Nurses Union and advocated for initiatives like the Vernon Food Bank, Sock it to Poverty, Coldest Night of the Year, and the Heart and Stroke Foundation. She also launched a petition to end hospital parking fees and stands up for decent wages, housing, the environment, fighting climate change, and small businesses' support. When asked why NDP, she believes in their political stance as a party aligned with her beliefs and values. When asked who inspires her, she speaks of female empowerment, giving the nod to the Prime Minister of New Zealand, Jacinda Ardern, and Vice President-elect of the United States, Kamala Harris.
On a light-hearted note, Harwinder Kaur Sandhu is a very talented woman who recalls her hobbies and interests before her political life. She is a stunning woman who had previously done some modeling and competed in dance competitions. She is trained in classical dance styles: Rajasthani dance, Haryanvi dance, Gidda, and Bhangra. She sees herself in both her daughters, in their determination and their creativity.
As for the future of youth in general, she reiterated her Dad's advice that applies to young women reading this article, "Don't let anyone tell you that you're less than anyone because you are a girl. Things will be difficult, but not impossible. There is nothing that you cannot do."