A Certified yoga instructor, InnerMost Shift ICF Certified Coach, trained and mentored by AlphaStars Academy of Excellence, an actor, a volunteer, Tarana is spirited, jovial, and a fighter.   Tarana had always been a winner. She was a recipient of the Shankaracharya award in her school as a theatre artist. She loved acting. Hence, she started working in Delhi as a TV host for Delhi Doordarshan in 1996. Since the job of an actress is not a stable one, she worked as an Air Hostess in Sahara Airlines to augment her income.
"By 2000, I had shot more than 5000 episodes for various channels, mostly Doordarshan, Chitrahaar and Lotpot shows in DD2, DD3, and NEPC," Tarana recalls. My family always supported me and being raised in a spiritual family, and I continued to work with grace and ethics in the media industry.
Due to some medical issues, Tarana went through a severe depression bout. "I felt like ending my life," she sadly reminisces. "And yet, the voice within me never gave up. I met Gagan Deep Singh, the man I married, and my savior guardian angel. He became my pillar of strength."
My searched for my life's purpose eventually led me to practice yoga.
Then, in 2005, I met my spiritual mentor & Coach Siri G P Kaur Khalsa. Along with Sat Khalsa, she taught me the power of gratitude.
Tarana explained, "To remember Guru as an inner voice, you dedicate each action of your life as an offering to him." She emphasis the 4-Ms of life: MEHER, MAUJ, MASTI, MUSKAAN. Then, she eventually became a certified teacher of yoga from the ministry of Ayush Delhi and began doing theatre to reconnect with the creativity within her.
She continued working as a theatre artist with MK RAINA and SAVDHAAN INDIA ON COLOURS, and finally, in the movie NANU KI JAANU with Actor Abhay Deol.
As a volunteer, Tarana taught yoga and became QCI certified yoga instructor for Ministry of Ayush India, also an NLP Master Practitioner, and InnerMost Shift ICF Certified Life Coach.
"My husband was keen to expand his business," Tarana quips. "And in 2016, we decided to move to Canada. Since my motherland will always be in my heart; I had some reservations. But my faith in Uski Raza mein he maza was so strong, we came to Canada with an open heart. My youngest son, who was in Grade 11, was also pleased to be studying and living in Canada."
Tarana continued volunteering and teaching yoga in Surrey and Vancouver. "I began working for Zee TV Canada as a Reporter. This position paved the way for me to reach south Asian communities." Her most significant achievement was getting recognized by Consulate General of India for her selfless service as a yoga teacher and representing her motherland's cultural values in Canada. Presently, she is a yoga teacher with the City of Surrey in various recreation centers, drug rehab centers, and at senior care homes. On the side, she also helps her husband in his immigration and event business in Surrey."
In August 2019 she represented the Mrs. India Canada Pageant, organized by the Ravishing Women in a worldwide pageant in Seattle USA. She won the title. Her son, Raghav Deep Singh, who also participated as Mr. Teen Asia British Columbia, also ended up the winner. They both walked on-ramp in their crowning glories. It was a record-breaking moment in the history of the Ravishing Women. Winning this title at age 41, was a dream come true for Tarana.
In September 2019, Tarana represented CANADA at Mrs. Worldwide pageants in Mumbai, and crowned the title of Mrs. India Worldwide 2019. It was a significant win for Canada which was represented for the first time at the international competition.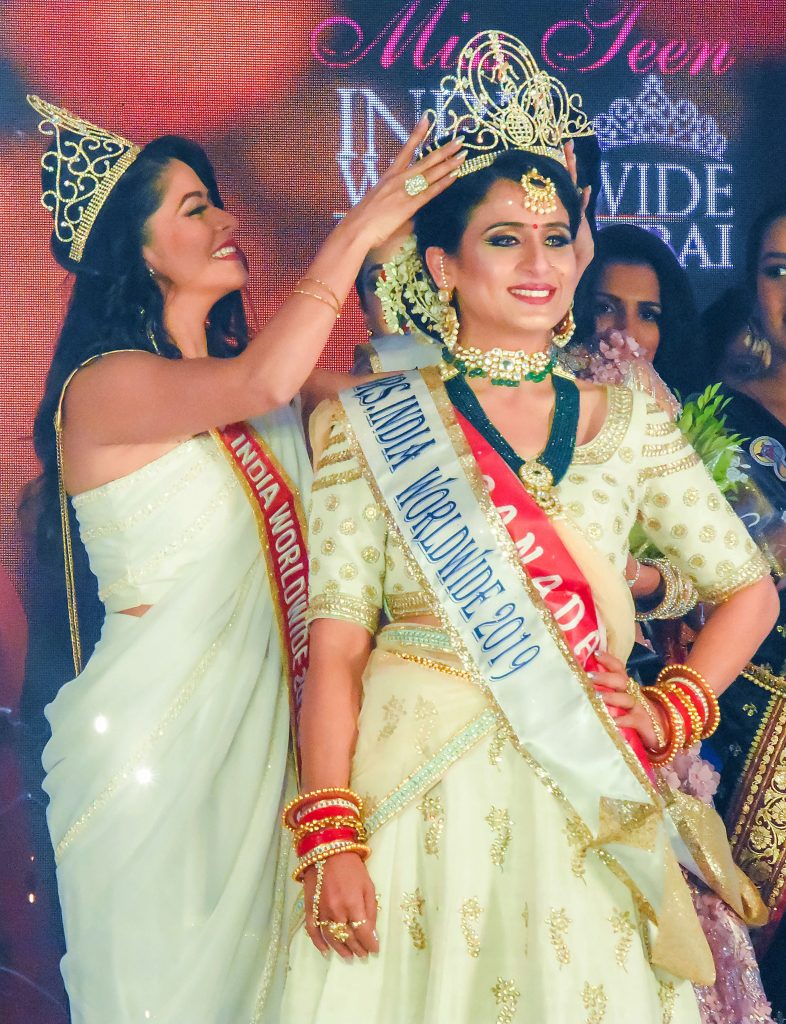 Mrs. India Worldwide is produced by the IFC, based in New York City. The IFC is a pioneer organization in conducting Indian pageants and fashion shows in the USA and worldwide since 1980
Tarana loves Vancouver, Canada, as the people here gave her love and support. Being an immigrant and now representing the face of Indo-Canadian womanhood and motherhood is an excellent honor.
Her vision for the future is to open an old age home in India, a yoga studio in Vancouver, focusing on authentic holistic yoga. Her organization Happiness Yoga delves on yoga and meditation sessions for adults, children, and special needs people with mental health issues.
Along with her friends, she had formed a theatre group in Surrey. In 2020, they will be presenting a Hindi play. Tarana will be focusing on setting up an acting school to give an equal opportunity for those who want to dream big.
"Life is a stage; perform your role in the presence of God, and it will be a beautiful, victorious experience. Dream big, focus, and become what you want to be in the universe. Celebrate every moment of your life and try to see God in every human being. I am gratefully thankful for every Indian and Canadian and for those who supported me.