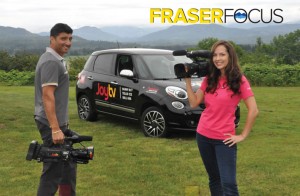 Joytv is a locally focused television station that carries programming that show cases the local community and events in the Greater Vancouver and Fraser Regions. Operating out of its offices in Surrey, since 2001, Joytv has a line-up of programming that reflects the diversity in our community.
Joytv engages the South Asian community like no other Vancouver area TV station! With over 23 hours a week of programming dedicated to South Asian viewers, along with continued coverage of relevant community stories by Dean Atwal – Joytv news videographer and co-host of Fraser Focus, Joytv showcases comprehensive South Asian programming every week!
This is what makes Joytv so unique among the television stations in the Lower Mainland. Joytv's Indo- Canadian viewers can connect with community influencers and their specific faith group. Every weekday at 7am and 10pm the Harpreet Singh Show focuses on the positive contributions of Indo-Canadians to all aspects of Canadian society in a current affairs format. Saturday offers a schedule full of important and relevant programs that capture the importance of faith and diversity of the Indo-Canadian community. These programs showcase inspirational programs presented by Sikh, Hindu, Christian, and Muslim faith groups in a variety of languages that include Punjab, Hindi and Urdu.
As a Joytv news videographer, Dean Atwal has his finger on the pulse of the local ethnic story and is passionate to capture the complex diversity within the community. Since 2012 Dean has covered many significant topics that impact and shape the local South Asian culture and stories that foster greater understanding of those cultures.
Dean works in tandem with Joytv videographer Leah Bolton for Joytv news stories and as co-host of Joytv's fresh new weekly 30 minute lifestyle/newsmagazine show – Fraser Focus! In every episode, with adventure, sensitivity, and candor, Dean and Leah capture uplifting stories of great local interest. Their weekly editorials will explore a variety of subjects such as children, seniors, sports, philanthropy, transportation, local tourism, health, housing and many other topics that echo the unique and diverse lifestyle in the Fraser Region. New episodes air every Sunday at 9pm, with two week end broadcasts – Fridays at 5:30pm & Saturdays at 9pm (PT).
The Fraser Focus team are always looking for undiscovered facets and overlooked gems in the local community. The Fraser Region has a myriad of stories to tell and 'Fraser Focus" along with Joytv news tells them in a way that separates them from any other news show! Dean and Leah experience the story in a manner that is unique in television. They farm with the farmers, dance with the dancers and fish with the fishermen!
In addition to "Fraser Focus & Joytv news" Joytv also produces two other local features. Joytv GO! is a 60 second community events calendar hosted by Katrisha Villarante and showcases new local events every week. Carmen Ruiz Y Laza, host of Carmen TV, has worked in the film and television industry for more than two decades. With a sharp eye for the best of everything, Carmen TV seeks out the hottest local experts for their tips on travel, cuisine, fashion and beauty, entertaining and design. Carmen TV is a 60 second feature that airs Monday to Friday, 5pm to 10pm.
As Joytv expands with its own new programs mixed with a mosaic of independent faith-based shows and prime time entertainment it truly is a local station with television for everyone!