A STEP AHEAD IN THE CONSULTING INDUSTRY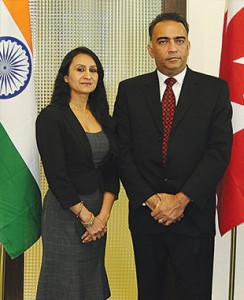 Can-Asia Immigration Consultants Inc. is one of the oldest immigration consulting firms of BC. Established in 1996 in Vancouver, it has spread its operation to various parts of the world. Over the years it has helped countless aspiring families and qualified professionals to move to Canada as Permanent Residents, including students wanting to study in Canada, and assisted skilled workers to come to work in Canada in different business and career sectors. For the past eighteen years, Can-Asia has accomplished so much to be called a leader in this industry. Mr. Rupinder Batth, its president, is a Regulated Canadian Immigration Consultant by the Immigration Consultants of Canada Regulatory Council (ICCRC). Mr. Batth's knowledge in this field, resulted in high Visa Issuance success for our clients. All permanent and temporary immigration applications are prepared as per the guidelines provided by the Canadian Immigration Authority. Can-Asia advises the clients about various immigration policies, including giving guidance to prospective student applicants to find the most appropriate courses to take to help them develop a successful career in the future. Our professionally trained counselors make the newcomers settle successfully with ease here in Canada. We always go the extra mile to help our clients. Through our helping hand, we make the experience much kinder and gentler for new immigrants.
Our corporate office is located in Vancouver, British Columbia, one of the most beautiful and livable cities in the world. We have associate offices in U.K, Australia, in major cities of India—where we can provide Immigration Services right on our clients' doorsteps.
Our counseling offices all over the globe are equipped with state-of-art communication facilities to enable efficient and result-oriented services. Our workers are dedicated and highly focused professionals with extensive experience at senior levels in Immigration. They understand the needs of prospective Immigrants as well as the requirement of Canadian Government. We assist you through the entire process of applying for Immigration to the final settlement in Canada.
We deal in Federal Skilled Workers, Provincial Nominee Programs, Temporary Foreign Workers, Business Immigration & Investors, Student visas, Family Class, Appeals, and all other immigration matters. We have assisted people from all over the world.
THE MANAGEMENT:
The Can-Asia Immigration Consultants Inc. founders are:
• Rupinder Batth (President)
A Post graduate Management Graduate, he has been involved in various Management Projects and International Trade and joint Venture Projects and is presently responsible for building Can-Asia's global marketing infrastructure. As a Canadian citizen, his knowledge of various cultures, lifestyles, and exposure to international businesses has been extremely beneficial for developing counseling & training programs for the management team.
• Navi Batth (Director):
A Management Graduate with in-depth knowledge of education abroad, he is a Canadian Citizen who believes in providing personal, responsible & accountable consulting assistance. She is responsible for developing the company's corporate & alliance partner program. She believes that by helping students make the right career decision gives her an internal satisfaction.
MISSION STATEMENT:
To provide continuing service that will exceed our customers' expectations and fulfill their dreams as they begin their new and exciting life in their country of choice."
OUR GOALS:
• To provide services that is comprehensive, current and innovative
• To provide the appropriate services with a wide diversity of age, background, experience, interest, and special needs
• To provide our services available to as many people as possible through our convenient worldwide locations
• To provide ongoing professional, reliable, honest, efficient, expert, committed, compassionate advice and services
• To provide leadership qualities and develop partnership that support our community's trust towards global competitiveness
In 2008 Mr. Batth ventured into another area of business in which they make the match between the Canadian Employers and qualified professionals. They help Canadian employers to meet their human resource requirement by finding the right skills to fill their positions. He started Planet Placement which is an international consulting and recruiting company offering Canadian business staffing and financing solutions. It has been successfully sourcing domestic and international candidates for Canadian businesses. We ensure that we do all the ground work necessary before one of our candidates are introduced to the employers to make sure that they meet each other's criteria. Our experience and certification enables us to facilitate all necessary coordination, paperwork and approvals quickly and efficiently. We have a global recruiting network that extends far beyond the local market thereby increasing choice and salary options with desirable candidates. We specialize in hard to find staff –skilled and unskilled-for permanent positions, contract to hire and strictly contract.
• "All our candidates meet English competency for speaking and writing as set out by the government"
• You will be pleasantly surprised at the economical alternatives we can provide to in house and contract recruiting
• In short, we can provide economical solutions for your business staffing that will enable you to achieve your goals.­­­­
OUR VISION:
To become the largest provider of international human resources to facilitate growth and prosperity of businesses in Canada. We believe in continued growth and increasing the value of our company and service by providing the opportunity for businesses to work with highly motivated individuals.
Leadership: The courage to shape a better future for our candidates
Collaboration: Leverage collective genius
Integrity: Be real
Accountability: If it is to be, it's up to me
Passion: Committed in heart and mind
Quality: What we do, we do well