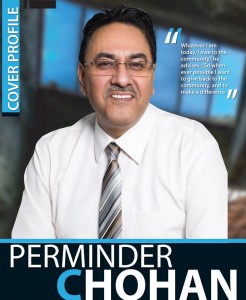 When Perminder Chohan arrived in British Columbia from India in 1990, the field of finance was furthest from his mind. Like many immigrants, he set about finding work wherever it was available. This meant working at a plastic factory, a job he may have continued to do until this day were it not for the work slowing down and his being laid off. He then owned his own plumbing company, which he sold after a few years and subsequently purchased several cellular phone stores. His business ventures continued when he sold these stores and moved into the field of direct selling and marketing. Ultimately Perminder found his calling in the late 1990s, when he accompanied a friend to a job interview for a financial planning position. He was invited into the interview by the organization's manager, and found himself asking several questions that impressed that manager. His friend never went back for a follow-up interview, but Perminder did. "So I started with that company," he recalls, "and I became their top manager within the year."
Perminder did very well selling products like Registered Education Savings Plans (RESPs) and life insurance, but in 2009 a new opportunity arose that he simply could not say no to – it was the chance to join Desjardins Financial Security Independent Network and became one of its Managing Directors. Desjardins Financial Security Independent Network and Desjardins Financial Security Investments Inc. as well as their counterparts in Quebec, SFL Partner of Desjardins Financial Security and SFL Investments, form a national financial products and services distribution network that provides a variety of financial planning, savings and investments services. Their sale network is spread across the entire Canadian territory and includes more than 50 financial centres and branches and more than 1,600 representatives. Perminder's responsibilities as Managing Director is to market a wide selection of products and to look for new people to train in order to reach more customers who can benefit from sound financial advice and support. While he represents the Richmond South Financial Centre, he can mentor any new recruits based anywhere in British Columbia.
So why choose a career with Desjardins Financial Security Independent Network – Richmond South Financial Centre? If you are looking for an opportunity to be your own boss, earn an unlimited income and become a respected expert in your field, you may be a great fit with Desjardins Financial Security Independent Network. "All of our advisors are like family," Perminder states. "And the culture in our office emphasizes this, and my focus is on making advisors as successful as possible." Advisors have the strength of Desjardins – a nationally and internationally recognized brand (it is the largest cooperative financial group in Canada, with 5.8 million members and assets of almost $200 billion) – while still having considering flexibility in the services they provide. Desjardins Financial Security Independent Network's advisors work independently and are free to choose the institution that provides the best products for their clients' specific needs; this is different than other networks who may require their advisors to only sell that company's products. Financial Service Professional with Desjardins Financial Security Independent Network's independent status gives them access to the products offered by the major Canadian insurers and by more than 100 mutual fund companies. Ultimately, Desjardin's Financial Security Independent Network's business model stands apart from the competition, providing their partner representatives with the perfect balance between partnership and independence.
So what does it take to become a financial services professional with Desjardins Financial Security Independent Network? "We look for prospects with sound personality traits," Perminder explains. "We can teach financial planning, but we need people who are honest and genuine. They need to be confident, and have strong communication skills. They need to be focused and driven. And we want them to be people persons." Once hired, trainees learn about the types of products they can sell and how to work with clients to figure out each client's unique circumstances and needs. With support from Desjardins Financial Security Independent Network, advisors obtain well-respected industry designations such as Certified Financial Planner (CFP) and Chartered Life Underwriter (CLU). Furthermore, the management team is always there to help their advisors with the process and provide them with ongoing training throughout their careers. "Our advisors' focus is to take care of client needs – clients will give you their business if you are doing that."
"We always give honest advice to people. We are solution providers, we ask our clients many questions to ensure we are providing the right solutions. Too many advisors talk too much, and don't let their clients speak. Our focus remains on our clients." Some of Desjardins' most popular products are permanent insurance, critical insurance, mortgage insurance, disability income insurance, group plans, medical and dental coverage, Registered Retirement Savings Plans, tax-free savings accounts and mutual funds. Advisors can tailor products to each clients' unique circumstances – whether they are young and just starting their careers, or are mid-career, or are at or nearing retirement. Representatives meet with their clients to help them plan their financial future. Together, they analyze the client's financial needs, develop an investor profile and establish a customized financial security plan. Because financial products can be complicated, representatives help their clients choose the right solutions by making products easier to understand and by explaining how they work. Personal contact builds a close relationship between representative and client. This very personal business relationship is characterized by the mentoring and support representatives provide to their clients, from the initial contact to the after-sales service and follow-up meetings. Desjardins Financial Security Independent Network holds to the highest regard these values: integrity, professionalism, personalized service, and support for the community. "There are always ups and downs in the market," Perminder explains. "Our advisors look at the client's unique needs – including their risk tolerance – and act accordingly." In addition to support and training, all advisors are bound to act appropriately and ethically by the British Columbia Securities Commission.
In addition to recruitment, Perminder also provides training to these new recruits. In fact, he designed an entire course on how to become a licensed advisor and continues to teach it to this day. He is also involved in several charity endeavours, including being part of several community associations and organizations such as the Canadian Cancer Society and the Heart and Stroke Foundation. "Whatever I am today, I owe to the community," he advises. "So whenever possible I want to give back to the community, and to make a difference." And Perminder is also a published author, having co-written a book entitled "Uncommon," with Brian Tracy, a prolific author, entrepreneur and motivational speaker. The book looks at some of the 'uncommon' personality traits of successful people. It is scheduled to be released in the summer of 2015. Perminder is proud to have been asked by Mr. Tracy to be one of the select few to write for this book. He has also been a frequent guest on Mr. Tracy's internet program. Several of these appearances can be viewed on YouTube. In addition to his employment and charity work, Perminder also makes ample time for his family (his wife Deep, daughter Henna and son Armaan), as well as finds time to play some occasional golf and support a soccer (the Pacific Eagles) and cricket (the Surrey Hawks) sports clubs.
Perminder has some sage advice to others who may take inspiration from his life story. "I came to Canada from India with no business background. If I can achieve it, anyone can. You just need to take those first steps." He is happy to take the time to anyone thinking of embarking on a career as an advisor. "I'll make myself available to anyone. You are always welcome to connect with me."
Perminder's office is located at 210-21900 Westminster Highway in Richmond. The office telephone number is 604-592-7550.