World's largest Aviation, Aerospace, Marine & Defence diversity outreach event at the Abbotsford International Airport, Abbotsford BC – April 29 – 30, 2023
Opening Ceremony 11:00 Saturday April 29th
We invite you to join us for with the world's largest diversity outreach event to inspire female future leaders from shop floor to top floor in Aviation, Aerospace, Marine & Defence, as well as other high-tech STEM fields. This year we're celebrating a decade of incredible events!
Everyone is welcome regardless of age, gender or citizenship and the event is entirely free to prevent barriers to participation – no registration is required.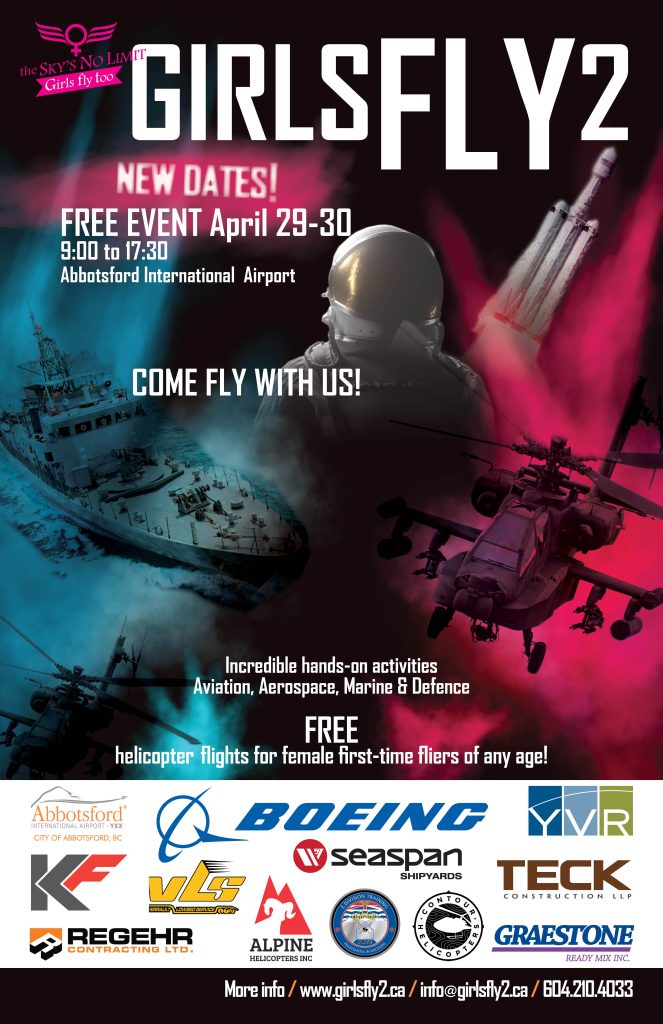 Supporting agency and industry partners bring personnel, vessels, vehicles, aircraft and other hands-on equipment and displays to showcase the various aspects of their activities and inspire participants widely diverse in age, gender and culture. We encourage crews diverse in age, gender and culture – everyone is welcome! All display partners are encouraged to "out-cool" the others, and we have plenty of real estate to offer those that would like to get creative with hands-on scenarios/role play with gear and equipment to engage participants. You'll enjoy meeting members from the Canadian and U.S. Military, RCMP, CBSA, Canadian & U.S. Coast Guard, and many other agency/industry partners from Aviation, Aerospace, Marine & Defence who annually support us with several billion dollars of combined assets to inspire thousands from Canada, the U.S. and beyond over the two-day, completely free event.
Why is this event important? In both Canada and the United States, only 6% of the professional pilot population are women – a statistic largely unchanged in the last 25 years. In Canada, only 2.3% of licensed Aircraft Maintenance Engineers are women. In the Canadian Armed Forces, women account for only 4% of the technical trades and less than 3% of the top command positions. Worldwide, women account for only 1.28% of the global seafarer force.
Please spread the word that we need volunteers – any gender, age 15 and up are encouraged to apply: http://www.girlsfly2.ca/volunteer.html
We're happy to write a letter for those needing school credit for volunteer hours.