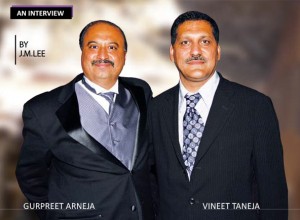 Q. TELL US SOMETHING ABOUT NANAK FOODS.
Nanak Foods started 16 years ago in 1997. Initially when we started, we had a staff of 2 and now have grown to 200. Nanak Foods is the largest Ethnic Dairy manufacturing plant is North America specializing in Indian Foods. We are a leader in the industry equipped with 'State of the Art' manufacturing technology. Our product category range from Dairy, Desserts and Appetizers.
Q. WHAT IS YOUR COMPANY'S MISSION?
The management and staff are committed to the search for excellence and strive to bring to the customer the authentic tastes of India. Total satisfaction of our customer is our motto. Alongside of that our endeavor is to achieve a manufacturing environment that produces excellent wholesome and quality products.
Q. WHAT ARE YOUR COMPANY'S STRENGTHS?
We are dedicated to the application of good manufacturing practices and the use of modern technology to promote our aim of producing high quality food products, and in turn—we are able to supply restaurants, retail outlets, wholesaler distributors, food servicers, hotel chains, and catering services around the world.
Q. WHAT IS THE COMPETITIVE EDGE OF NANAK FOODS?
Our competitive edge lies on the consistency of our products. All our products are made in Canada with fresh ingredients.
Q. WHAT ABOUT R & D AT NANAK FOODS?
Our Research and Development team at Nanak Foods headed by Dr Sunil Sachdeva is a fast paced department sourcing and procuring quality ingredients for new and innovative recipes of dairy based foods and other vegetarian products. Their quality control is of the highest order and our top priority.
Q. LIST OF NEW PRODUCT LINES.
Most recently we have launched the Bread Pakoras, Rasogolla, Corn Kebabs, Spinach rolls, and the most delicious vegetable Cutlets in town.
Q. WHAT ABOUT YOUR COMPANY'S INVOLVEMENT IN COMMUNITY BASED PROJECTS?
Nanak Foods believes that one way to ensure our business thrives in our community is to help build a vibrant community. Supporting community events is our opportunity to give back. It allows us to share and pass on some of our success. Nanak Foods recognizes the positive, valuable influence that we will have in the community and is proud to be part of many. Here is a glimpse of what Nanak Foods is presently and in the past supported:
Nanak Foods involvement in the community and the philanthropy:
Largest contributions:
Nanak Foods has been a regular contributor to The BC Children's Hospital Foundation.
Nanak Foods has played a key role in the development of the first 2 batches of 'CIBO' or Food for Famine where we produced food for malnourished children to send to Haiti & North Korea. Our team volunteered their time to make this product.
We are contributors to the Mamta Foundation which supports the Unique Home girl's Orphanage in India.
World Food Day awareness champagne at Kwantlen College
SAFA South Asian Family Association
Vancouver International Bhangra Celebration
Surrey Fusion Festival
Other charities:
CKNW Orphans Fund
Canuck Place
Free the Children (Me to We Organization)
Surrey Christmas Bureau (Surrey Food Bank)
Donations to Inner city school, Surrey. Lena Shaw Elementary
(Field trips & Christmas baskets)
3HO Foundation
CanadaHelps.org Critical Link International fundraiser
Shanti Uganda
Food for Famine Society Surrey Food Bank
Community events & Sponsorships:
VIBC Vancouver International Bhangra Celebration UBC Students Event at Bell Centre SFO Bhangra competition at Red Robinson
Museum of Vancouver Bhangra.me exhibition
Diwali Dhamaka with RedFM
Vaisakhi mela
Indian Summer Festival
Vancouver International Film Festival
Kamal Video Shows sponsorships
Mushtari Begum Festival of Indian Classical Music
Renfrew Collingwood Seniors
Individual sponsorships:
Jimmy Hansra, National Cricket Player for Canada Sierra Way, Miss Teen Surrey, Canada
Q. What message do you want to send to your customers, both internal and external?
We, at Nanak Foods, have taken up the challenge of finding ways to reproduce 'authentic' flavor and texture of traditional Indian dairy food products.
"I don't think there is any other quality so essential to success of any kind as the quality of perseverance. It overcomes almost everything, even nature." – John D. Rockefeller