Ocean Wise (February 1, 2021): The wait is over. Sustainable seafood chowder – in its surprisingly diverse glory – is now on sale at dozens of restaurants and retailers across Canada as part of the inaugural National Chowder Chowdown Festival!
Green Curry-Coconut Rock Crab Chowder (Bistro '67, Whitby, Ontario), Fire-Roasted Scallop and Whitefish Hue-style Chowder (The Wooden Boat Food Company, Kitchener, Ontario), West Coast Ramen (Fukasuku, Prince Rupert, BC) and Smoked Tomato Seafood Chowder (Hart House, Burnaby, BC) are just a few of the deliciously unique offerings available during the monthlong festival.
The festival runs February 1 to 28 with chowders available for take out, delivery, or dine in (where safe) at restaurants across Canada: from Victoria, BC to Summerville, Nova Scotia. Part-proceeds of each chowder sold support Ocean Wise's not-for-profit sustainable seafood program.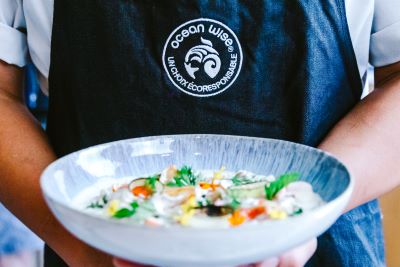 Full details – including chef bios and an interactive map showing every Chowder Chowdown partner location – can be found at ocean.org/chowder.
"By purchasing chowder this February you'll not only be supporting the Ocean Wise Seafood program, you'll also be supporting your local restaurants, chefs, hospitality staff, fishers and suppliers during what has been an incredibly difficult year for the industry," said Sophika Kostyniuk, director of fisheries and seafood at Ocean Wise Conservation Association.
Due to the COVID-19 pandemic, Ocean Wise Seafood was forced to reimagine its annual fundraising events, normally held in Vancouver and Toronto, which previously raised over $75,000 a year for the non-profit program.
Of course, it wouldn't be a Chowder Chowdown without a few heaping tablespoons of competition. Restaurants will compete for the following awards during the festival:
Best Use of Restorative Species – Any chowder that utilizes species lower in the food chain (such as shellfish and seaweeds) will be eligible to win this coveted title!
Most Likes and Comments – The participant with the most online engagement via 'likes' and comments will win! Be sure to tag @OceanWiseSeafood and #ChowderChowdown2021.
Best Chowder Title – Selected by judges from Daily Hive.
Best Chowder Photo – Selected by judges from Daily Hive.
Chowder Chowdown Fundraising Champion – Recognizing the participants who raise the most funds for the Ocean Wise Seafood program. Two awards will be given, one for Western Canada and one for Eastern Canada.
"I'm delighted to be part of the inaugural National Chowder Chowdown Festival," said Chef Ned Bell, co-owner of The Naramata Inn and former executive chef of Ocean Wise. "It's because of the Ocean Wise Seafood program that so many Canadian chefs have had the opportunity to learn about sustainable seafood, work for restaurants that are embracing it, cook for guests who continue to ask for it, and be ambassadors in the global effort towards ocean conservation. Please support this delicious initiative."
Ocean Wise Seafood is a not-for-profit program consisting of scientists and account managers across Canada who analyse the most current data on thousands of seafood options and work with restaurants, seafood suppliers and grocery stores to communicate recommendations and monthly updates on the changing science. Ocean Wise's recommendations are not only based on assessment of the specie itself, but also the fishery's impact on the surrounding environment, other species, and how well it is managed.
Overfishing is one of the greatest threats to our world's oceans with grave impacts on the food web and the livelihoods of millions of people worldwide. By simply changing the seafood we eat, we can help curb the impacts of overfishing and allow the oceans to recover.
Ocean Wise Seafood is grateful to the following partners for supporting the National Chowder Chowdown Festival: Daily Hive, Global BC, CKNW, Tito's Handmade Vodka, Centennial Food Service, Fresh Prep, Ontarieau, Red Racer Brewing, Red Stone Winery, Walter Craft Caesar, The Tin Whistle Brewing Co. and North 42 Degrees Estate Winery.