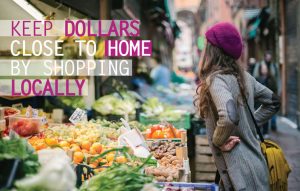 (NC) Buying from local businesses injects money into the community, helps create jobs, and reduces environmental impact due to shorter shipping distances. If you haven't yet made a habit of shopping in your neighbourhood, here are five easy ways to support local businesses:
Make a goal of it. Commit to one day a week where you will check out a different local business or restaurant. Not sure where to start? Ask your friends if they have any favourite neighbourhood hot spots, or use an app like YP Shopwise to see if there are any deals or savings nearby on everyday items you could be taking advantage of.
Change things up. Grocery time? Try your neighbourhood independent grocer, a local farmers' market, or even a food co-op. Alternatively, if you always shop for the newest fashions online, visit a local boutique instead.
Think outside of the box. Shopping local doesn't just mean buying products. You can also 'shop' for a haircut, a car tune up, or a spa day. If you're looking for a thoughtful present, vouchers for local services make great gifts as well.
Focus on customized and homemade. The area where most independent businesses shine is customized and homemade products. Whether its jam, t-shirts, or granola, goods purchased from the person who created them are generally higher quality than a generic version.
Look for the Shop the Neighbourhood logo. Shop the Neighbourhood program is a nationwide initiative of Yellow Pages that encourages Canadians to support small business by shopping locally on November 28, 2015. More information is available at ww.yp.ca.
How small businesses can compete in a world of giants
(NC) Small businesses are often seen to be at a disadvantage when compared to their big box competitors – but Industry Canada statistics show that small businesses make up over 80 per cent of Canadian exporters, and almost half of private sector GDP.
"Small businesses are the backbone of the Canadian economy," explains Paul Brousseau, vice-president of brand communications at Yellow Pages. "Supporting small business benefits all of us and an easy way to do just that is to make local purchases and keep dollars close to home."
Brousseau shares four ways small businesses can compete in a world of giants and attract local shoppers:
Unbeatable customer service. Big box stores can often be impersonal, but smaller businesses have the potential to create a connection with each customer, providing an unmatchable service experience to keep customers coming back again and again.
Niche market focus. When small businesses focus their efforts on a specific niche, they can offer a high-quality product superior to their larger counterparts. You have the opportunity to work directly with customers to meet their individual needs.
Quick adaptation. Less red tape and a smaller team makes room for innovation. Small businesses can quickly change direction in response to adversity or opportunity, giving you a leg up in areas like new media and customer demand.
Offer promotions. Deals aren't just for the big guys and small business promotions don't have to undercut chain stores. Sometimes a gift with purchase or a 2 for 1 can go a long way. Apps like YP Shopwise can be a great way to promote local deals.
Participate in Shop The Neighbourhood. This free national initiative of Yellow Pages includes a large-scale awareness campaign designed to encourage local shopping. More information on how to participate is available at www.yp.ca.